Putin warns of increasing inflation risks in Russia
By REN QI in Moscow | China Daily | Updated: 2023-08-24 09:35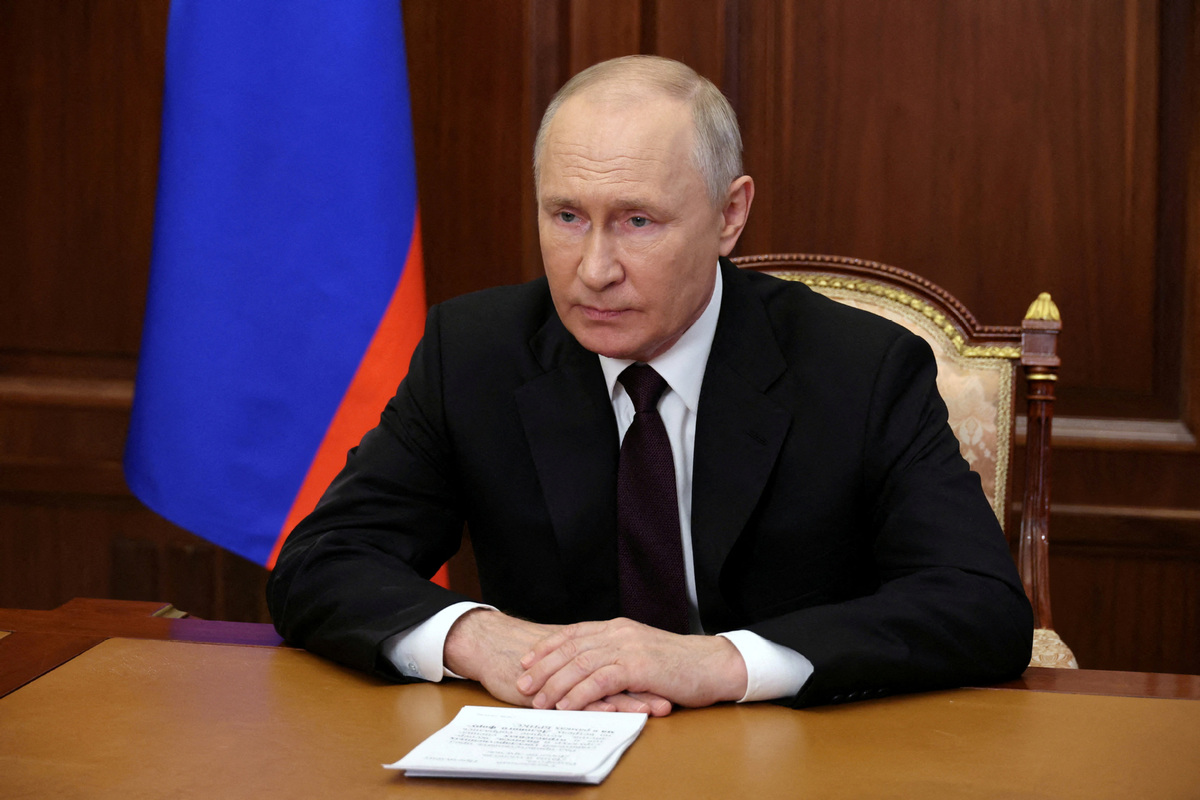 Russian President Vladimir Putin said on Tuesday that inflationary risks were rising and he had told the government and central bank to bring the situation under control.
Significant inflationary pressure in the world is caused by the irresponsible behavior of a number of countries, Putin said, adding that Russia's budget is under strain from its special military operation in Ukraine.
He said the central bank had to raise interest rates last week to halt a slide in the rouble.
"The scale and complexity of the tasks we are solving, and continue to solve, are of a really exceptional nature," Putin said in televised remarks to government officials.
The overall situation was stable, but it required vigilant monitoring and timely decisions, he said.
After double-digit inflation last year, the pace of price rises dropped in spring, but now inflation is above the central bank's 4 percent target, and rising steadily.
Russia's widening budget deficit and stark labor shortage have contributed to rising inflationary pressure all year. When the rouble tumbled below 100 to the dollar last week, the central bank was forced to respond by raising interest rates by 350 basis points to 12 percent.
The rouble has since strengthened sharply, also helped by exporters increasing sales of their foreign currency revenue.
Putin said volatility on the financial markets had hampered companies' investment decisions and was something that needed to be brought under control.
"The government and central bank need to actively use the instruments available to them," he said. "Work is needed, among other things, on limiting unproductive, speculative demand, controlling the outflow of capital, monitoring the behavior of the main participants of the financial market."
It is important for Russia to maintain a high level of industrial output, Putin added.
Modest recovery
Data from Russian Central Bank show rising military costs are supporting Russia's modest economic recovery this year with higher industrial production, but have already pushed budget finances to a deficit of about $29 billion — a figure compounded by falling export revenues.
The budget was forecast to be in surplus for the period July to September, Putin said. "For the year as a whole, the excess of expenditure over income will be at the planned level — about 2 percent of GDP."
On the battlefield, Russia said on Wednesday it had thwarted the latest Ukrainian drone attack on Moscow, but three people were killed in a drone strike in Belgorod, near the Ukrainian border.
Two people died on the spot, Belgorod Governor Vyacheslav Gladkov said, and doctors were unable to save the life of the third.
On Tuesday, a three-hour Russian drone attack in the southern Odesa region overnight caused a blaze at grain storage depots, Odesa Governor Oleh Kiper wrote on Telegram.
Separately, Wagner military group chief Yevgeny Prigozhin resurfaced in his first video since leading a brief rebellion in June, saying he is again recruiting "heroic warriors" to make "Russia even greater".
The unverified video, showing the 62-year-old dressed in camouflage clothing and brandishing an assault-style rifle, popped up on Telegram channels tied to Prigozhin's private army.
Agencies contributed to this story.
renqi@chinadaily.com.cn