Toxic water dumping sparks protests
By JIANG XUEQING in Tokyo and YANG HAN in Hong Kong | China Daily | Updated: 2023-08-25 08:54
People from Japan, South Korea stage demonstrations, air concern over harm to fishing industry
Editor's note: Despite worldwide opposition, Japan went ahead with its nuclear-contaminated water discharge plan. This page examines the concerns and protests raised by residents, environmental advocates and regional neighbors.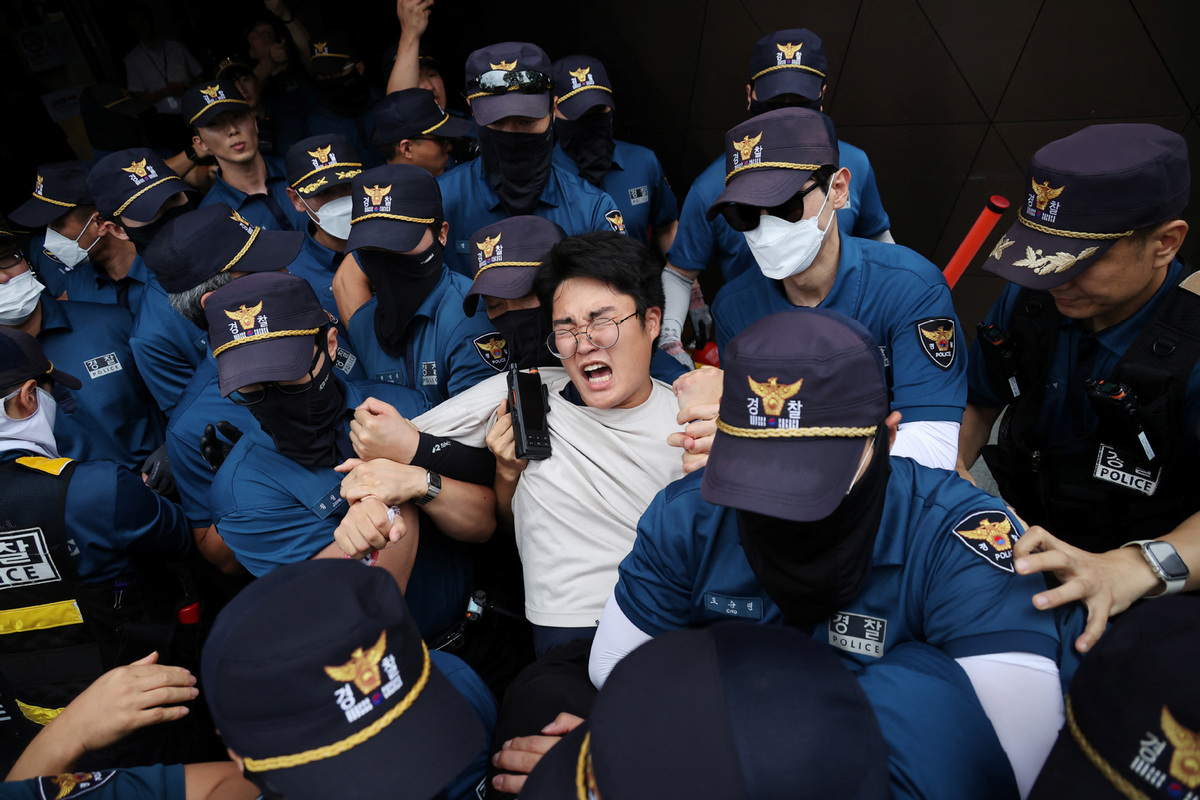 The Japanese government and the Tokyo Electric Power Company should halt the discharge of nuclear-contaminated water from the crippled Fukushima plant immediately, said protesters in Japan and South Korea after Japan started the release on Thursday.
Despite widespread opposition, Japan started the release of nuclear-contaminated water into the Pacific Ocean, as planned, at about 1 pm local time. TEPCO, operator of the Fukushima Daiichi Nuclear Power Plant, plans to carry out the first batch of release over 17 days to discharge 7,800 metric tons of toxic water.
A rally was held in front of TEPCO headquarters in Tokyo on Thursday. Kenichi Kitamura, a resident of Kawasaki in Kanagawa Prefecture, urged the Japanese government to order TEPCO to stop the discharge. They should take responsibility and store the nuclear-contaminated water on land instead, he said.
"Japan brought tremendous trouble to the people of Asia during World War II. We killed various people and took away valuable things," Kitamura said. "Now, letting contaminated water flow is nothing but a repetition of such actions."
One of the protesters, Takao Sakurai, 73, raised doubts over the government and TEPCO's claim that the nuclear-contaminated water met the safety standards.
"If they say the contaminated water is safe, then why don't they just drink it themselves instead of releasing it into the ocean?" Sakurai said.
"There are no borders in the ocean. So, if we're talking about stakeholders, it's not just the people involved in the fishing industry in Fukushima. All humans on Earth are stakeholders," he said.
A representative of KOREUMI, a Japanese citizens' conference to condemn further pollution of the ocean, read out a statement during the protest: "The ocean does not belong to TEPCO. It's not exclusively Japan's. Pacific Island countries, as well as ... South Korea and China have voiced significant criticism, and this issue has already become an international problem."
KOREUMI criticized the Japanese government for ignoring the voices of Fukushima residents.
"They proceed without pausing for discussion, determined to discharge at all costs, which is markedly undemocratic," Chiyo Oda and Kazuyoshi Sato, co-directors of KOREUMI, said in a statement.