Catching up, eyeing edge in chatbot niches
By CHENG YU | CHINA DAILY | Updated: 2023-08-28 07:03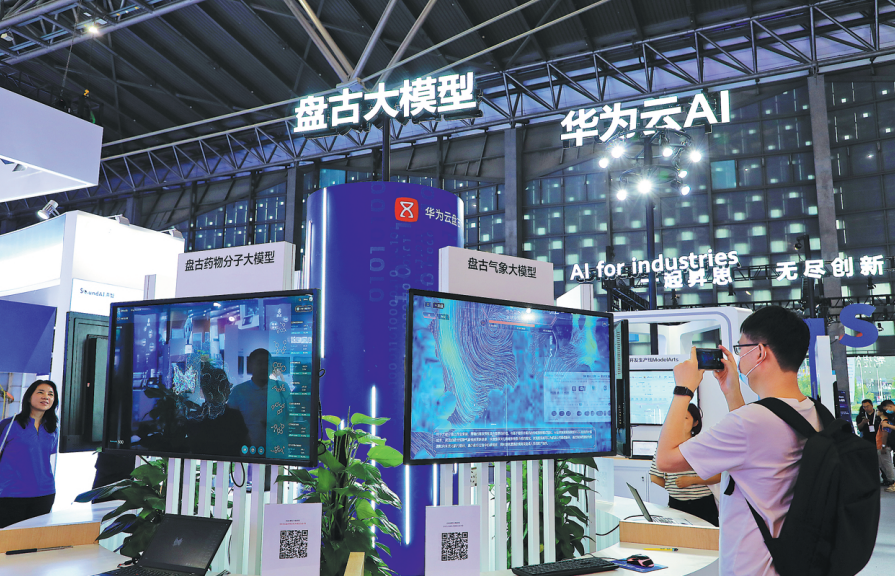 China's AIGC products shine at home and abroad, and narrow gap with US rivals
Miaoya Camera, an artificial intelligence-powered digital product for generating self-portraits online with a twist, was launched as a mini program on China's all-in-one killer app WeChat on July 17, just five months after a founding team of six Chinese software professionals conceptualized and developed the product. In contrast, top-end talent at OpenAI, a startup backed by, among others, Microsoft, took several years to develop ChatGPT.
During peak times, when over 6,000 people could line up online at the same time for their turn, some users wait for more than 15 hours to get their digital clone from Miaoya Camera.
Within a month of its launch, the market declared Miaoya Camera to be a potential disruptor of the niche AIGC market.
Zhang Yueguang, product manager of Miaoya Camera, said, "The market performance (of the portrait generator) is definitely far beyond our expectation."
Wang Peng, a senior researcher at the Beijing Academy of Social Sciences, said though Miaoya Camera and ChatGPT are different types of digital products, the former's success shows China has an edge in developing AI-generated content or AIGC.
"The US may have wrested lead with ChatGPT in the AIGC race, but Miaoya Camera offers a glimpse of China's potential to catch up with the US," Wang said.
The product's success, industry experts said, shows China can not only catch up with the United States in mobile apps and enterprise applications, but create its own edge in certain niches of generative AI, besides hoping to lead the market that consultancy IDC expects will be worth $26 billion by 2026.
That figure refers to just the China market. A Goldman Sachs Research report stated that breakthroughs in generative AI have the potential to bring about sweeping changes to the global economy, and could drive a 7 percent, or almost $7 trillion, increase in global GDP, lifting productivity growth by 1.5 percentage points over the next 10 years.
Given that the stakes are high, China and the US appear to be using different approaches to the development of large language models that drive generative AI, said Zhou Yu, chairman of Beijing Fanyu Technology Co Ltd, a leading provider of natural language processing products and services.
Zhou said: "The US puts more emphasis on the research and development of underlying technology and its groundbreaking innovations. The US is a world leader in both hardware and deep learning frameworks.
"China, on the other hand, focuses more on applications. And Chinese companies are better at adapting technology to various industries and commercializing its various applications. They are more flexible in creating personalized products and innovations, especially in niche sectors."