2 giant panda cubs born in Malaysia return to China
Xinhua | Updated: 2023-08-30 09:24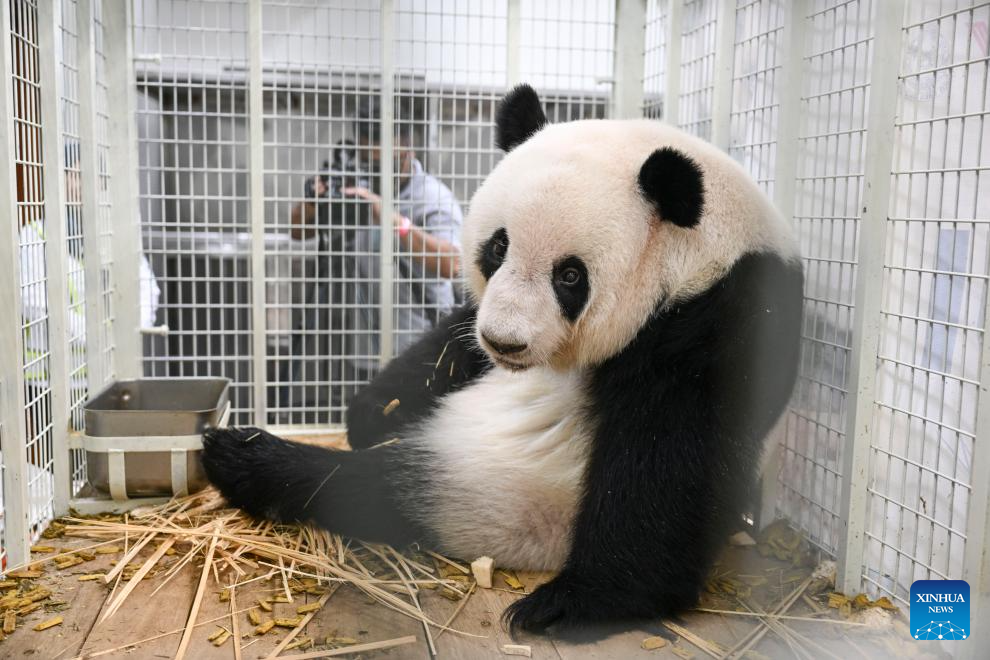 KUALA LUMPUR - Giant panda cubs Yi Yi and Sheng Yi returned to China late on Tuesday, bringing their stay in Malaysia to a close as they reach maturity.
At a brief ceremony held at the Giant Panda Conservation Center in Zoo Negara, Deputy Natural Resources, Environment and Climate Change Minister Huang Tiong Sii said Yi Yi, who is now five years old, had been scheduled to return in 2020, but this was postponed due to the pandemic.
"Considering that Sheng Yi also reached 24 months of age last May, the China Wildlife Conservation Association (CWCA) has agreed to Malaysia's proposal to send the third Giant Panda cub back together with Yi Yi," he said.
He also commended the important role the giant pandas, including their parents, have played in fostering closer ties between China and Malaysia.
"Yi Yi, meaning friendship, and Sheng Yi, meaning peace and friendship, have been chosen as the names for the two Giant Panda cubs born to the loving pair Xing Xing and Liang Liang, who arrived in Malaysia on May 21, 2014. These meaningful names reflect the significance of friendship and peace, and symbolize the strong bond between Malaysia and China," he explained.
The cubs are the second and third cubs born in Malaysia: Yi Yi was born on Jan. 14, 2018, and Sheng Yi was born on May 31, 2021. The first cub born in Malaysia, Nuan Nuan, traveled back to China in November 2017.
Their parents Xing Xing and Liang Liang, who celebrated their 17th birthday last week, will stay on in Malaysia for the time being.
Zoo Negara said in a statement that the cubs would remain in their hearts and minds through good memories and strong bonds that have been developed between the zoo's staff, handlers and visitors and the giant panda family.
"Their playful antics, gentle roars and endearing presence have seamlessly woven themselves into the very fabric of our zoo's identity. From their first hesitant steps to their mischievous adventures, every moment was a testament to the sheer joy and wonder these pandas brought to all who crossed their path," the statement said.
Chin Chet Mooi, a volunteer who has dedicated her time and effort to the bears since Xing Xing and Liang Liang first arrived in Malaysia in 2014, said the moment of farewell is one of bittersweet memories and she understood the need for them to return home.
"Their future is in China. We have done our best to take care of them. They are going back to fresh air and snow. I am really looking forward to seeing photos and videos of them playing in the snow in China," she said, adding that she hoped to be able to make a trip to China to see Yi Yi and Sheng Yi as she had previously made a trip to see Nuan Nuan.