Europe's $30b ski sector is at risk from warming
By EARLE GALE | China Daily Global | Updated: 2023-08-30 09:30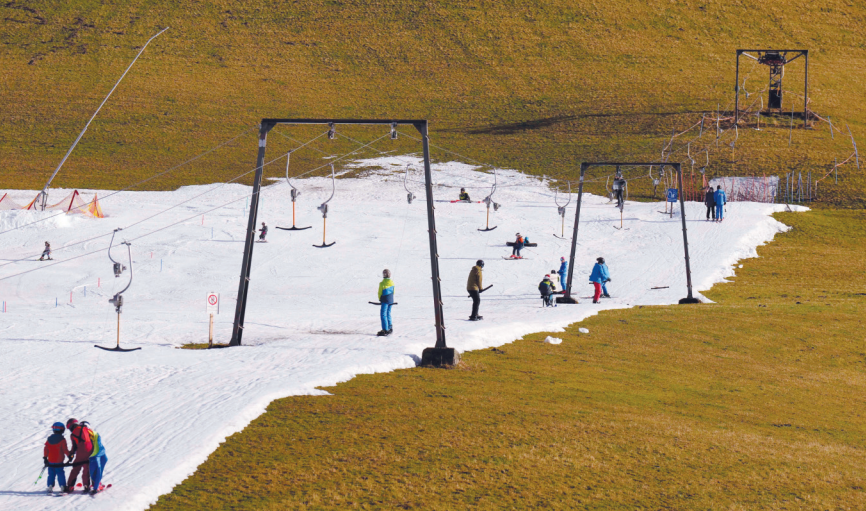 Europe's ski resorts, which draw millions of visitors a year to their glistening white slopes, could become little more than steep, rocky inclines in the coming years, thanks to global warming.
Glamorous resorts — including Cortina D'Ampezzo in Italy, Zermat in Switzerland, and Val D'Isere in France — could lose most of their natural snow if the world does not reduce greenhouse gas emission rates, researchers from France's National Institute for Agronomics Research said this week.
At the current rate, they wrote in the journal Nature Climate Change, the Earth's surface will warm by almost 3 C above its pre-industrial temperature. In addition to the havoc it will wreak on farming, glaciers, and the ice caps, this will mean that natural snow will be largely absent from 90 percent of Europe's 2,234 ski resorts on such a regularly basis that they will need to either artificially manufacture it, or go out of business.
So far, the Earth's surface has warmed by around 1.2 C from preindustrial times and is on course to go up by 2.7 C, the study said.
Hughes Francois, a researcher at the National Institute for Agronomics Research and an author of the study, told the Agence France-Presse news agency many resorts at lower elevations and in southern Europe will not be able to manufacture snow, because the temperature will be too high.
"Snowmaking involves investment and operating costs that expose resorts to economic failure risk," he added, while noting that artificial snow also requires significant amounts of water and energy, which would make the practice controversial.
The report said that, even if the world limits global warming to no more than 1.5 C above pre-industrial levels, which is what is called for in the Paris climate treaty adopted in 2015, around one-third of Europe's ski resorts would still have insufficient natural snow.
The lack of snow would be especially apparent in Europe, where 80 percent of the planet's resorts are located and where the $30-billion-a-year sector is a key part of the economy.
The report said many resorts at lower elevations have already recorded significantly less snow in recent years.
Samuel Morin, a scientist at Meteo-France and France's National Center for Scientific Research and an author of the study, told ABC News: "In all mountain regions of Europe, future climate change will lead to degraded snow conditions in ski resorts compared to the last decades."
Paul Peeters, a professor at Breda University in the Netherlands who was not involved in the research, told The Guardian newspaper: "The study delivers detailed input for policymakers, investors, and the tourism sector, encouraging them to reconsider whether it is wise to maintain high dependency on winter tourism in certain areas."