Australia's plan for referendum on First Nations people divides nation
By KARL WILSON in Sydney | China Daily | Updated: 2023-08-31 07:10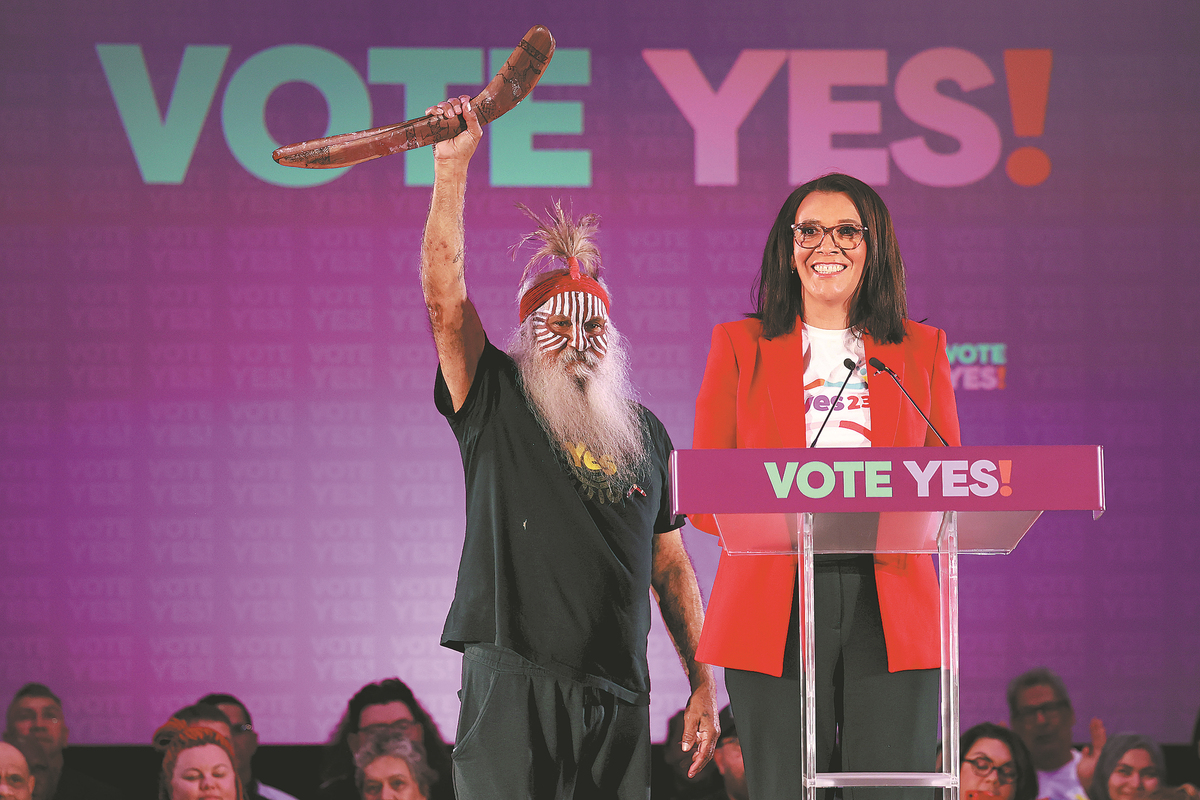 Australia's plan for referendum on First Nations people divides nation
Australians are set to cast their votes on Oct 14 in a decisive referendum that will either bitterly divide the country or unite it.
Voters will be asked on the addition of a line into the Constitution, recognizing the country's First Nations people by establishing an Aboriginal and Torres Strait Islander Voice to the Federal Parliament.
For Prime Minister Anthony Albanese, the Voice has been his key policy objective and will define his leadership.
Albanese had announced the referendum date at a packed meeting in Elizabeth, a working-class suburb near Adelaide, South Australia.
"Our Australian story goes back 65,000 years," Albanese said in a speech. "And what a privilege we have of sharing this continent with the oldest continuous culture on earth. But our story is not finished yet. It's up to all of us to write the next chapter together. And we can start by writing one word — yes."
However, the referendum has left many Australians — indigenous and nonindigenous alike — bitterly divided.
The opposition Liberal National Party is formally against the Voice, with its leader Peter Dutton saying Albanese has set Australia "on a course to division".
On Oct 14, Australians will be asked to vote "yes" or "no" on this single question: "A Proposed Law: To alter the Constitution to recognize the First Peoples of Australia by establishing an Aboriginal and Torres Strait Islander Voice. Do you approve this proposed alteration?"
What the Voice will look like is still uncertain.
The government has said it will be a body elected by First Nations people, which will advise Parliament and the government on matters relating purely to Aboriginal and Torres Strait Islander peoples. It will not have the power to make or change laws.
Those pushing for a "no" vote claimed the Voice will become a third chamber to the Australian Parliament, sitting beside the House of Representatives and the Senate making its own laws.
Opinion polls showed that a "yes" vote is not a done deal.
The referendum requires dual majorities to succeed, said constitutional law professor Cheryl Saunders from the University of Melbourne.
First, it demands a majority national vote from the six key states — New South Wales, Victoria, Queensland, Western Australia, South Australia and Tasmania, plus the Northern Territory and the Australian Capital Territory.
Second, it needs majorities in four states, excluding territories.
NSW and Victoria will likely lean toward a "yes" vote, while Queensland and Western Australia are expected to vote "no". South Australia and Tasmania are largely uncertain and could decide whether the referendum succeeds or fails.
Nyunggai Warren Mundine, a well-known Aboriginal businessman, is one of the more prominent opponents of the Voice. He said the Voice will "divide Aboriginal people and our great democratic nation".
"I well understand the racism, discrimination and abuse Aboriginals experienced under colonization, segregation and in other dark corners of Australia's history. I've personally experienced it," he wrote in a recent opinion piece.
"In the past 60 years, I've also witnessed a complete turnaround in the position of Aboriginal people in Australia — in our daily lives, in our opportunities, in the laws that govern us and in the attitude of other Australians."