Russia's 1st giant panda cub born in Moscow Zoo
By REN QI in MOSCOW | China Daily | Updated: 2023-09-01 07:30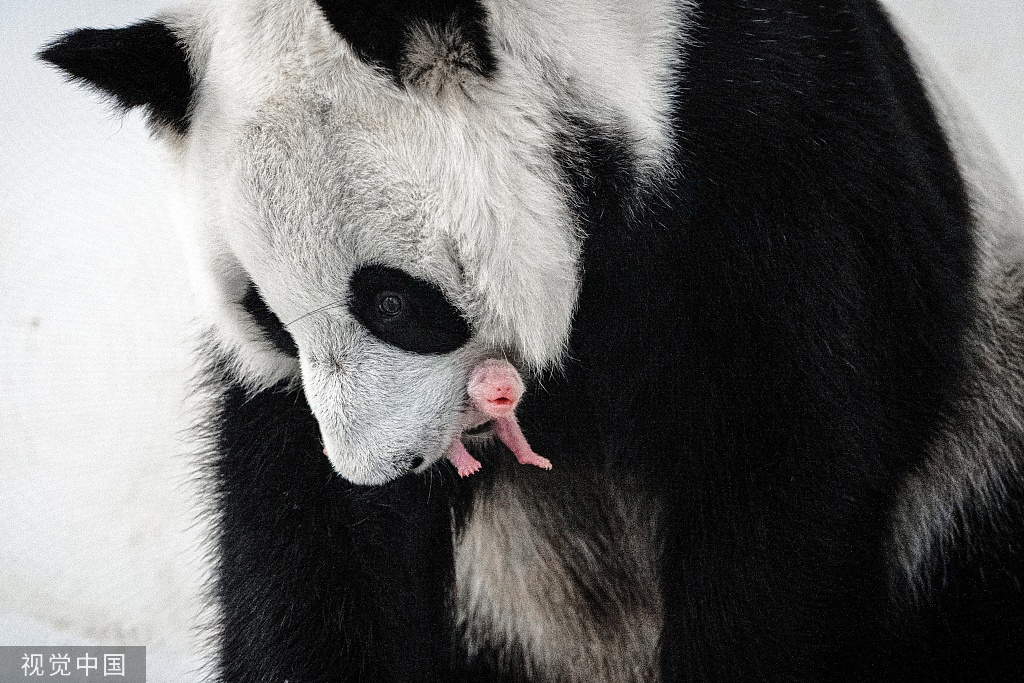 Russia's first giant panda cub was born in the Moscow Zoo, Moscow Mayor Sergey Sobyanin said on Wednesday. Its birth is a significant milestone and the product of a collaborative effort between Russian specialists and their Chinese counterparts.
Weighing about 150 grams, the cub was born last week to giant pandas Ru Yi and Ding Ding. The panda pair arrived in Moscow in April 2019 from China's southwestern Sichuan province.
"The first giant panda cub in Russia's history was born in the Moscow Zoo! This is a unique and very rare event — the result of the coordinated efforts of our specialists and their Chinese colleagues," Sobyanin said on Telegram, describing the cub's birth as a significant event for Russia and the international community.
He said pandas are China's national symbol and represent its heritage. "With the efforts of the Chinese government and relevant partners over the years, the giant panda population has reached nearly 2,600, of which about 1,900 live in the wild," he said.
The newborn is the first-ever panda cub born in Russia. Moscow Zoo called the birth "very unique", considering that Ru Yi and Ding Ding are still quite young.
The gender of the cub is still unknown, the zoo said, adding that Ding Ding is taking good care of her baby and is being constantly monitored.
In preparation for the pandas' arrival in 2019, Moscow Zoo renovated its pens and enclosure, and its employees had undergone several months of training at a Chinese panda breeding center to ensure proper care of the animals, Sobyanin said, noting that the transfer of pandas to another country is a "sign of great trust".
Ru Yi and Ding Ding were brought to Moscow to mark the 70th anniversary of the establishment of diplomatic relations between the two countries.
According to an agreement, two employees from China will stay in the zoo for at least 120 days a year for 15 years, supervising and training Russian employees.
Svetlana Akulova, general director of Moscow Zoo, said the pandas enjoy the climate in Moscow, as it is not too hot or humid during summer and temperatures do not drop too low during winter. They can also roll about in the snow.