Proud Boys leader gets sentence of 17 years in Jan 6 case
By AI HEPING in New York | China Daily Global | Updated: 2023-09-01 09:53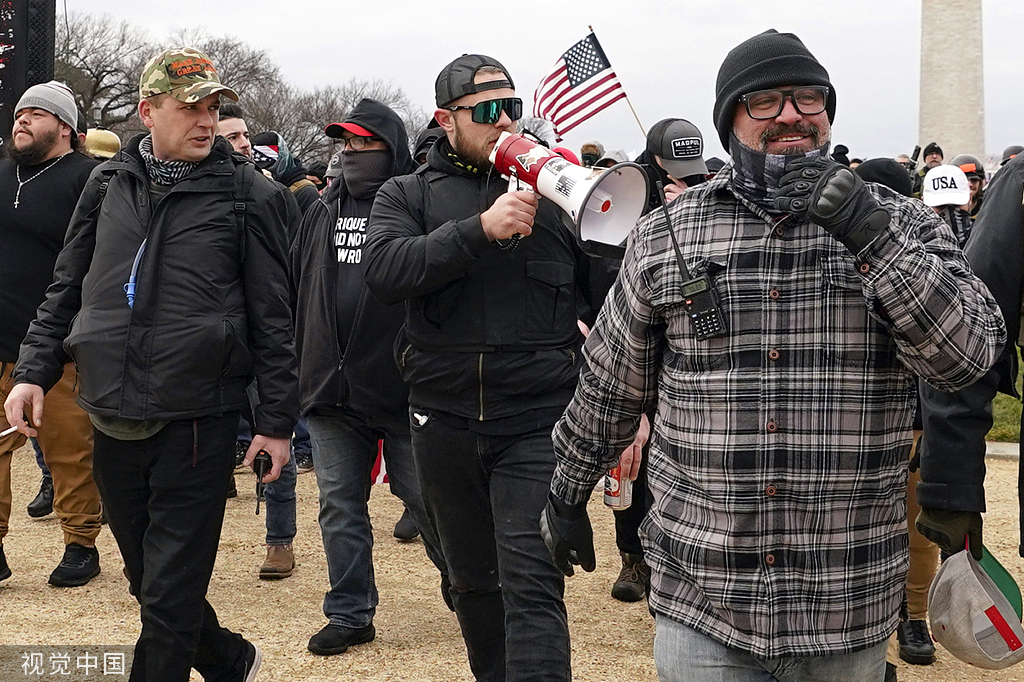 A former leader of the Proud Boys extremist group who led the organization's attack on the US Capitol on Jan 6, 2021, was sentenced Thursday to 17 years in prison, the second longest sentence yet for those convicted of participating in the assault.
Joseph Biggs, a US Army veteran, was a leader of the group's Florida chapter and a close ally of the former Proud Boys chairman Enrique Tarrio.
Biggs was convicted in May by a Washington DC, jury of several charges including seditious conspiracy — a rarely brought Civil War-era offense — for attempting to forcibly prevent the peaceful transfer of power from then-President Donald Trump to Joe Biden after the 2020 election.
His co-defendant, Zachary Rehl, was sentenced to 15 years Thursday by US District Judge Timothy Kelly in Washington. Prosecutors had recommended 30 years for Rehl.
Their prison terms exceed all the hundreds handed down since Jan 6 except for the 18-year sentence for Oath Keepers founder Stewart Rhodes earlier this year.
"The mob brought an entire branch of government to heel.," said Kelly as he delivered Biggs' sentence.
Biggs and Rehl are the first of four Proud Boys leaders convicted of seditious conspiracy to face sentencing. The remaining two are Seattle Proud Boys leader Ethan Nordean, who will be sentenced Friday, and Tarrio, who will be sentenced Tuesday.
A fifth member of the group, Dominic Pezzola, who was acquitted of seditious conspiracy but convicted of other Jan 6 felonies, also faces sentencing on Friday. He smashed a Senate wing window of the Capitol with a stolen police riot shield, triggering the mob's breach of the building.
Prosecutors had sought 33 years in prison for Biggs, their longest recommended sentence yet for any participant convicted of joining the Jan 6 assault.
Norman Pattis, a lawyer for Biggs and Rehl, argued for a sentence "far below" the government's recommendation and said a decade behind bars would be "excessive".
More than 1,100 people have been charged with federal crimes related to Jan 6; over 600 have been sentenced.
Kelly, an appointee of Trump's, agreed with prosecutors that the crimes committed by Biggs and Rehl amounted to an act of terrorism aimed at influencing the government. In Jan 6 cases, that distinction had until Thursday been applied only to members of the Oath Keepers who were similarly convicted of seditious conspiracy or obstruction.
Kelly spoke at length about his decision to apply the terrorism label and how the Jan 6 attack compared to other, more stereotypical acts of terrorism that involve mass casualties or bombings.
"While blowing up a building in some city somewhere is a very bad act, the nature of the constitutional moment we were in that day is something that is so sensitive that it deserves a significant sentence," Kelly said.
The judge, however, didn't use the terrorism designation to sharply increase his sentences for Biggs and Rehl. Doing so, he said, would result in an overly harsh punishment because the terrorism enhancement is primarily geared to actions with an "intent to kill" — which he didn't attribute to Biggs or Rehl.
Biggs helped lead Proud Boys at the Capitol, made it inside to the Senate chamber and posted on social media that the riot was a "warning shot" to the government, according to a sentencing memo from prosecutors.
"What happened on Jan 6 harmed an important American custom," Kelly said, referring to certification of the Electoral College vote.
"That day broke our tradition of peacefully transferring power, which is among the most precious things we had as Americans. Notice I said 'had' — we don't have it anymore," he said.
During tearful remarks to Kelly, Biggs said that he turned to drinking after returning from combat overseas. He had served eight years in the Army and received a Purple Heart for a traumatic brain injury in Iraq. He was medically discharged in 2013.
Biggs acknowledged to the judge that he "messed up that day", but he blamed being "seduced by the crowd" of Trump supporters outside the Capitol and said he isn't a violent person or "a terrorist".