US adds 187,000 jobs in August
By AI HEPING in New York | chinadaily.com.cn | Updated: 2023-09-02 07:12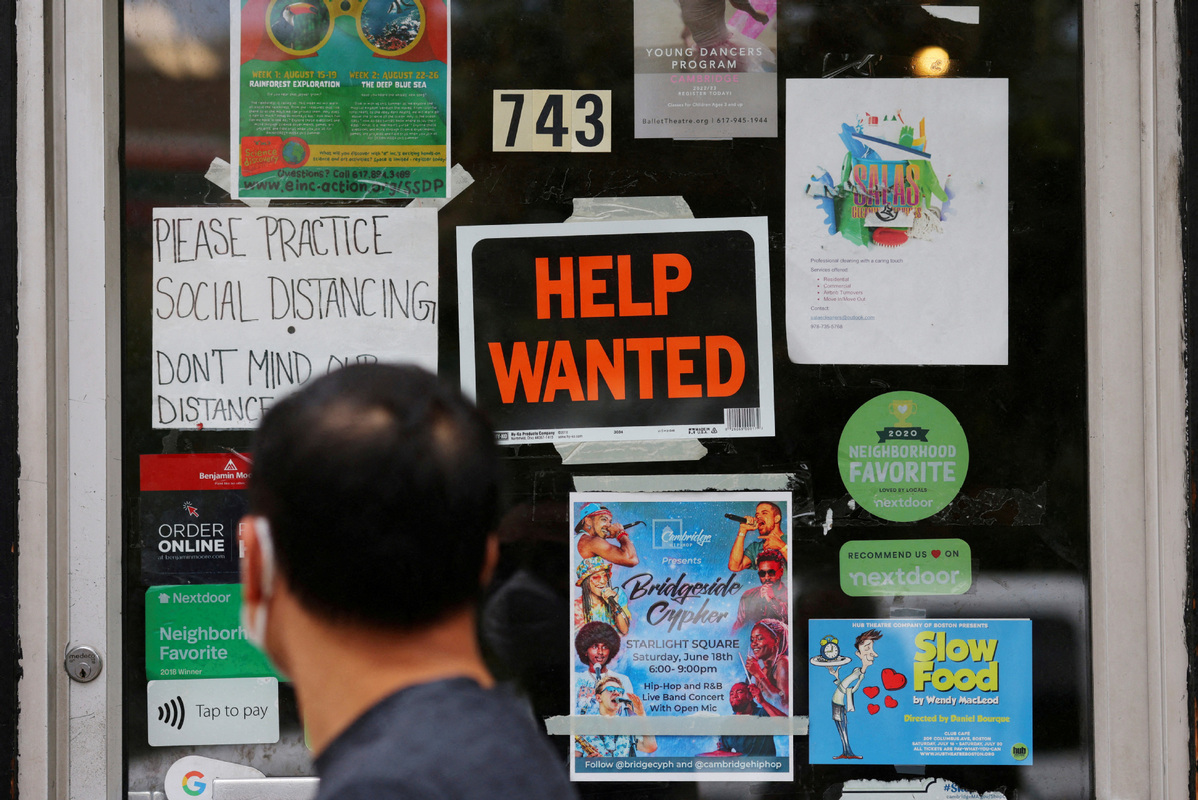 The US economy added 187,000 jobs in August, the Bureau of Labor Statistics said Friday, more than expected.

Economists were expecting job gains of 170,000. Adding fewer jobs would be a sign to investors that the Federal Reserve may decide not to raise rates again.
Goldman Sachs said after the report was issued Friday morning that the payroll numbers help confirm the firm's forecast that the Fed is finished hiking rates during this cycle. Through a series of 11 increases, the central bank has taken its key borrowing rate from near-zero to a target range of 5.25percent to 5.5 percent.
"This report is more or less right in line with Fed expectations," Dan Greenhaus, chief economist and strategist at Solus Alternative Asset Management, told CNBC. "The labor market continues to slow and loosen,'' he said, "and I don't think much about this report changes the Fed narrative."
The monthly unemployment rate rose unexpectedly to 3.8 percent from 3.5 percent, reflecting the impact of high interest rates and the economy's cooling from the boom that followed pandemic lockdowns.

The numbers released Friday appeared to show a labor market slowing from the Fed's efforts to lower inflation while still maintaining its resilience. Job growth figures for June and July were revised down by a combined 110,000 jobs, contributing to a picture slightly weaker than it previously appeared.

The monthly gain in August was well less than the average pace over the prior year, and far below the roughly 400,000 average monthly gain in 2022.
Employment continued to trend up in health care, leisure and hospitality, social assistance and construction. Employment in transportation and warehousing declined.

Average hourly earnings rose 8 cents to $33.82, pushing down the yearly to increase 4.3 percent from 4.4 percent. That's good news from the perspective of the Fed, which has been aggressively hiking interest rates to slow the labor market and nudge down annual pay increases to 3.5 percent to align with its 2 percent overall inflation target. Wage growth topped 5 percent last year amid severe labor shortages.

Stocks fell slightly as news of the additional jobs could impact the Fed's resistance to slowing interest rate hikes.

The August jobs report comes on the heels of data signaling that the US labor market is losing momentum.

There were 8.8 million job openings in July, down from about 9.2 million in June and the fewest since March 2021, according to the Job Openings and Labor Turnover Survey, released by the Labor Department on Tuesday. The number of people quitting their jobs, a measure of workers' confidence in the job market, continued to nudge down in July as well.

Fed Chair Jerome Powell had signaled on Aug 25 that the central bank could hold rates steady at its September meeting but kept the door open to raising rates. Inflation ran at a 2.1 percent annualized rate over the three months through July, sharply from its June 2022 peak, and Fed officials have said that resurgent economic activity and elevated wage gains could keep it from returning to their 2 percent target.