Two Proud Boys members sentenced for Jan 6 riot
By AI HEPING in New York | chinadaily.com.cn | Updated: 2023-09-02 07:18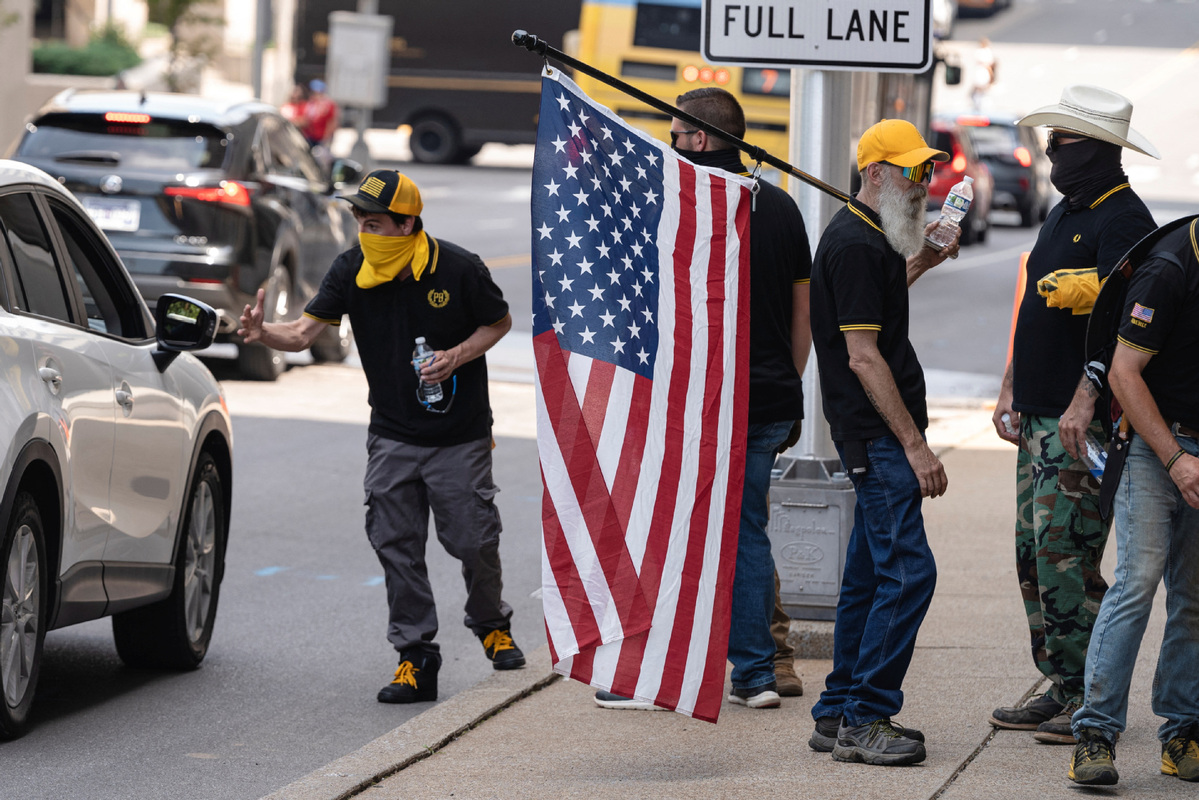 Two members of the Proud Boys extremist group who led the charge into the Capitol on Jan 6, 2021, were sentenced Friday for their roles in the riot.

Ethan Nordean, one of the leaders of the group, was sentenced to 18 years in prison — tying the Oath Keepers' Stewart Rhodes for the longest sentence so far in the Jan 6 prosecutions.

Dominic Pezzola, who became one of the more recognizable faces of the Capitol attack after video showed him smashing a Capitol window with a riot shield, was sentenced to 10 years in prison.

"What happened that day didn't honor our founders," US District Judge Timothy Kelly said during Pezzola's sentencing.

Their sentencing comes just a day after Kelly sentenced Zachary Rehl and Joseph Biggs, to 15 and 17 years , in prison respectively. Both men were found guilty of seditious conspiracy.

Pezzola was convicted of numerous felony counts stemming from his involvement in the attack — including obstruction of an official proceeding and destruction of government property. Unlike his co-defendants, including Proud Boys leader Enrique Tarrio, Pezzola was acquitted by a jury of the most severe charge of seditious conspiracy.

Despite his acquittal, prosecutors asked Kelly to sentence Pezzola to 20 years in prison, a request the judge denied during Friday's hearing. They characterized Pezzola as "an enthusiastic foot soldier" and one of the "most violent members on January 6, 2021".

According to evidence presented at trial, Pezzola attacked law enforcement, stole a riot shield and used the shield to break a Capitol window before entering the building.

Pezzola — one of only two of the five Proud Boys co-defendants to take the stand in his own defense — urged the court in his own sentencing memorandum to send him to prison for 5 years.

As Pezzola walked out of courtroom after sentencing, he lifted his fist and yelled, "Trump won!"

Minutes earlier, nearly in tears, Pezzola told the judge he had given up politics. His wife, daughter and mother were in the courtroom at the time, and each addressed the judge during Pezzola's sentencing.

Pezzola's wife, Lisa Magee, said that her daughters "have become victims and harassment, bullying at school." His daughter said, "Take a look at my father, and then take a look at me. I am everything good. I'm a college student, a scientist. I don't do drugs, I don't drink, and he contributed to that."

Magee also said that she's been "financially destroyed by this, adding that "it's a struggle for me to find out how I am going to feed them. I have had to rely on the generosity of strangers."

Tarrio faces his sentencing Tuesday.

The sentences imposed by Kelly was the third to have been handed down this week to five members of the group who were tried in May for seditious conspiracy and other crimes in the Capitol attack. It was only half of the 20 years that the government had requested and less than the punishment handed out to several rioters found guilty of assaulting the police.

Pezzola, a flooring contractor, was the only one of the five men charged in the case who was found not guilty of sedition at the trial in Federal District Court in Washington. But the jury convicted him of six other felonies, including assaulting a police officer, a conspiracy to keep members of Congress from certifying the election and the destruction of one of the Capitol building's windows.