Advanced technology set to dazzle visitors at themed exhibition
By Yuan Shenggao | China Daily | Updated: 2023-09-02 07:51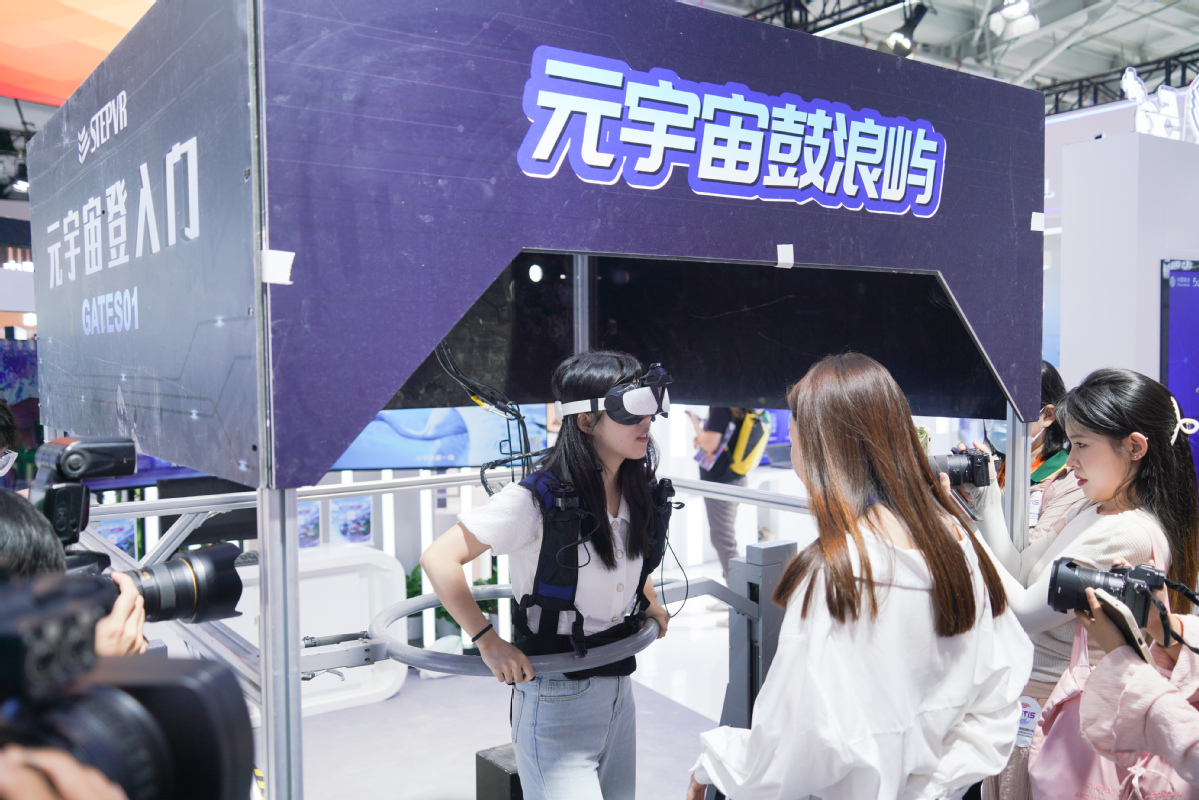 The telecommunications, computer and information services exhibition, one of the nine thematic exhibitions at the ongoing 2023 China International Fair for Trade in Services, has brought cutting-edge digital technologies, products and solutions into the spotlight.
The themed exhibition is taking place from Saturday to Wednesday at Shougang Park in Beijing.
Covering an area of more than 17,000 square meters, the exhibition features five display sections including telecommunication services, digital technology, smart life and the metaverse, as well as a special display.
A total of 326 exhibitors from home and abroad are participating. Exhibitors have made adequate preparations for the fair, Huang Ping, deputy director of the Beijing Communications Administration, said at a media conference before the fair.
They will focus on technologies such as 6G, artificial intelligence and cloud computing, showing visitors how advanced technologies will assist their daily lives, he added.
For the first time the exhibition has brought together the country's five major telecom enterprises: China Mobile, China Telecom, China Unicom, China Tower and China Broadnet, according to Huang.
Among them, China Unicom is showcasing the Honghu Graphic Grand Model 1.0, its first large model for operators' value-added business.
The model now has 800 million training parameters and 2 billion training parameters in two versions, which can fulfill functions such as text-to-picture and picture-to-picture, said staff members of the company.
Committed to AI-generated content, China Mobile and China Telecom are also displaying their grand models Jiutian and Tele-Chat.
Jiutian is designed for administrative services and customer services, which will help improve the efficiency of service personnel and relieve customers from tedious procedures, China Mobile said.
Compared with previous sessions of the fair, visitors can see more products and scenarios powered by AI technologies this year, especially a variety of models, according to organizers.
At the special display for small and medium-sized enterprises, Kylin Software is presenting its self-developed software operating system Kylin.
A representative from the company said that there is no significant difference between Kylin and mainstream systems in terms of interface and operability, allowing users to switch without worries.
So far, Kylin has been applied in more than 60,000 enterprises in such key fields as finance, communications, energy and education.
The Metaverse Experience Center, which was one of the most popular exhibition halls in 2022, has employed more intelligent interactive technologies and expanded the game zone to offer visitors fun and immersive experiences. Also, the center has added an area for security education.
Other exhibits include a 110-inch 8K high-definition screen developed by the internet-of-things giant BOE.
The screen adopts multi-viewpoint lens array technology and quantum dot backlight technology. Users can watch 3D effects via the screen at any angle without wearing any spectacles, BOE said.
In addition to the exhibition, the 2023 CIFTIS includes an array of forums focusing on telecommunications, computer and information services.
Acting as a trailer of the fair, the artificial general intelligence computability forum was held on Aug 28 in western Beijing's Shijingshan district.
During the forum, guests including officials, scholars and corporate leaders shared views on how to utilize computing power to boost the digital economy.
Xia Xueping, head of the Chinese Academy of Cyberspace Studies, said that Beijing is one of the cities in China to have abundant computing resources and a relatively complete AI industry chain.
The capital should enhance its capacity to manage and allocate computing resources based on its advantages, in a bid to better meet enterprises' growing demand for computing power, Xia said.
The forum also featured a signing ceremony for the Shijingshan Intelligent Computing Power Center, which will be the district's key tech infrastructure facility upon completion and inject new impetus into the digital economy, according to local officials.