Tony Leung wins lifetime achievement award in Venice
By Xu Fan | chinadaily.com.cn | Updated: 2023-09-03 16:52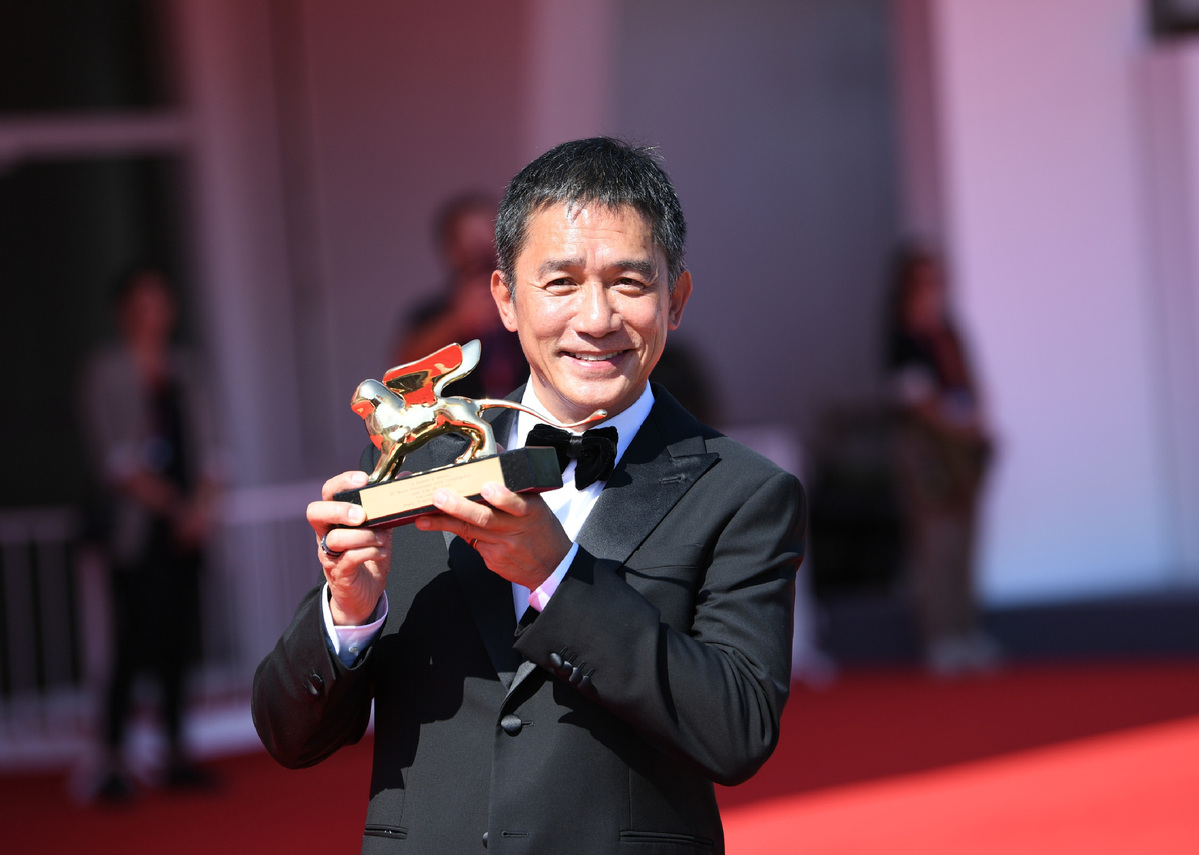 Hong Kong superstar Tony Leung Chiu-wai received the prestigious Golden Lion award for lifetime achievement at the ongoing 80th Venice Film Festival on Saturday, making history as the first Chinese actor to be bestowed with the esteemed honor.
Iconic director Ang Lee, who collaborated with Leung in the 2007 espionage film Lust, Caution, which won a Golden Lion for Best Picture at the 64th Venice Film Festival, delivered an emotional, six-minute-long speech to praise Leung as a gifted and kind-hearted star.
Referring to Leung as "a director's dream", Lee highlighted Leung's gift in conveying complex emotion through his eyes. "There is something in his eyes that's electrifying, not just his physical eyes or skill, but the soul that shines through them. He can say more in one look than many actors can with a full monologue," said Lee.
The director also reminisced about a moment of personal struggle during the filming of Lust, Caution, when Leung approached him and uttered impactful and comforting words, providing support for the shoot.
When hearing that he won the award, Leung couldn't hold back his tears and was filled with emotion. The 61-year-old star expressed deep gratitude to his wife, Hong Kong actress Carina Lau Kar-ling.
He also said that he felt grateful for having grown up in Hong Kong and having been nurtured by the local film industry, where his acting career began.
Since his entry into Hong Kong's showbiz industry in the early 1980s, Leung has garnered international acclaim for his performances in director Wong Kar-wai's award-winning arthouse films such as Chungking Express and In the Mood for Love.
Leung is also known for a string of commercially successful blockbusters, spanning from director Zhang Yimou's martial arts epic Hero, which stands as one of the highest-grossing Chinese movies in North America, to the Hong Kong crime classic Infernal Affairs.
The news of his award win, which has also made Leung the third Chinese film celebrity to receive a lifetime achievement award at Venice Film Festival, following directors John Woo and Ann Hui, has caused quite a buzz on major social platforms like Sina Weibo.