What CIFTIS means to the developing world
By Mahi Uddin | chinadaily.com.cn | Updated: 2023-09-05 11:19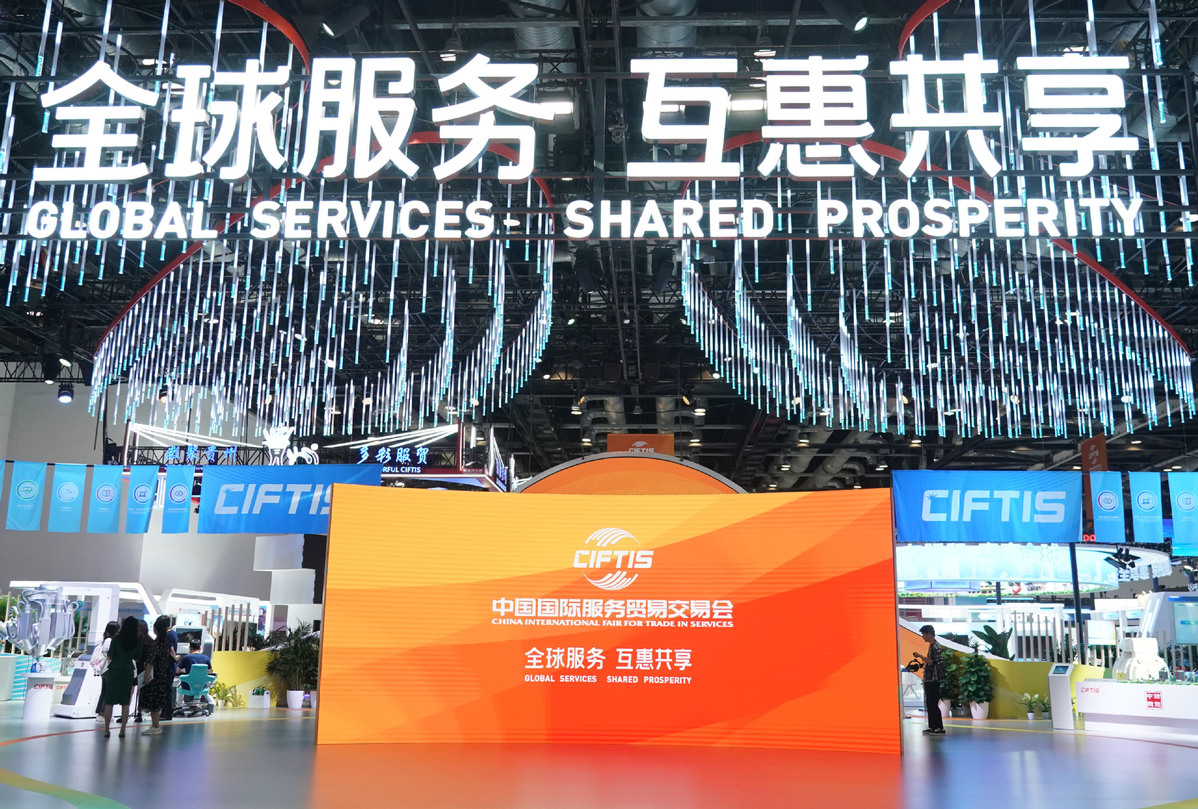 The 2023 China International Fair for Trade in Services (CIFTIS), which begins on September 2 in Beijing, showcases China's unparalleled commitment to advancing policies of openness, free trade, and globalization while actively opposing the concepts of decoupling and de-globalization in this challenging time characterized by the adverse effects of de-globalization and trade protectionism on global trade.
A strong dollar, rising global interest rates, and the Ukraine conflict have snarled global manufacturing and shipping, weighing on consumer demand and corporate and imports, triggering global financial system disorder as well as financial instability. Developing nations have more pronounced difficulties compared to developed countries, owing to their delicate economic structure, heavy reliance on basic commodity exports, and lack of resilience and vigor for an economic rebound.
In this context, the ongoing CIFTIS shows China's proactive engagement with the developing world and its remarkable policy to handle global concerns by opening up its home market. This accelerates their integration into the process of economic globalization, increases the spillover impact of international commerce, and gives these nations access to real export markets and job prospects.
The CIFTIS has drawn not just major corporations from North America and Europe but also small and medium-sized businesses from developing nations since China has the world's largest consumer market, including a middle-income group reaching 400 million. It's a platform that benefits both parties, allowing businesspeople from numerous emerging economies to learn about and access China's market potential.
Wider inflation pressures, increasing energy prices, growing interest rates, and a stronger currency, present the world with enormous concerns today. The US-led West, on the other side, has used disturbing economic weapons against geopolitical rivalries to an extent not seen for decades, creating troubling economic ramifications for a broad range of nations throughout the globe, particularly in the developing world.
The US-led initiatives use trade and industrial policies to accomplish "friend-shoring," which entails moving manufacturing and trading chains to a group of "like-minded partners" that share American politics, philosophy, and values. It foretells a serious disruption and disintegration of global supply networks, affecting either directly or indirectly the interests of the majority of emerging economies.
Given this setting, the CIFTIS fair, the biggest of its type in the world, is crucial to the progress of the global economy and the economic prosperity of developing nations. It sends a clear message that China is prepared to uphold cooperation, support the multilateral trade system, and share the benefits of globalization and inclusive development with the rest of the world, which will eventually help emerging economies. In a moment of vital market upheaval, organizing CIFTIS is a sign of how far-reaching China's involvement with developing countries has grown for their mutual benefit.
China has made significant strides in improving its economic climate, including lowering obstacles to foreign investment and protecting intellectual property rights. These changes will provide businesses, from both developed and emerging nations with a level playing field and help them navigate the massive Chinese market.
Many emerging countries are at the middle and low end of the global value chain and lack access to large global markets; therefore, they have a pressing need to diversify their export markets and identify new sources of economic growth. In this regard, China's CIFTIS is a tangible step toward promoting trade integration between industrialized and developing economies. This economic event offers a chance for developing nations to close their trade gap with China and spread more advantages.
Unfortunately, Western players have politicized the trade surplus associated with China, claiming inaccurately that China's primary objective is "extracting resources" and "dumping junk." These naysayers choose to overlook the reality that resource exports to China and Chinese exports have helped millions of people in developing nations escape poverty by giving them access to Western-style consumer products.
The ongoing China International Fair for Trade in Services proves that China does not have a "one-way street" trading paradigm that exclusively benefits Beijing. The fact that the Belt and Road Initiative (BRI) has attracted investments totaling billions of dollars across the developing world is more evidence that the Western narrative is not acceptable.
The CIFTIS is more than just a trade show; it's also an invaluable forum for the exchange of ideas and culture. It has functioned as a forum for shared learning that has helped member nations' economies better understand Chinese customers' demands, increase the caliber of their products, and boost their competitiveness. China's successes in combating poverty have provided useful insights that are being disseminated to other nations via conferences organized as part of the events.
Finally, CIFTIS demonstrates China's goodwill gesture to share its accomplishments and provide exhibitors from other developing nations with a fair chance to compete with those from the industrialized world. Amid the shaky global economic situation, participating in such a massive international event for the trade in services would boost the growth of developing economies. It is now time for all emerging markets to embrace the opportunity and use its benefits, promoting the common goal of creating a community of shared futures for mankind.
Mahi Uddin is a geo-political researcher and political-economy commentator specializing in Asian Affairs in Dhaka, Bangladesh.
The views don't necessarily reflect those of China Daily.
If you have a specific expertise, or would like to share your thought about our stories, then send us your writings at opinion@chinadaily.com.cn or comment@chinadaily.com.cn.