In Toronto, Dragon Festival provides cultural treats for all
By RENA LI in Toronto | China Daily Global | Updated: 2023-09-07 10:59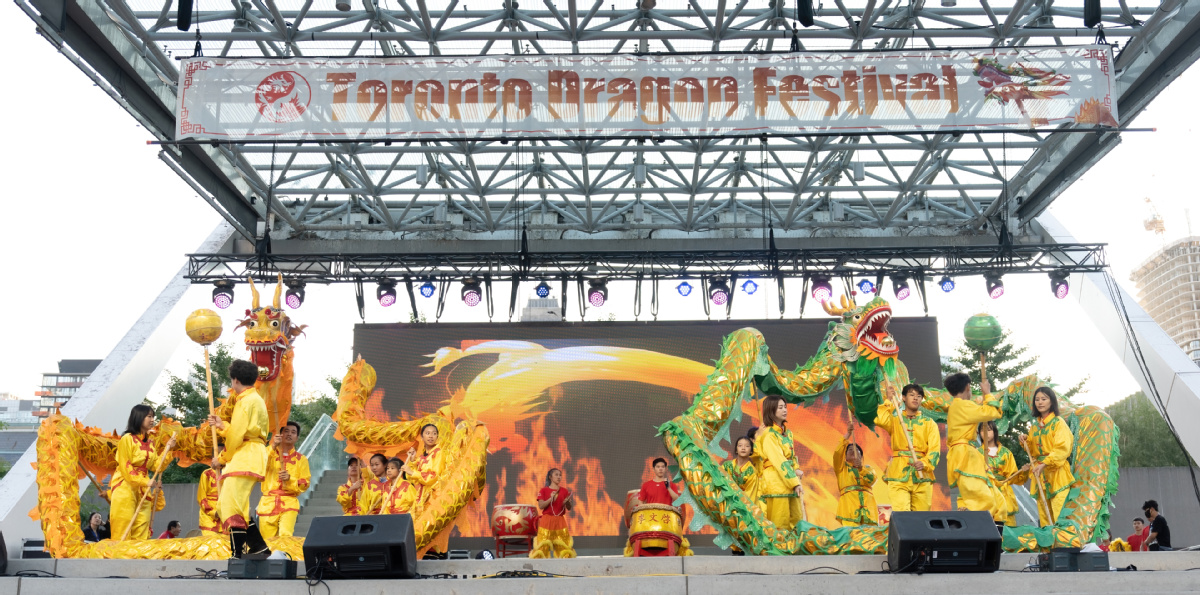 Featuring a dynamic story of the legendary dragon's descendants, the 2023 Dragon Festival returned to Toronto with culture, food and new lion dance competitions.
The three-day festival from Sept 1 to Sept 3 in Toronto's Nathan Philips Square featured a range of activities. Those included dragon and lion dances, acrobatic performers, Chinese folk music, waist-drum dances, modern youth dance, a fashion show, tai chi and martial arts on water, ethnic music and entertainment by local Canadian and Chinese artists.
Recognized internationally as a sport, lion dance was featured in a competition, bringing the rhythmic beat of drums along with spectacular stunts and synchronized agility, said Shan Attaoui, the festival's communications director.
"This is our way to show Toronto and the world about the essence of Chinese culture for more than 5,000 years," Attaoui said.
Hosted by the Canadian Association of Chinese Performing Arts (CACPA), the annual festival began in 2018 but paused for two years due to the pandemic.
Since its return to Toronto in 2022, when it attracted as many as 85,000 visitors, the festival has swiftly become a staple in the Greater Toronto area.
Zhang Jian, chairman of the CACPA, told China Daily that the festival is an important celebration for the inheritance of Chinese culture overseas.
"We hope the festival is expected to further demonstrate the pivotal position of Chinese culture in Canada's multiculturalism," Zhang said.
As an important cultural symbol of traditional Chinese culture, the dragon symbolizes happiness and auspiciousness and reflects the creative talents, wisdom and perseverance of Chinese descendants.
The festival also provided calligraphy and painting stations that taught people how to write traditional Chinese characters and try ink and wash painting.
Visitors from all walks of life tasted the delicious Chinese and Asian street food while watching an improvised reflection water show presented by Chinese Canadian communities.
Hanfu, the traditional Han Chinese clothing, attracted visitors who got to try on the garments and join a traditional Chinese wedding ceremony.
The martial arts demonstrations won continuous applause.
"The performing and shows provided by the Chinese communities are amazing; I am impressed with the splendid 5,000 years history of China," James Taylor told China Daily.
"From diverse cultural presentations to delicious food, my families and I can find all our favorites here," said Annie Kelly, accompanied by two children and her husband. She said the event has become a yearly tradition for her family before the end of summer.
When Sun Wukong (Monkey King), Zhu Bajie (Eight-Precept Pig) and Sha Wujing (Friar Sand), the main characters of Journey to the West, performed on the square, an Indian Canadian man who dressed as Sha Wujing told the media that he had done a lot of research on Chinese mythology.
"This vivid and interesting picture highlights the cross-cultural value of the festival beyond national borders, encourages people to deeply explore the connections between different countries and cultures, and promotes mutual friendship and mutual understanding," said Zhang.
The executive director, David Zhang, told China Daily that the festival provides Torontonians of all backgrounds a wonderful opportunity to learn about Chinese Canadians' beautiful, millenary cultural traditions.
"While Chinese culture is the focus, the festival will also feature performances from Inuit throat singers, Caribbean drummers and Filipino folk dancers," he said. "We wanted to include representation from other cultures this year because Canada is a base of multiculturalism."
About 100,000 visitors attended the festival over the long weekend, according to the City of Toronto.