Africa seeks united front on climate
By EDITH MUTETHYA and OTIATO OPALI in Nairobi, Kenya | China Daily Global | Updated: 2023-09-08 09:10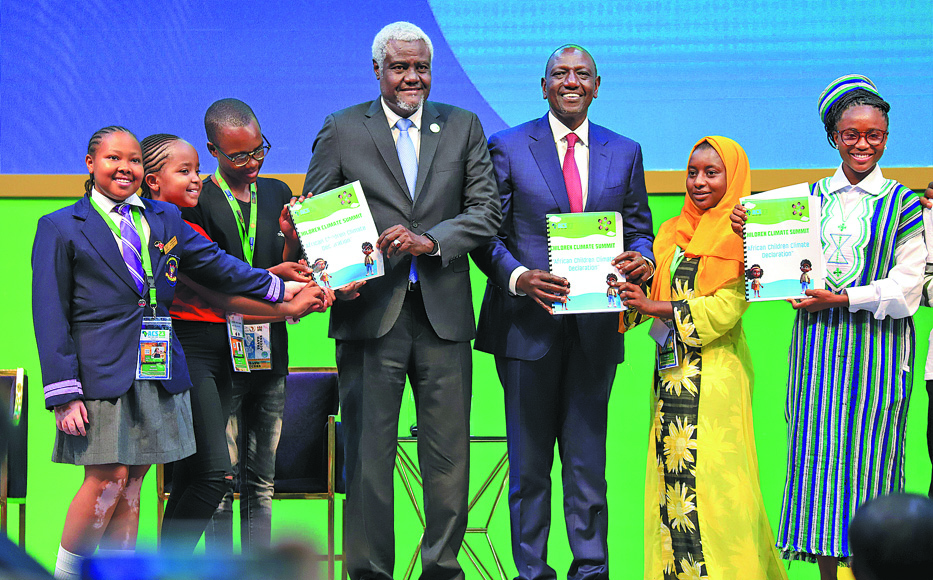 Continent can use natural resources to reverse warming crisis, analysts say
Though Africa expects developed countries to honor their annual pledges for climate action in developing countries, experts are of the view that the continent should leverage its vast resource potential and technology to fight climate change as the crisis continues to worsen.
At the end of the three-day Africa Climate Summit on Wednesday in the Kenyan capital Nairobi, African leaders issued the Nairobi Declaration, which urged developed nations to honor their commitments to provide $100 billion in annual climate finance for the continent. The declaration also calls for a new financing architecture that is responsive to Africa's needs, including debt restructuring and relief.
In addition to developing a new Global Climate Finance Charter through the United Nations General Assembly and Conference of the Parties to the UN Framework Convention on Climate Change by 2025, leaders at the summit also resolved to promote sustainable utilization of Africa's natural assets for the continent's progression toward low-carbon development.
According to the UN, Africa holds 25 percent of the world's biodiversity, 10 percent of internal renewable fresh water, the largest reserves of cobalt, diamonds, platinum and uranium, and has the second-largest carbon sink.
"Africa is nature's superpower, hosting a quarter of global biodiversity. Congo Forest is one of the lungs of the earth and captures a lot of carbon. Niger Delta is one of the largest mangroves in Africa," said Muhtari Aminu-Kano, policy and government relations director for Africa region at The Nature Conservancy.
Financial challenges
He said African communities have played their part in conserving biodiversity since time immemorial and they should continue being at the front and center of initiatives to fight against climate change.
To address financing challenges, he said countries should catalyze funding from the private sector and development agencies in addition to putting their own money, so as to diversify and be creative in sourcing finances.
"If you depend on the Global North to solve a pressing problem like climate change, agriculture or health, then you are not going to get it done because we are seeing cases of many promises and little delivery, so you have to mobilize internally," Aminu-Kano said.
Corey Pattison, co-founder and chief executive officer of Cella Mineral Storage, said Africa's vast forests and savannas are great assets in fighting against climate change.
He said the East African Rift Valley, with about 400 billion metric tons of storage potential for mineralization, is one of the world's greatest assets in carbon removal from the atmosphere.
Piers Mudd, chief operating officer of Moroccan company Brilliant Planet, said given the scale of African coastal area, there is tremendous opportunity to apply innovative solutions all around the coastal margins.
Mudd said there is a big and talented labor pool, and many countries and governments around the continent are committed and ready to support some of these projects.
While calling for climate justice at the summit, African experts have argued that it is unfair for Africa to lack access to funds necessary for coping with the negative impacts of climate change when the continent is responsible for less than 10 percent of global greenhouse gas emissions.
The UN Environment Programme estimated that the cost of climate change adaptation across Africa could reach $50 billion a year by 2050, if the global temperature increase is kept within 2 C above preindustrial levels.
Kilion Nyambuga, a research and planning expert involved in the resettlement of slum dwellers at the Mukuru slums in Nairobi, called on African leaders to develop a common African position in the run-up to the COP28 climate change conference to be held in the United Arab Emirates later this year.
"The demand for greater consideration of Africa's needs will do nothing if African governments are not pulling in the same direction," Nyambuga said. "Africans must approach climate change with a united voice, representing all the continent's people, and making their case clearly and firmly."