Premier Li calls for solidarity and cooperation within G20
By CAO DESHENG in New Delhi, India | chinadaily.com.cn | Updated: 2023-09-09 18:14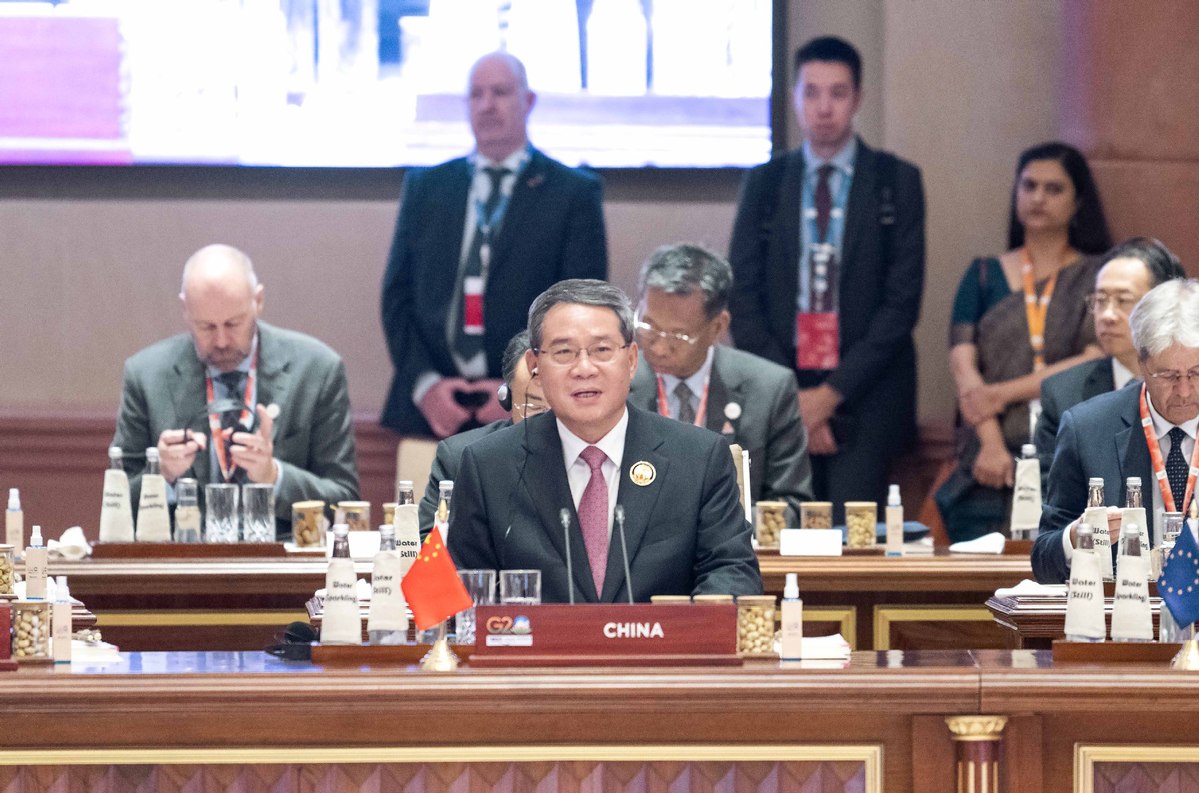 Premier Li Qiang called on Saturday for Group of 20 countries to adhere to solidarity and cooperation, strengthen coordination of macroeconomic policies to deliver confidence and impetus for glowing economic growth.
Li made the remarks while addressing the first phase of the 18th G20 Summit in New Delhi, the Indian capital. The meeting was presided over by Prime Minister Narendra Modi of India, the rotating presidency of the G20 for 2023. Leaders and representatives of G20 members, guest countries as well as international organizations attended the meeting.
The premier noted that the destiny of humanity is interdependent and countries should respect each other, seek common ground while shelving differences and live in peace together.
In the face of major crises and common challenges, no one can prosper alone, and only unity and cooperation can lead humanity to the right path, he said.

Li urged the G20 members to adhere to the original aspiration of unity and cooperation, shoulder the responsibility of peace and development during the times, and effectively strengthen coordination of macroeconomic policies to boost confidence and momentum for global economic growth.
"We need to firmly promote economic globalization and jointly safeguard the stable and unimpeded global industrial and supply chains, working as partners in promoting global openness and cooperation," Li said.
"We need to collectively safeguard the green home of the earth, promote green and low-carbon development, protect the marine ecological environment and work as partners in promoting global sustainable development."
Li emphasized the need to resort to unity rather than division, cooperation rather than confrontation, and inclusiveness rather than exclusion.

China will unswervingly deepen reform and expand opening-up to promote high-quality development, and advance the Chinese-style modernization, he said.
The premier assured the leaders at the meeting that China enjoys a bright prospect for its development, and will inject more new impetus into global economic recovery and sustainable development.
"We are willing to join hands with all parties to make greater efforts and contributions for our common Earth, common home and for the common future of humanity," he said.
The meeting adopted African Union as a permanent member of the G20, which also involves Argentina, Australia, Brazil, Canada, China, France, Germany, India, Indonesia, Italy, South Korea, Japan, Mexico, Russia, Saudi Arabia, South Africa, Turkey, the United Kingdom, the United States and the European Union.

The leaders participating in the meeting welcomed the African Union's accession to the G20. They emphasized that G20 cooperation determines the direction of the world.
It is necessary to build partnerships, take practical actions, mobilize all resources to promote green and low-carbon transformations, jointly address global challenges such as climate change, energy, and food security, and accelerate the achievement of strong, sustainable, balanced and inclusive growth and to build a better future together, they said.