Chinese automakers partner up in Munich to gain global presence
By LI FUSHENG | China Daily | Updated: 2023-09-11 09:39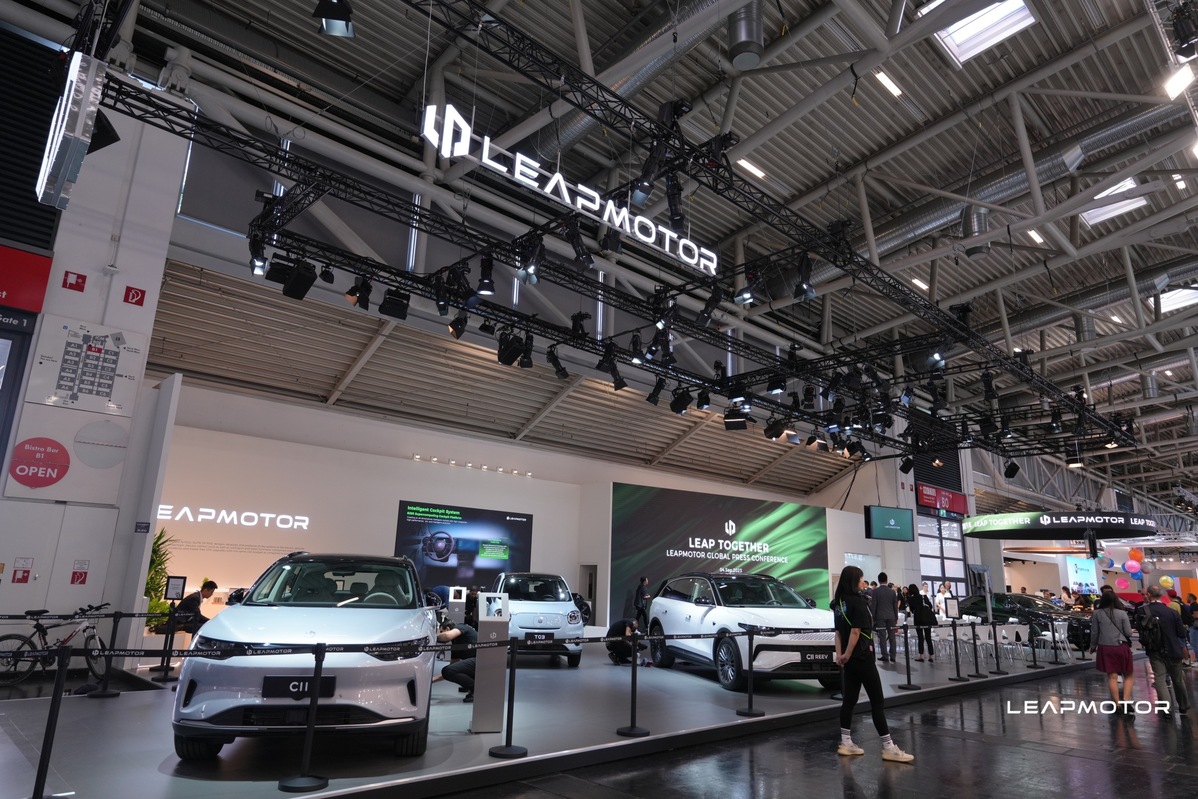 A total of 50 Chinese carmakers and auto parts suppliers joined hands last week at the IAA Mobility show in Munich, Germany, in the hope of better exploring the overseas market.
Members of the China Automotive Industry Going Global Collaboration Council include established giants such as SAIC and startups like Avatr.
Jack Yu, president of Xuanyuan Academy, which proposed the council, said the growing demand for new energy vehicles around the world as well as the competitive edge of Chinese companies are laying foundations for their foray into overseas markets.
The association was established to promote dialogue and assist cooperation that serves such companies' global campaigns, said Yu, also editor-in-chief of the Automotive Business Review magazine.
"Valuable experiences in going global need to be shared among industry players and a collaborative approach is needed to navigate this complex path (of going overseas)," he said.
China is making rapid progress in NEV exports. The China Association of Automobile Manufacturers said carmakers in the country shipped 636,000 NEVs overseas from January to July, up 150 percent year-on-year.
Data from the General Administration of Customs shows China's auto parts exports reached 541.13 billion yuan ($73.69 billion) in 2022, a growth of 10.9 percent compared to 2021.
The growing demand for their products attracted Chinese companies to the IAA Mobility show.
SAIC, China's largest carmaker and vehicle exporter, showcased its MG4 EV hatchback and MG Cyberster sports car at the event.
The MG4 EV is proving to be popular in Europe. Its monthly sales exceed 10,000 units in that market. The brand's sales account for roughly 80 percent of Chinese brands combined in Europe.
Avatr, backed by Changan, Huawei and CATL, made the world premiere of its luxury sedan Avatr 12 in Munich last week.
The exterior design was crafted by its global design center in Munich, adhering to a design philosophy of "future elegance".
Deliveries are set to commence in the fourth quarter in China, with plans to officially enter international markets in 2024, said the carmaker's executives.
BYD unveiled six all-electric sedan and SUV models, including the European premiere of the Seal U.
Since beginning sales in Europe in October 2022, BYD has spread to 15 European countries in 11 months.
Chinese startup Leapmotor unveiled its latest vehicle architecture, LEAP 3.0, and the first model built on it, the C10.
Starting from the C10, all Leapmotor vehicles will be designed and developed with a global mindset and will adhere to global standards, it said.
Zhu Jiangming, chairman and CEO of Leapmotor, said the IAA Mobility show marks the starting point of the startup's globalization strategy.
He said the company will launch five models built on the platform in two years for such markets as Europe, Asia-Pacific, the Middle East and Americas.
Chinese auto parts suppliers made a splash at the event as well.
Hesai Technology, a globally leading auto lidar producer, announced that it is providing its AT128 long-range lidar to German auto parts giant Webasto for roof sensor modules.
Bob in den Bosch, senior vice-president of global sales at the Shanghai-based startup, said: "We want to see our cutting-edge lidar technology adopted by leading automotive makers and become a mainstream component in series-production vehicles."
Chinese autonomous driving company QCraft showcased its Chengfeng-series driving-assist solutions at the IAA Mobility show.
Yu Qian, co-founder and CEO of the company, said its debut at the event is also an opportunity to conduct exchanges with other companies in the sector.
"In the era of smart NEVs, we need not only Chinese marques but also Chinese solutions," he said.