Gun violence killing 123 people daily in US this year
By BELINDA ROBINSON in New York | China Daily Global | Updated: 2023-09-14 10:16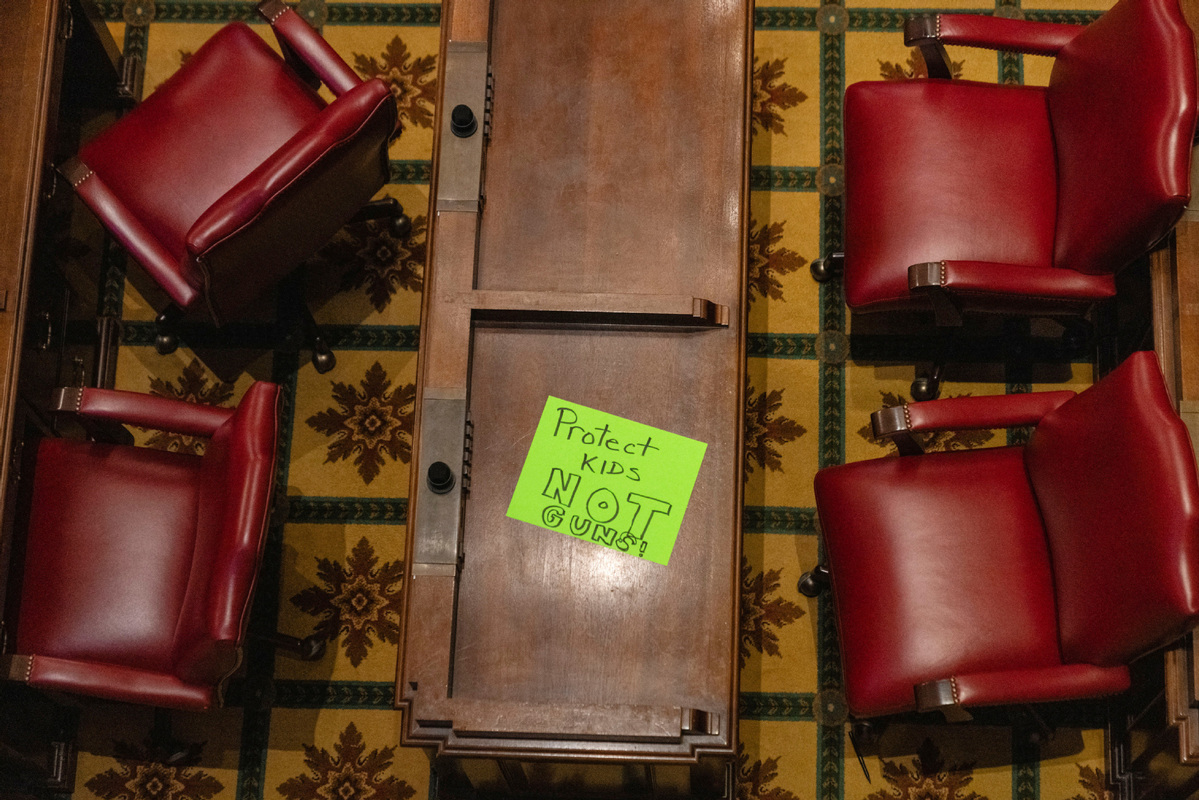 Gun violence has killed 123 people per day in the United States this year, including 1,079 teenagers and 216 children, figures from the Gun Violence Archive showed.
President Joe Biden renewed his calls for Congress to pass more gun control in July after a spate of mass shootings. But, in contrast, conservative politicians have pushed for more gun rights nationwide.
In Kentucky, Ohio, Nebraska, Texas and Virginia this year, Republicans have advocated for removing background checks, getting rid of red-flag laws and minimizing gun-free zones that limit where people can carry a firearm around others in public.
There were 30,235 deaths involving a gun as of Sept 1. At least 13,405 were homicides, murders or unintentional. The majority, at 16,830 or 69 per day, were suicides by gun, the archive found.
Some states had far more suicides by gun than others, including Texas, California, Florida, Georgia, North Carolina, Illinois and Louisiana.
In two of these states — Texas and Georgia — Republican lawmakers have sought to have gun rights expanded while considering some gun control.
Additionally, the nation has had 498 mass shootings as of mid-September.
In Texas, there are ongoing calls to raise the minimum age that a person can purchase the assault-style weapon often used in mass shootings.
It comes over a year after an 18-year-old gunman shot 19 students and two teachers at the Robb Elementary School in May 2022.
Texas Republican Governor Greg Abbott, a staunch gun rights advocate, believes raising the age would be "unconstitutional".
Abbott and other right-wing politicians hold dear the Second Amendment, which gives all Americans the "right … to keep and bear Arms." They also oppose any interference from the federal government, say experts.
Carl T. Bogus, professor of law at Roger Williams University in Rhode Island told China Daily: "We are a two-party system, and the Republican Party considers the gun lobby to be an essential component of its political coalition."
In at least 25 states, legal gun owners do not need a permit to carry a handgun in many public places. The number of states that have this law in place has risen since 2020, when only 16 states allowed it.
Abbott signed a law in 2021 allowing for "permitless carry", which enables residents of the state age 21 and older to carry handguns without a license or training.
He warned: "Politicians from the federal level to the local level have threatened to take guns from law-abiding citizens — but we will not let that happen in Texas."
In April 2022, Georgia followed Texas in eliminating the need for a permit to conceal or openly carry a firearm.
The move was hailed as "a monumental moment for the Second Amendment" by the National Rifle Association (NRA), which remains a powerful gun rights advocacy group.
"Half the country now rightfully recognizes the fundamental right to carry a firearm for self-defense as enshrined in our Constitution — as opposed to a government privilege that citizens must ask permission to exercise," Jason Ouimet, executive director of NRA's Institute for Legislative Action said in a statement.
In Florida, Republican Governor Ron DeSantis signed a law in a private ceremony in April that allows gun owners to carry a concealed weapon in a range of public places without a permit.
"Constitutional carry is in the books," he said in a statement.
Last year, the Supreme Court, which has more conservative judges than liberal, expanded gun rights.
It also struck down a century-old New York gun law that required people to obtain a license to carry a gun outside their homes.
In response, the New York state Legislature approved a measure that people have to pass a background check and take a gun-safety course to get a permit to own a semiautomatic rifle.
In 2022, Biden signed the most significant gun-safety law passed in decades, the Bipartisan Safety Communities Act.
It was done with help from Democratic and Republican senators in the wake of Uvalde, Texas, and the shooting at the Tops Friendly supermarket in Buffalo, New York.
However, in Tennessee, Governor Bill Lee made clear that he believes no amount of gun control will stop a would-be shooter, saying: "We can't control what they do."
This year, Tennessee lawmakers were trying to make firearms even more accessible by allowing college students to carry weapons on campus and for teachers to be armed, when in March, six people, including three children, were fatally shot at the Covenant School in Nashville by a transgender male.
Lee signed an executive order in April strengthening background checks for gun purchases.
Today, the US has more guns than people with approximately 390 million firearms in circulation in 2018 — compared to a population of 331.9 million people — according to the Small Arms Survey, a Swiss-based research project.
First-time gun ownership also grew between January 2019 and April 2021 as at least 7.5 million people became new gun owners, figures show.
Experts suggest gun control will always face challenges from Republican-led efforts.
Bogus added: "The gun lobby and gun enthusiasts enjoy so much political power that — notwithstanding recurring horrific tragedies — nothing significant is likely to change."