Regular freight services boost efficiency
By LUO WANGSHU | China Daily | Updated: 2023-09-18 11:06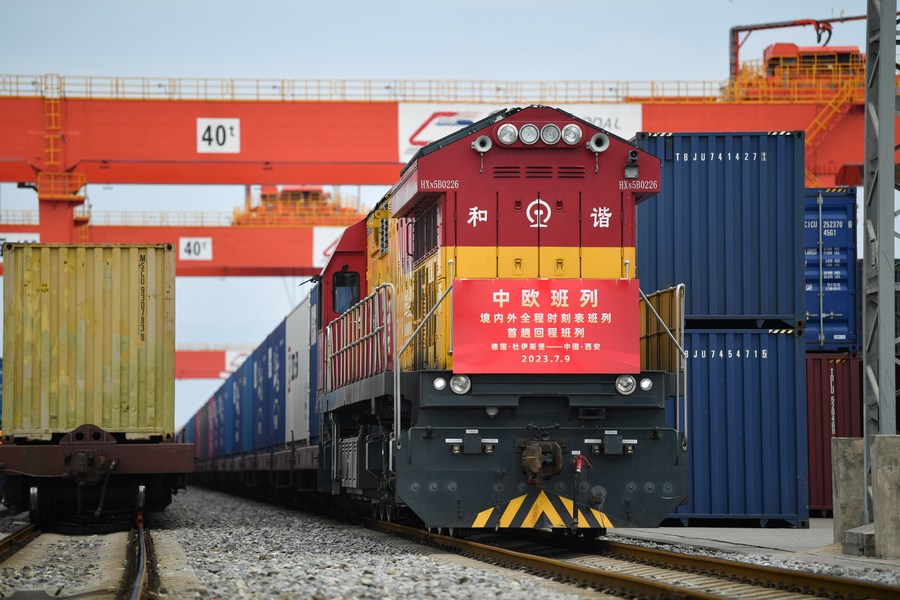 Set schedule of trains between China, Europe ensures stable transport time
Five scheduled weekly freight train services between China and Europe have reduced travel time, improved efficiency and injected new momentum into trade between Asia and Europe, China State Railway Group, which oversees the services, said on Friday.
All the trains follow set schedules along the routes, allowing customers to accurately determine the transport time between cities and improve service quality.
On Wednesday and Saturday, a freight train departs from Xi'an in Northwest China's Shaanxi province to Duisburg in Germany. On Tuesday, the train leaves Duisburg and returns to Xi'an.
On Saturday, a freight train leaves Chengdu, Sichuan province and heads to Lodz in Poland. The return train departs every Thursday.
The set travel schedules of the freight trains have reduced travel time by about 30 percent on average compared with other China-Europe freight trains, according to the group. This has helped provide better freight services to ensure the stability of global industrial and supply chains.
Compared with regular China-Europe freight trains, the new service has fixed carriages, routes, shifts and set schedules for all sections of the routes, including in countries where railway gauges are different from those in China.
The cross-border trips involve unloading goods and reloading them into containers when the rail gauges change.
The new service better controls the operation time by improving efficiency at border stations and during the reloading process, which ensures a more stable transport time.
The first such service left Xi'an on Oct 26, last year. It traveled nine days, 19 hours and 26 minutes to its destination in Duisburg and arrived on schedule.
In September 2021, to improve the service's competitiveness and offer a more stable schedule, railway operators and service providers from seven countries including China, Germany and Poland jointly drew up a coordination plan to manage set schedules.
The next step is to develop more routes with set schedules to improve the quality of China-Europe freight train services, which can better support a smooth international industrial supply chain, the company said.
In March, 2011, a new era in rail freight was ushered in when a train left Chongqing and traveled through Central Asia to Europe, establishing a viable alternative to sea and air shipping.
Over the past decade, 77,000 China-Europe freight train trips have been made, carrying 7.31 million containers with a total estimated goods value exceeding $340 billion.
The transportation network of the China-Europe train services has connected 217 cities in 25 European countries.