Guideline promotes craftsmen cultivation
By Deng Zhangyu | China Daily | Updated: 2023-09-20 08:37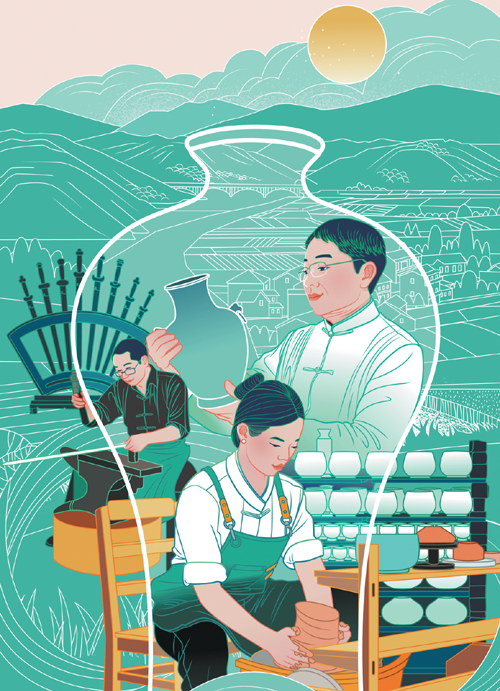 Backed by policy, skilled workers to help spur prosperity in villages
After years of rural vitalization, a national strategy that aims to develop areas in the countryside, China is now planning to cultivate a group of high-level craftsmen in villages who can set up workshops or companies to create more jobs in their hometowns.
Last December, the National Rural Revitalization Administration and eight other government bodies — including the Ministry of Education, the Ministry of Industry and Information Technology, the Ministry of Human Resources and Social Security, the Ministry of Culture and Tourism and the Ministry of Agriculture and Rural Affairs — launched a guideline to boost the cultivation of craftsmen in villages, aiming to build a qualified team of workers in rural areas to breath life into local industries.
According to the guideline, officials will recognize about 100 master craftsmen nationwide and roughly 1,000 high-level model craftsmen, and also set up a group of workshops led by the latter until 2025. Under the craftsmen's influence, more jobs are expected to be created and villagers will have the chance to earn more money.
The range of crafts supported by the guideline includes weaving and knitting, tie-dyeing, porcelain making, house building and renovating, paper-cutting, stone engraving, printing and lacquerware making. Many of these are traditional craft skills that have been designated as intangible cultural heritages.
Last month, a more detailed policy was issued to address questions such as how to select model craftsmen and what kind of support they will get from local governments.
Xu Xuchu, a professor at the China Academy for Rural Development at Zhejiang University, said the nation's cultivation of craftsmen is meant to be a catalyst that sparks a boom in local industries in villages, based on their unique characteristics.
"I think the policy is made to help villages develop their own industries and protect those crafts that are in danger of vanishing," he said.
According to a survey on China's traditional crafts conducted by the Chinese Academy of Social Sciences in 2019, more than half of the craftsmen who mastered the skills were above 55 years, and 60 percent of them had no apprentice to pass on their knowledge to. Furthermore, their products were mostly made in family workshops, so it was hard for them to meet the demands of consumers.
Xu said under the policies, craftsmen can enjoy various kinds of support from the government, expand their businesses and build up small industry chains in villages.
"It's not simply to stop these crafts from vanishing. They have to use e-commerce and other promotional ways to find a market outside their villages," Xu said.
Designating model craftsmen is a move meant to drive these people to better make use of the government's policies and thus help their fellow villagers earn more money.
Since last year, Xu and other professors at Zhejiang University have provided training courses to potential model craftsmen, who were selected from across the country.
They teach them how to take advantage of these policies, how to set up their e-commerce networks and how to brand and market their products.
"Many of these villagers have never had the chance to go to college. They work very hard to learn," Xu said.
He added that some craftsmen are not selected from the areas related to traditional culture, but from industries that have been developed for years, such as farming and house building.
"Some local governments have broadened the meaning of craftsmen. They're smart to make full use of the policy," said Xu, explaining that many villages don't have traditional craftsmen.
Conghua district in Guangzhou, Guangdong province, held a house building competition in May. It gave awards to the best plasterer, the best tiler and the best builder. About 100 workers from local villages participated.
Conghua government official Zhang Guoquan said that in the district, house building is a major industry that employs many workers from villages. The local government wants to help builders start their own businesses in the villages.
"Under the rural vitalization strategy, the demand for homebuilding in villages is increasing. Many want their houses to be built with high-quality standards and skills. That's why we have kept organizing such competitions for builders over the years," Zhang said.
He added that in the guideline, craftsmen are defined as people who engage in traditional crafts, including paper-cutting, porcelain making and tie-dyeing, or those who work in other fields such as agriculture and homebuilding.
A list of this year's nominees for model craftsmen in Conghua included planters, flower growers and crab raisers. All of them are representatives of local industries.
In Nanchong, Sichuan province — a city known for its bamboo products — Ma Jun, a model craftswoman, has set up a bamboo workshop supported by the local government in Changle town.
Every day, Ma teaches villagers how to weave bamboo at her workshop. She also now has several young apprentices, something she thought would never happen because few regard the craft as a profitable one.
There are altogether 15 craftsmen workshops like Ma's in Nanchong. They have recruited hundreds of local villagers who used to leave their hometowns for cities to make a living.
"I feel very proud to be a model craftswoman. I can help others to create a better life," Ma said.
Xu, the professor at Zhejiang University, said that the primary purpose behind the establishment of the models is to help people in rural areas earn more money.
"The final goal of all policies under the rural vitalization strategy is to create common prosperity for all. The guideline to cultivate craftsmen is meant to make this dream come true," he said.
dengzhangyu@chinadaily.com.cn