Talent in focus at 1st Golden Panda Awards
By HUANG ZHILING,XU FAN and PENG CHAO in Chengdu | CHINA DAILY | Updated: 2023-09-21 07:09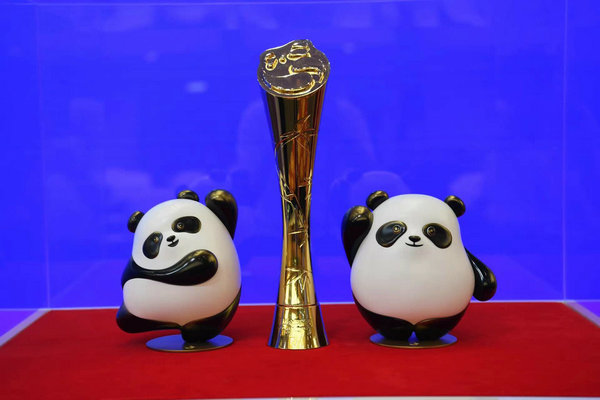 At a glittering ceremony in Chengdu, Sichuan province, on Wednesday evening, the first Golden Panda Awards recognized outstanding talent and creativity in the world of film and television.
The Best Picture award in the film category went to Jojo Rabbit, which has been co-produced by the United States, the Czech Republic and New Zealand, and is set against the backdrop of World War II. The Best Actress and Best Actor awards in the category were scooped up by Penelope Cruz for Parallel Mothers and Nahuel Perez Biscayart for Persian Lessons.
In the TV category, Lei Jiayin took home the Best Actor prize for his vivid portrayal of a struggling worker in the drama series A Lifelong Journey. The Best Actress award went to Italian Margherita Mazzucco, who delivered an impressive performance in the critically acclaimed My Brilliant Friend Season 3.
In a related event held on Wednesday, delegates at the first Golden Panda International Cultural Forum highlighted the importance of exchanges and mutual learning among civilizations and cultures. The theme of the forum was "Civilizations in Harmony: Diversity, Equality and Inclusiveness".
Nabil Fahmy, former foreign minister of Egypt, said: "People need to understand and respect different cultures. What the world needs is not the same culture, but equality and inclusion."
It is time to stop hegemonism and the exclusive view of civilization and values based on the military system, and instead care for common interests, he added.
Erik Solheim, former undersecretary-general of the United Nations, said: "We need China. We must combat all folly about decoupling. We need more not less global cooperation."
The Global Civilization Initiative proposed by President Xi Jinping provides a new solution for the world, said Irina Bokova, former director-general of UNESCO. She said the initiative shares the vision of the Silk Road. The history of the Silk Road has shown how great civilizations have mingled and influenced each other over centuries.
Providing examples that demonstrate the importance of exchanges and mutual learning among civilizations and different cultures, Ge Jianxiong, a senior professor at Fudan University, said that some 300 years ago, immigrants from Hubei, Hunan, Jiangxi, Fujian and Guangdong moved into Sichuan, bringing with them chili peppers that originated in South America. Sichuan cuisine today is famous for its spice quotient that comes from use of chilies that the settlers introduced to the province.
The Chinese nation is adept at learning from other nations and civilizations. Due to this, Chinese civilization has gone from strength to strength, Ge said.