Casual chat has creative repercussions
By Chen Nan | CHINA DAILY | Updated: 2023-09-21 08:01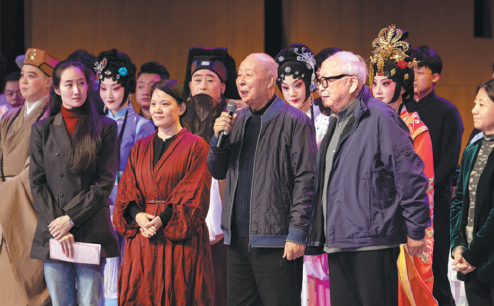 Front row, from left: Director Wang Yabin, Wei Lingzhi, secretary-general of the Cao Xueqin Society, composers Zhu Shaoyu and Wang Liping at the premiere of the concert, Jingyun Honglou ("Dream of the Red Chamber, Peking Opera-style") in 2022. CHINA DAILY
Get-together leads to characters from classic novel finding new life in a popular concert performed Peking Opera-style, Chen Nan reports.
When producer Li Dong, composer Wang Liping and Wei Lingzhi, secretary-general of the Cao Xueqin Society, met at the Cao Xueqin Memorial Hall in the China National Botanical Garden last year, it seemed at first like a casual chat between friends.
But when Wang, who composed the soundtrack for the 1987 Chinese TV series Dream of the Red Chamber, played a few songs students at the National Academy of Chinese Theatre Arts had adapted, Li became excited and the idea for a new project was born.
"The students' songs mixed Peking Opera with Wang's soundtrack, and I felt that it would be a great experience for the audience to enjoy the soundtrack with a new Peking Opera arrangement," says Li.
Wei liked Li's idea, and offered his support by inviting veteran scholars, specializing in the Dream of the Red Chamber and its author Cao Xueqin, to help write the scripts for the performers, and veteran Peking Opera composer Zhu Shaoyu was invited to rearrange Wang's soundtrack.