Playing soccer so they can study
By Tan Yingzi in Chongqing | China Daily | Updated: 2023-09-21 09:23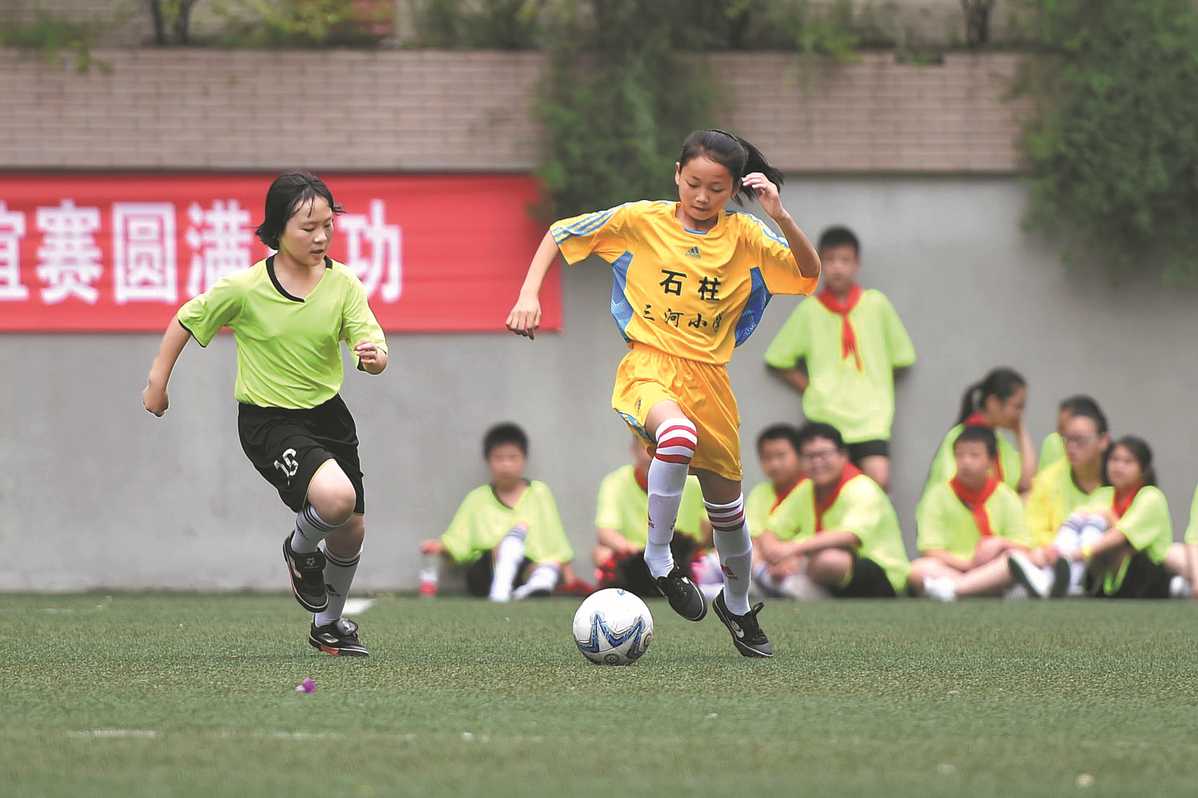 Girls on rural school team look to achieve goals on the pitch, in universities
At the gate of Sanhe Primary School, a large soccer ball sculpture, a statue of a championship trophy and the slogan "Soccer brings you wisdom, an exciting life and promising future" on the wall tell the story of how this sport has changed the destiny of rural children deep in the mountains of Southwest China.
Ten years ago, Sun Xiaoming, then headmaster of Sanhe, founded a 20-member girl's soccer team at the school in Chongqing's Shizhu Tujia autonomous county, which was impoverished at the time.
Of the 20 original players, 19 were later admitted to Chinese universities thanks to their outstanding skills on the pitch.
Last year, eight former Sanhe players were admitted into universities based on their athletic abilities. This year, 11 more followed the same path.
One of the 11 attends Beijing Sport University, two are students at the Shanghai University of Sport, and another managed to get into the prestigious Tongji University.
On Sept 1, the first day of the new school year, some former Sanhe soccer players who have enrolled in colleges returned to the primary school and participated in the opening ceremony of the school year, sharing their stories and coaching the school team.
"In our time, our training conditions were very bad, but we really cherished the opportunity to play soccer," said Qin Furong, one of the original team members, as she shared her story at the opening ceremony. She became a student at Donghua University in Shanghai this year.
She recalled that when she joined the team, the players trained with rubber balls instead of a real soccer ball.
"We played on cement, and every fall really hurt," she said. "With bruises all over our bodies, we held back tears and kept on training."
Ran Yufeng, a freshman at Zhengzhou University in Henan province, told the current team members that they must learn to balance study and sport.
"Only after you finish your studies can you focus on training," she said. "You will do better than us with such good training conditions."
Besides serving as a gateway to a good education, the sport has also given some of the players a chance to see the world.
In 2018, Ma Qinglin visited the United Kingdom on a soccer exchange program. Now a student at the Shanghai University of Sport, she has joined Shanghai Shenhua SUS Women's Soccer Team of the Chinese Football Association League.