Shipbuilding production, orders surge
By ZHONG NAN | China Daily Global | Updated: 2023-09-21 09:27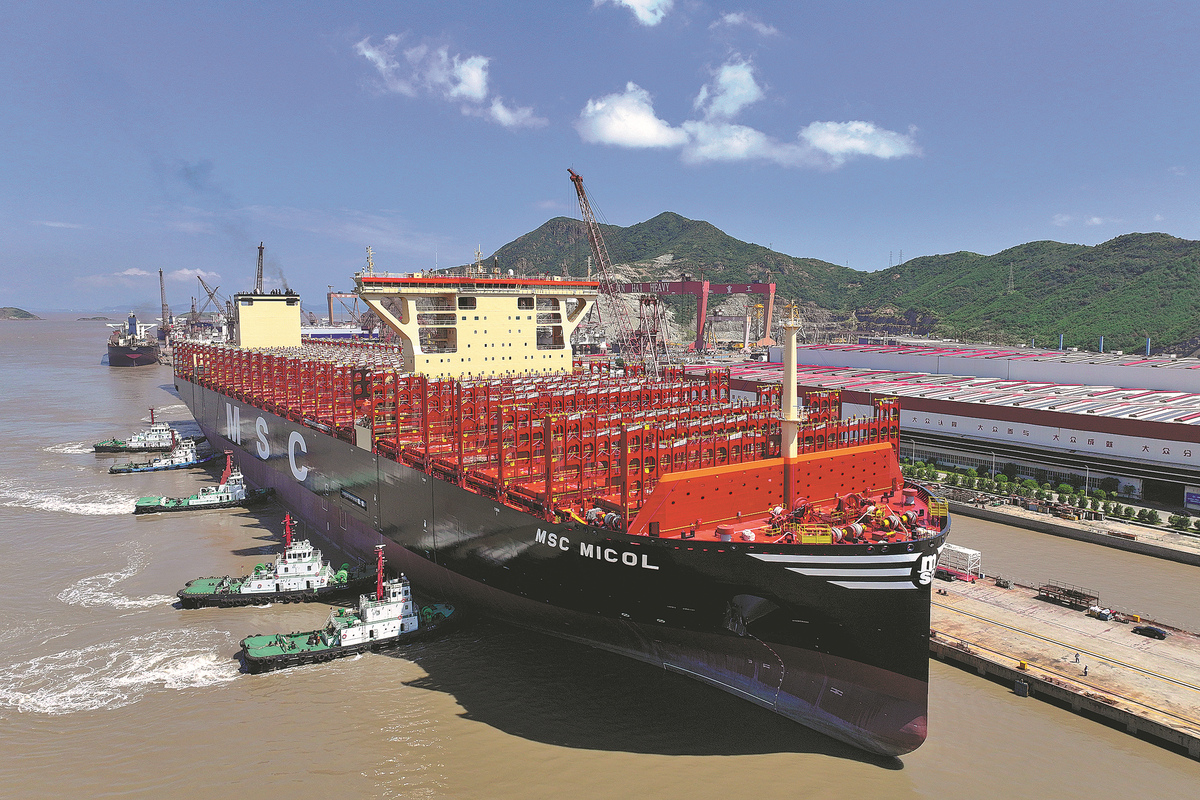 China's shipbuilding industry recorded sound development in the first eight months, with robust growth in output, new orders and holding orders, helping the sector emerge as a formidable force propelling the country's industrial expansion, said a government official on Wednesday.
Fueled by technological accumulation and industrial upgrading, China saw new orders — a major indicator within the shipbuilding industry — account for 68.8 percent of the global market share during the eight-month period, said the Ministry of Industry and Information Technology.
The ministry said China's shipbuilding output accounted for 49 percent of the world's total between January and August, while the sector's holding orders represented 53.9 percent of the global total.
Speaking at a news conference in Beijing, Tao Qing, head of the MIIT's bureau of operation monitoring and coordination, said that these encouraging figures will inject new impetus into China's foreign trade and economic growth.
In August, the added value of China's industrial enterprises above a designated size grew 4.5 percent year-on-year, with the growth rate accelerating by 0.8 percentage point compared to the previous month, government data showed.
China also witnessed a surge in the production of service robots, up 73.7 percent year-on-year in August, while civil aircraft production soared 33.3 percent. Meanwhile, production of goods such as photovoltaic cells and lithium-ion batteries for automobiles exhibited substantial year-on-year growth, with increases of 77.8 percent and 31.5 percent, respectively.
Tao said the equipment manufacturing industry has been the primary driver of industrial growth this year, with notable momentum in the development of high-end products.
"Based on high-frequency data related to employment and electricity usage that the MIIT has been monitoring since September, it is evident that industrial production has shown a stable and upward trend in both year-on-year and month-on-month comparisons," she said.
In the first eight months, 27 of the 41 major industrial categories recorded year-on-year increases in added value. Among 10 pillar manufacturing sectors, seven achieved growth rates surpassing the national average, the MIIT said.
With continuous optimization of the industrial structure, investment in manufacturing increased by 5.9 percent year-on-year in the January-August period, with investment in high-tech manufacturing surging 11.2 percent on a yearly basis.
Emphasizing the need to accelerate the transformation and upgrading of traditional industries, Tao also said that in the next step, China will systematically advance the development of emerging industries, such as 5G, intelligent connected vehicles and new materials, nurture a batch of new growth engines and build new competitive advantages.
To address critical technical challenges, the MIIT and the State-owned Assets Supervision and Administration Commission of the State Council announced last week that they will work closely to promote the collaborative integration of China's centrally administered State-owned enterprises with small and medium-sized businesses to expedite the country's shift toward high-end industrial chains.
The government will provide guidance for businesses to focus on weak links in industrial chains, promote the implementation of major investment projects and consolidate their leading positions in advantageous industries.
In a separate development, Shanghai Zhenhua Port Machinery Co (ZPMC), one of the world's largest port machinery manufacturers, delivered two wind turbine installation vessels for offshore wind power projects to Shanghai-based CCCC Haifeng Wind Power Development Co Ltd in Qidong, East China's Jiangsu province, on Tuesday.
These vessels can conduct integrated construction operations for transporting and installing two sets of 15-megawatt wind turbines, said Ou Huisheng, ZPMC's president, adding that the group started to build a 3,500 metric ton wind turbine installation platform last month.
This ship will become the world's largest in terms of lifting capacity and the most powerful in terms of operational capabilities among similar vessels, Ou said.