10 killed, 8 injured by tornados in Jiangsu
Share - WeChat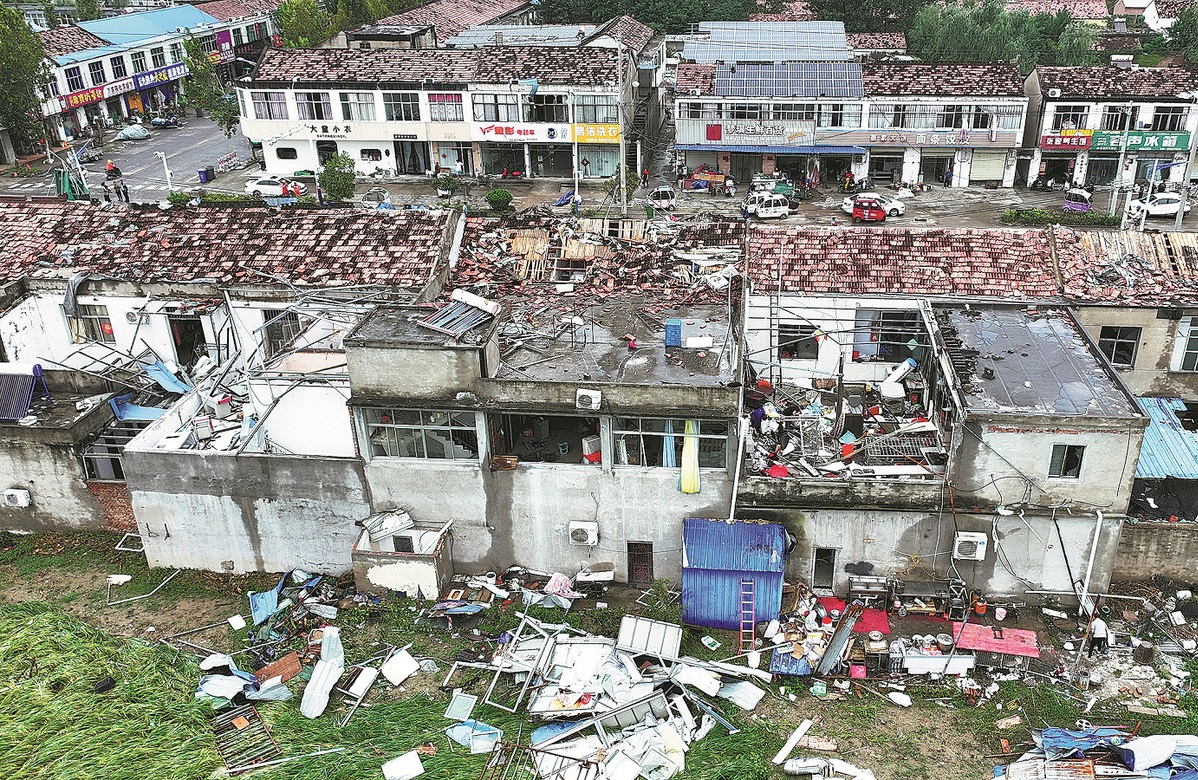 Ten people have died and eight have been injured as of Wednesday afternoon in tornados that struck two counties in Jiangsu province, local authorities said.
A tornado hit the populous Daxing and Nancai townships of Suqian city during rush hour at around 5:20 pm on Tuesday, killing five people and seriously injuring four others.
A total of 5,512 residents were affected by the disaster, 405 of whom have been temporarily evacuated. The twister also collapsed 137 houses and damaged 41.8 hectares of crops, according to the city's department of emergency management.
A man surnamed Qin from Nancai village told Beijing News that it was the biggest tornado he had experienced in 50 years living there.
"Outside the house, it was noisy with the sound of wind, which kept blowing inside. I couldn't even resist it with my hands against the door," he said.
After about 10 minutes, the wind stopped. He found the metal guardrail outside the window had been blown off, and the corridor inside the house was filled with broken glass. The tiles on the roof of the second floor had been blown off.
According to the local authorities, the tornado in Suqian was rated at EF-2 on the Enhanced Fujita Scale, with a wind speed of 178 to 217 kilometers per hour, speeds that can blow heavy objects several hundred meters and flip cars. They can uproot large trees and blow away roofs and walls. EF-5 is the most destructive classification for tornados.
Elsewhere, Funing county of Yancheng city was hit by an EF-3 tornado on Tuesday night, leaving five people dead and four with injuries. The number of locals affected reached 1,364, with 614 houses and 199 hectares of crops damaged.
Rescue operations and post-disaster work are underway.
To escape a tornado, experts suggest getting away from trees, poles and billboards, or hiding in a solid building while staying away from doors and windows. Underground spaces such as subways and basements are safe. If in a car, it's suggested getting out and hiding in low-lying areas.