Paddles and peaks: My unforgettable Guizhou adventure
By Nathan Williams | chinadaily.com.cn | Updated: 2023-09-21 20:34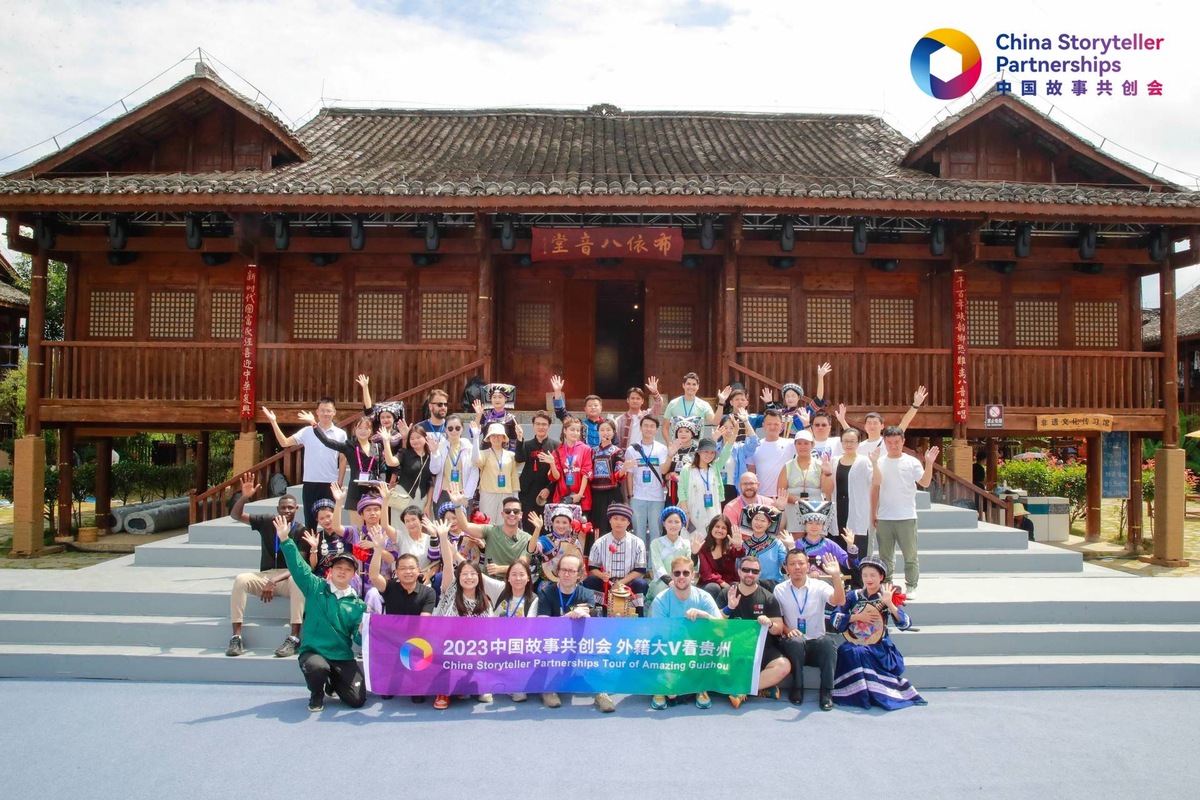 "Colorful Guizhou" is a phrase that resonated with me throughout my enchanting tour of Xingyi city and Anlong county. However, this phrase hardly does justice to the breathtaking firsthand experience of witnessing the vibrant tapestry of lush mountains, crystal-clear rivers, and mesmerizing sunsets that this region has to offer.
My journey commenced in the Wanfenglin Scenic Area, often referred to as the "forest with ten thousand peaks." As we explored the park, we encountered remarkable man-made treasures, such as a marriage registration center, resembling a colossal love heart embedded in the landscape. This center, located within a 4A National Park, opened its doors on Valentine's Day and has since become a cherished destination for couples embarking on their matrimonial journey.
While strolling through the park, I was drawn to the riverbed by the entrancing melodies of a man playing traditional Chinese music on an electric recorder. This is just one example of the seamless integration of modernity with Mother Nature's playground. Liu Yongfeng, a 59-year-old retired English teacher, shared with me, "I come here every day to play, to stay young. I cherish this spot, gazing at the rainbow bridge and the distant peaks."
After this delightful serenade, I rejoined my tour group to explore another hidden gem—a village designed in the style of the Bouyei ethnic minority community. Here, I marveled at beautifully woven clothes and handicrafts on display and available for purchase. A highlight of the exhibition was an elegant array of tie-dye clothing, showcasing one of the numerous cottage industries as part of a broader rural revitalization initiative in the area.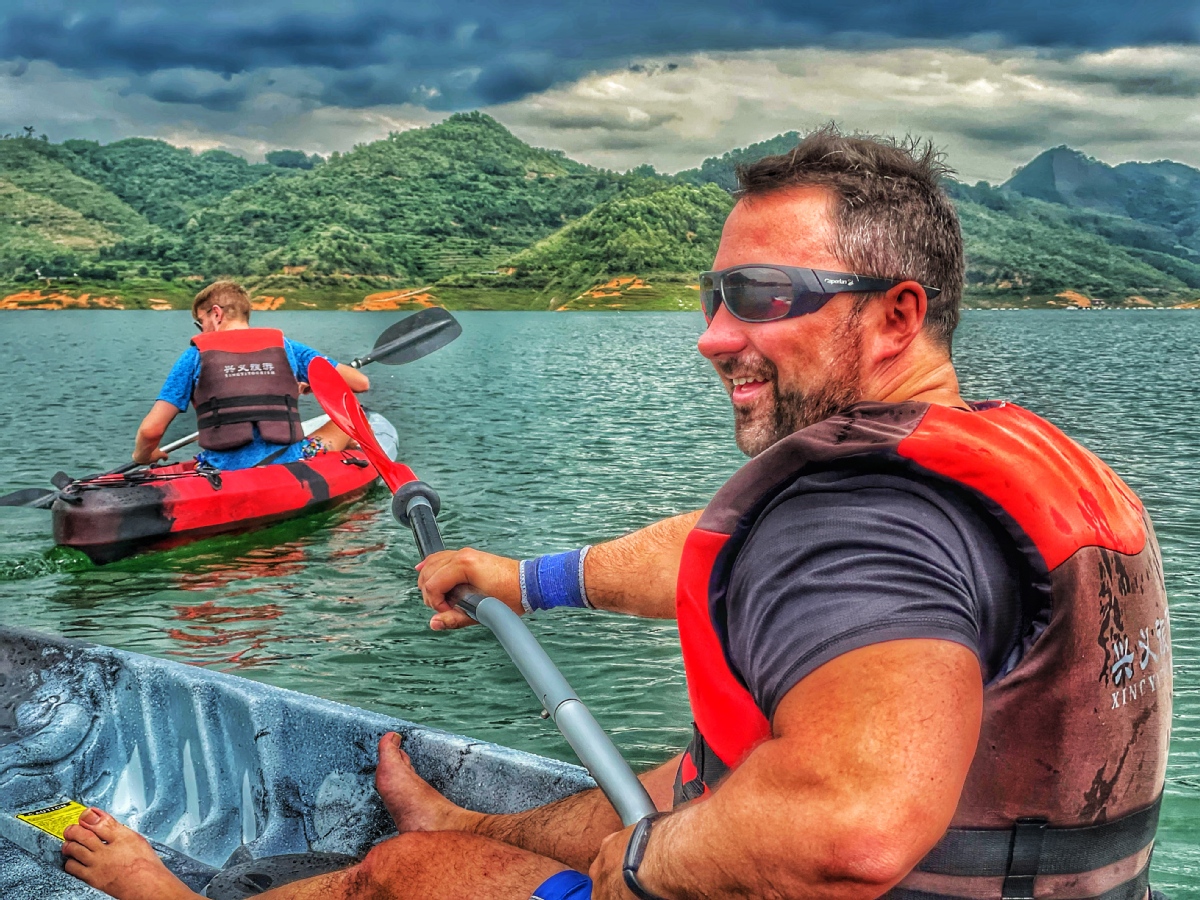 Our next adventure led us to Wanfeng Lake in Runlong Bay, where we embarked on kayaks to immerse ourselves in the serenity of the surrounding valley. Wanfeng Lake boasts a unique distinction as the home of the current Guinness World Record for the world's longest wild fishing platform. Covering a land area of 176 square kilometers and measuring 120 cubic square meters, this awe-inspiring body of water offers visitors the opportunity for jet skiing, paddleboarding, canoeing, kayaking, and tubing. However, as we floated on the lake, with only the gentle sound of waves caressing our kayaks, we found peace more precious than any thrill.
Our second day brought us to Malinghe Canyon for an exhilarating white-water rafting experience. Filled with excitement and a touch of trepidation, my companions and I embarked on a 13.8-kilometer journey down the river. Our skilled guides expertly navigated us through the rapids, using their paddles to guide us away from rocks and into the heart of the action. It was a remarkable experience, a must for those daring enough to explore the lifeblood of this vast landscape from the river.
Following a satisfying lunch, we headed to Longyin Mountain to witness paragliding over the valley below. The view was nothing short of exquisite. As I sat on the grass, basking in the warmth of the sun, lost in reverie, my newfound friends joined me. For a brief but special moment, we exchanged stories of past adventures and misspent youth. Lounging on the hillside of Longyin Mountain, the view evoked cherished memories, as if they were being painted in the clouds against the piercing blue sky.
Our final adventure took us to Anlong County and the Anlong Limestone Resort. Wu Bin, the Executive Director and owner of the hotel, graciously allowed us to experience a taste of luxury, if only for an afternoon. From his picture-perfect hotel, we gazed over the valley and explored some of the most opulent rooms I had ever seen. To cap off this lavish experience, Wu Bin took us down into the valley to indulge in adrenaline-fueled action with his quad bikes. The last time I had driven a quad bike was at the age of 10, but even after 26 years, I felt like a child again. The quad bike roared to life, dirt flew, and the wind rushed past as I zoomed around the dirt track, feeling like a daredevil. My inner child reveled in the moment.
This year, Guizhou hosted the International Mountain Tourism and Outdoor Sports Conference, and I can't imagine a more fitting location for such a celebration. My experience in Guizhou mirrors the province itself—a treasure that will remain with me for years to come. Perhaps one day, as I find myself atop a mountain peak or gliding across a pristine lake, the memories of this remarkable journey will play out in the clouds, just like that beautiful sunny day on Longyin Mountain.