Tracing expertise to beginning
By Zhao Xu | CHINA DAILY | Updated: 2023-09-22 08:15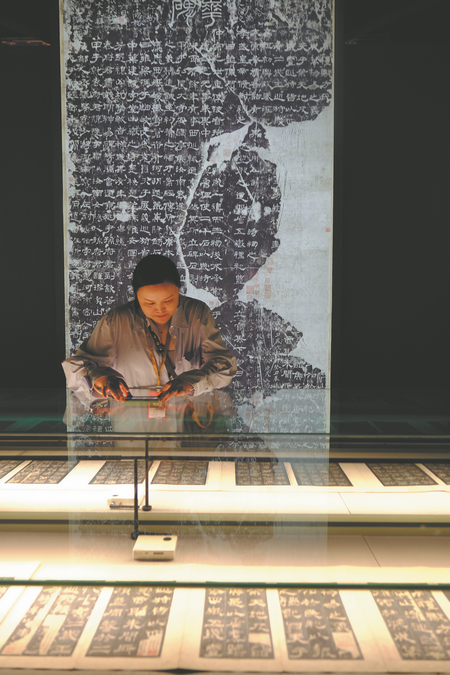 Skill of transferring images onto paper is an art form steeped in history, Zhao Xu reports.
Rubbing, the tracing of characters onto a piece of paper, came into its own during the Song Dynasty (960-1279). Woodblock printing had been invented two centuries earlier and even movable type printing using metal typefaces had appeared. Yet for those who were aiming not just for the content but the display of calligraphic art of a particular piece of writing, rubbing seemed the best option.
For any rubbing to take place, a particular piece of calligraphy must first be transcribed from paper to stone — or wood on rarer occasions — by a master engraver at a 1:1 ratio.
This was no easy task, but the ultimate goal was not to let the characters stay there, but instead, to transfer their vitality to the paper.
To do this, a thin piece of paper was placed over the surface of the stone tablet engraved with characters. Then water, and subsequently ink, was applied smoothly to the back of the paper with just the right amount of pressure, to soften the paper and allow for a thorough transfer of the details of the stone tablet onto it. The paper was left to dry and to eventually be lifted off the stone surface, carrying with it a reproduction of the original.
Repeated numerous times during the Song era, this manual technique enabled educated members of Song society to have access to master calligraphic works either from their own times or from previous eras to whose cultural influences they had willingly subjected themselves.
Oftentimes, the original calligraphy, or even its stone inscription, became lost over time, thus making the rubbings the only surviving proof of the masterworks that had once existed. In that sense, the Song rubbings, and those behind them, have helped to preserve a cultural legacy much valued then and now.
Now, art lovers have the chance to sample some of the most prominent fruits from this collective effort, at an exhibition held at Beijing's Palace Museum and dedicated entirely to the Song rubbings. Of the 40 pieces on display, 20 are drawn from the collection of the Palace Museum, which holds a total of 150 Song rubbings. The other half are from the Art Museum of the Chinese University of Hong Kong.