Sunak hits back over net-zero criticism
By JULIAN SHEA in London | China Daily | Updated: 2023-09-22 09:32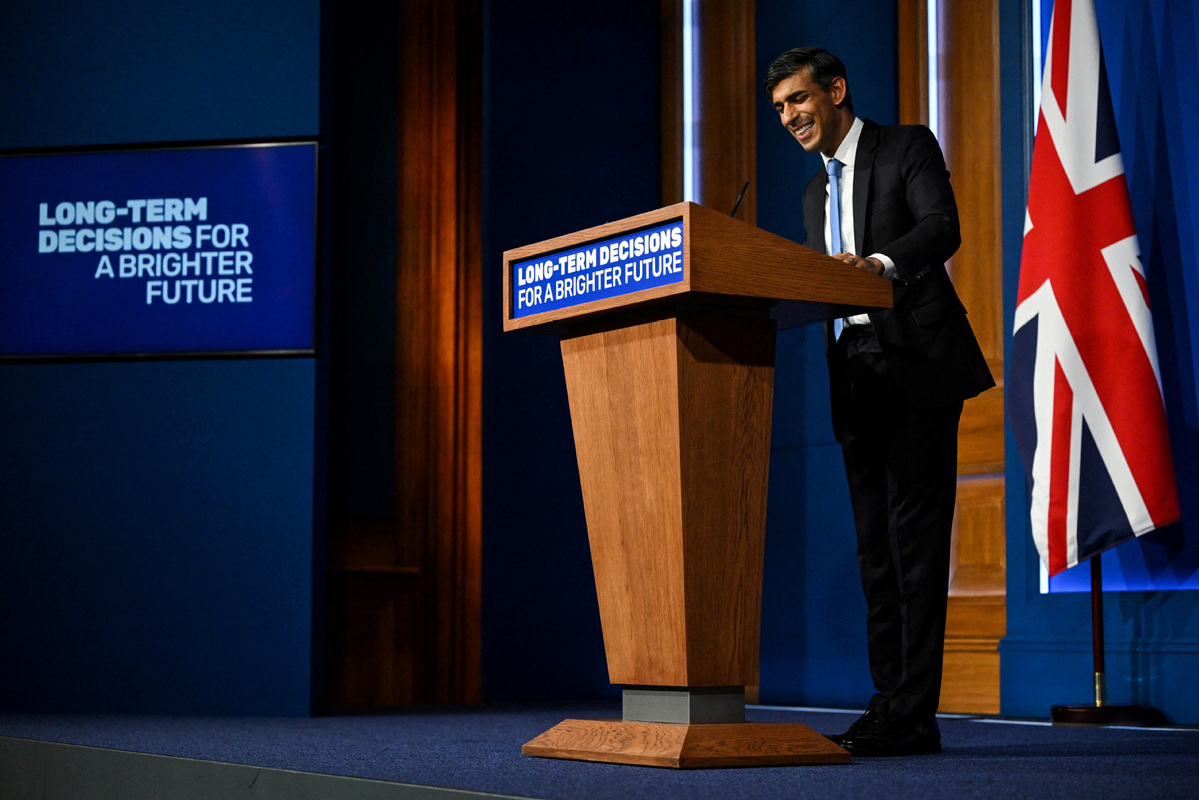 British Prime Minister Rishi Sunak has defended reforms of his government's steps toward reaching net-zero carbon emissions, after a policy leak led to him announcing them earlier than planned and receiving heavy criticism from across the political spectrum and industry.
Speaking on the BBC Radio 4's Today, Sunak said the United Kingdom's decarbonization targets were "more ambitious than pretty much any major economy in the world", adding that reforms including delaying a ban on the sale of new petrol and diesel vehicles by five years were "absolutely not slowing down efforts to combat climate change".
He also rejected criticism from Chris Stark, chief executive of the UK's Climate Change Committee, who said the proposals made it "difficult to escape the idea we're not moving backward" on green policies, accusing Sunak of "wishful thinking".
"We have absolute confidence and belief we will hit (the targets)," Sunak replied.
Business Secretary Kemi Badenoch has also backed him up. "This is not some sort of cynical ploy …this is the right thing to do, and I fully support the prime minister," she told Sky News.
Wednesday's hurried policy announcement, which was made while Parliament was not sitting because of the imminent political party conference season, incurred the wrath of the speaker of the House of Commons, Lindsay Hoyle.
"If he had the power, the Speaker would recall the House immediately — and he is writing to the prime minister today, to express that view in the strongest of terms," a spokeswoman for his office said.
"This is a major policy shift, and it should have been announced when the House was sitting … this is not the way to do business. Ministers are answerable to MPs — we do not have a presidential system here.
"The House of Commons is where laws are made, national debates are had — and where statements should be made."
Auto producer Ford UK was critical of measures relating to the phasing out of new petrol and diesel vehicles. "Our business needs three things from the UK government: Ambition, commitment and consistency," Ford UK's chair Lisa Brankin said. "A relaxation of 2030(the initial cutoff date) would undermine all three."
There were also complaints from the energy sector, with Chris Norbury, chief executive of one of the country's biggest energy suppliers, E. ON UK, calling the measures, including a planned phaseout of gas boilers, a "misstep on many levels".The claim that ditching environmental measures would ease pressure on household budgets was a "false argument", as there is no "green versus cheap" debate.
Norbury also said the policies risked "condemning people to many more years of living in cold and drafty homes that are expensive to heat, in cities clogged with dirty air from fossil fuels, missing out on the economic regeneration this ambition brings".