Pairing assist programs key in Xinjiang
By CUI JIA | CHINA DAILY | Updated: 2023-09-23 08:28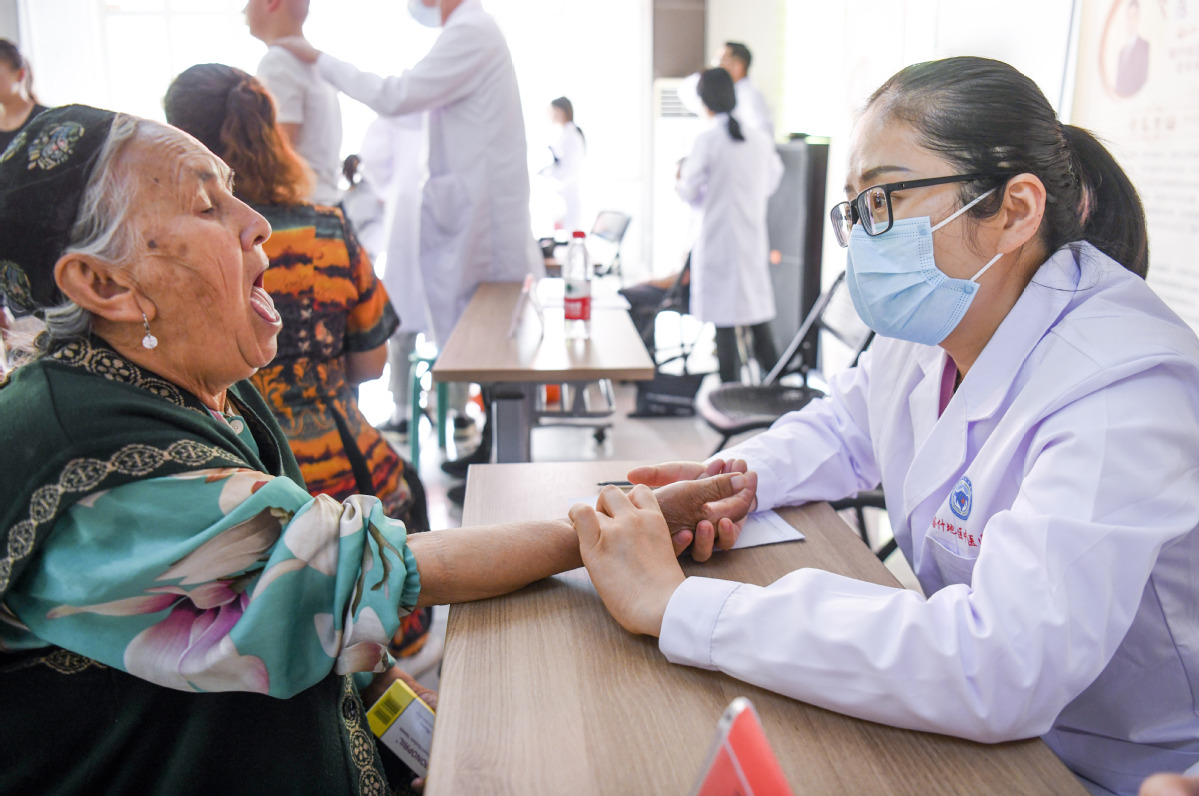 Top adviser calls for investing funds, sending talent to help the region prosper
More high-quality pairing assistance programs need to be introduced in the future to help the Xinjiang Uygur autonomous region maintain stability and become more prosperous, said China's top political adviser.
The practice involves China's provinces and municipalities being "paired up" with cities and counties in Xinjiang to send investment and personnel directly to those areas.
China has been implementing the pairing assistance programs in Xinjiang since 1997, channeling financial, technical and human resource support in various fields to Xinjiang, from 19 provinces and municipalities nationwide, as well as central departments and State-owned enterprises.
Unprecedented efforts have been put into such programs in the new era and have achieved self-evident outcomes, Wang Huning, a member of the Standing Committee of the Political Bureau of the Communist Party of China Central Committee and chairman of the National Committee of the Chinese People's Political Consultative Conference, told delegates at the ninth national meeting on pairing assistance to Xinjiang, held in Kashgar, from Tuesday to Thursday.
Wang said that the amount of funds invested, the number of people involved and the achievements made are all unprecedented. It has fully demonstrated the advantages of the leadership of the CPC and the socialist system with Chinese characteristics.
According to the regional government, more efforts have been put into pairing assistance programs since a national meeting on pairing assistance to Xinjiang was held in 2014. Since that time, historical progress has been made in helping the region achieve rapid economic development, receive a record amount of infrastructure construction funding and help improve people's livelihoods.
Over 170 billion yuan ($23.26 billion) of funding has been allocated to pairing assistance programs over the past decade, and more than 80 percent of the funds have been used to improve people's livelihoods, especially in rural areas, the regional government said. Also, thanks to such programs, living conditions for about 11 million people have been improved in the past 10 years while more than 2,100 schools have been built or renovated.
Furthermore, over 90,000 talented personnel in the education, technology and healthcare sectors have been sent to come to the region in the past 10 years to help raise standards in these sectors as they have been less developed than in other parts of the country.
Wang said that comprehensive, targeted and long-term support for Xinjiang through pairing assistance programs must be provided as it is a national strategy. Also, it is important to firmly grasp the strategic positioning of Xinjiang in overall national development and build a beautiful Xinjiang in the process of pursuing Chinese modernization. And relevant work should focus on social stability and long-term security in Xinjiang.
He also said pairing assistance programs need to focus on accelerating the construction of a modern industrial system that reflects Xinjiang's characteristics and advantages, so that Xinjiang will be able to advance on the track of high-quality development.
What is more, he said, efforts should be made to promote cultural exchanges between different ethnic groups in Xinjiang and forge a strong sense of community for the Chinese nation.
Xie Haisheng, head of a team sent from Shenzhen, Guangdong province, to Kashgar, said education and healthcare are areas that need to be further improved in Kashgar.
"Long-term partnerships between schools and hospitals in the two cities have been forged so continuous assistance can be extended to boost the development of those sectors in Kashgar, bringing more benefits to locals," Xie said.
cuijia@chinadaily.com.cn