Giant flower display in Beijing to greet National Day
By ZHANG YU | CHINA DAILY | Updated: 2023-09-23 08:29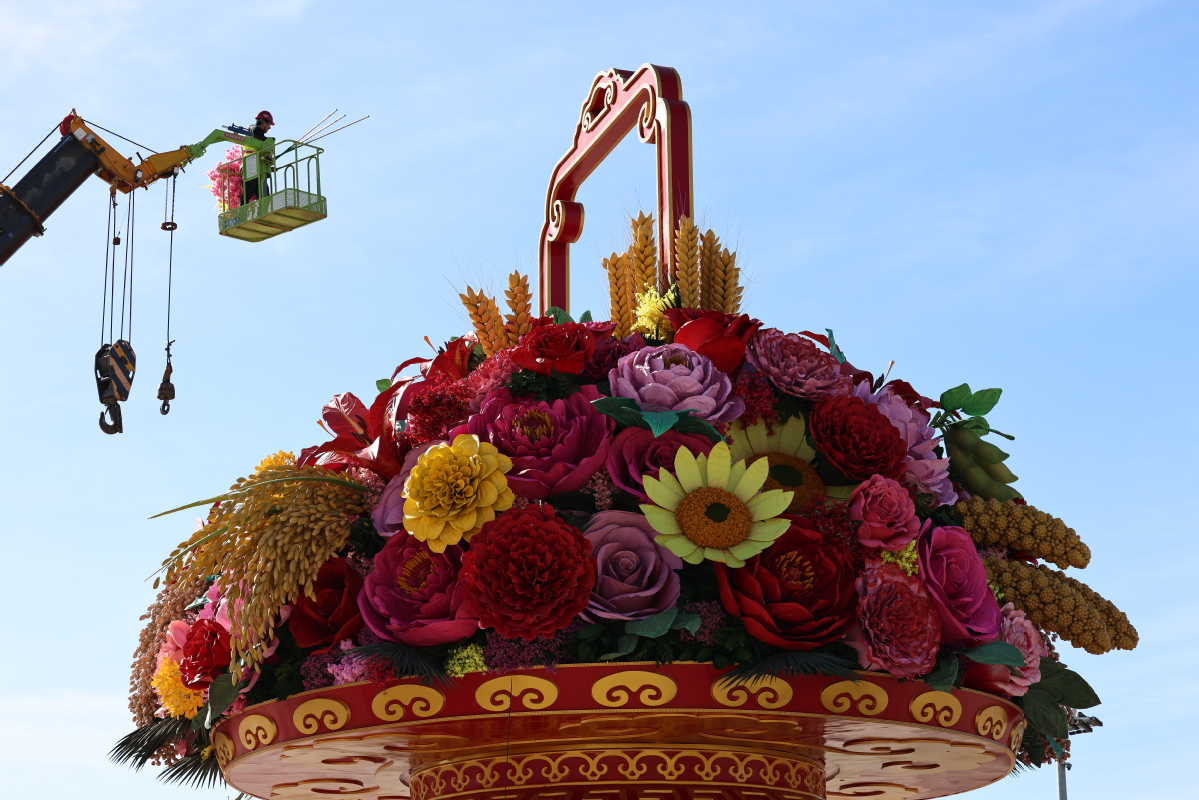 Beijing will decorate Tian'anmen Square and neighboring Chang'an Avenue with a giant flower basket and 10 flower beds to celebrate the upcoming National Day holiday, from Sept 29 to Oct 6, which also covers the Mid-Autumn Festival.
Themed "Blessing the Motherland", the 18-meter-high basket will be set up in the center of the square, aiming to create a grand and festive atmosphere for the 74th anniversary of the founding of the People's Republic of China, according to the Beijing Municipal Forestry and Parks Bureau.
"I feel honored to have witnessed the setting up of the flower basket over the years," Wang Suizhi, a special consultant for the construction of the basket, was quoted as saying by China Discipline Inspection and Supervision Newspaper on Friday.
As one of the first group of master flower arrangers in the country, 75-year-old Wang has been involved in the decoration of flowers for National Day since 1997. She has served as a special consultant for the construction of the basket since 2012.
In recent days, Wang has provided technical guidance on the setting up of the basket, monitoring its progress and offering suggestions on a daily basis.
"I'm willing to do my part for the construction and design of the basket," she said.
New for her and everyone else involved, the large flower basket will for the first time include five kinds of cereal, which symbolize the harvesting of grain, and daylilies, which represent wishes for the motherland's happy birthday.
The five grains are rice, proso millet, millet, wheat and beans.
In addition, flower arrangements covering some 5,050 square meters will also be displayed alongside the square, the bureau said.
Alongside Chang'an Avenue, 10 flower beds featuring various styles will be set up, including one themed around common prosperity and another representing peaceful development.
The capital will arrange a total of 40 sets of themed flower beds, more than 100,000 sq m of planted flowers and over 10,000 flower boxes. A total of more than 13 million pots of flowers will be used.
All these projects will be completed by the end of this month, the bureau said.
zhangyu1@chinadaily.com.cn