Toyota bets on new tech and old-school thinking in EV battle
China Daily | Updated: 2023-09-25 09:40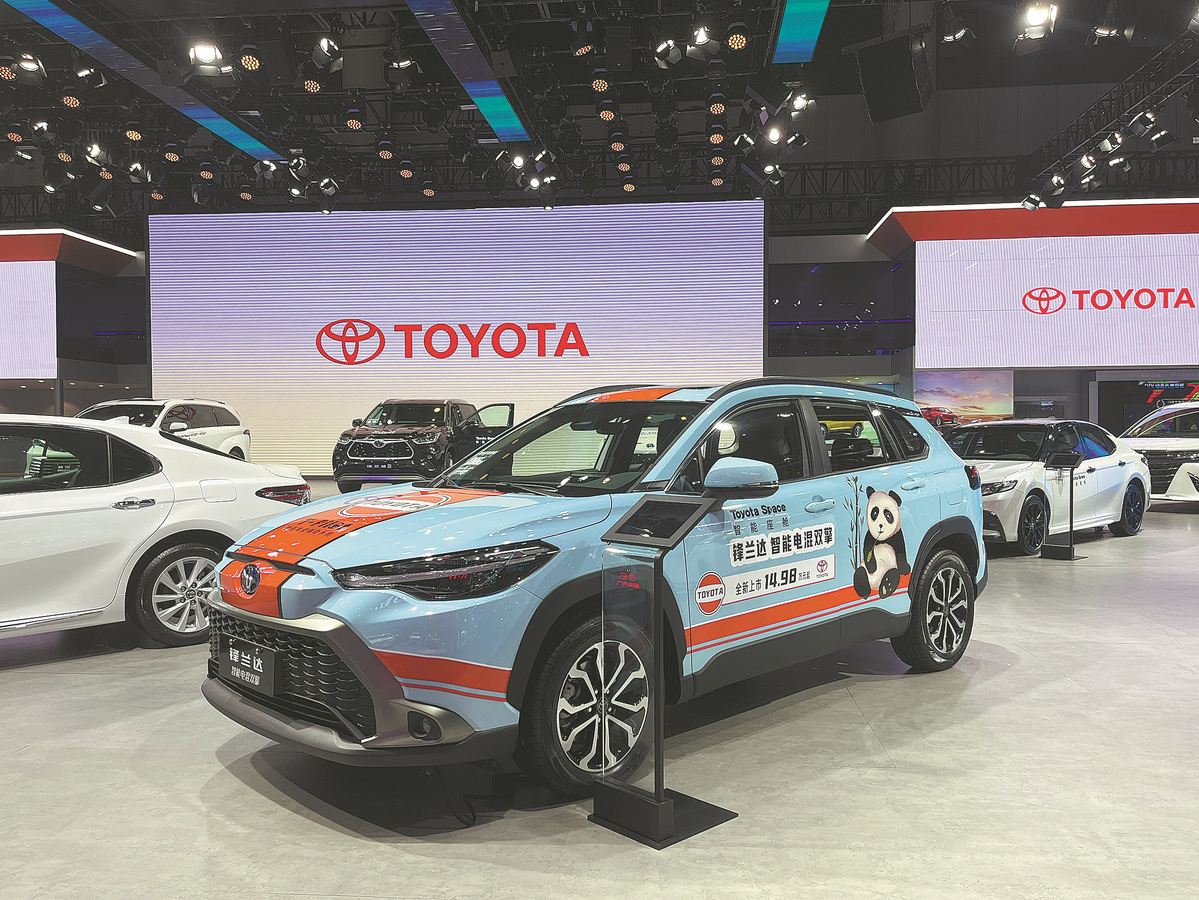 At factories in Japan's industrial heartland, Toyota has turned to self-propelled assembly lines, massive die-casting and even old-fashioned hand polishing as it aims to make up for lost ground in battery electric vehicles.
The world's top-selling automaker believes it can close the gap with Tesla and others by combining new technology with the famous lean production methods it has used for decades to wring inefficiency, including excess costs, out of manufacturing.
The automaker gave a glimpse of its latest advances at a recent plant tour in central Japan, some for the first time. It also showed off examples of thrifty ingenuity, such as a technique to make high-gloss bumpers without any paint. The mold is hand polished to a mirror finish, giving the bumper its luster.
Elsewhere, 30-year-old equipment used to process parts can now be run at night and on weekends after being automated through robotics and 3D modeling, improvements Toyota said had trebled equipment productivity.
"The strength of Toyota's manufacturing lies in our ability to respond to changing times," Chief Product Officer Kazuaki Shingo told reporters on the tour.
He pointed to engineering and technology expertise anchored in "TPS", shorthand for the Toyota Production System.
Toyota revolutionized modern manufacturing with its system of lean production, just-in-time delivery and "kanban" workflow organization. Its methods have since been adopted everywhere from hospitals to software firms and studied widely in business schools and boardrooms around the world.
The relentless focus on continuous improvement and squeezing costs helped fuel Toyota's ascent from postwar upstart to global giant. But in battery EVs, it has been eclipsed by another tireless innovator, Tesla, which has used efficiencies of its own to build market-leading profitability.
Under new CEO Koji Sato, Toyota announced in June an ambitious plan to ramp up battery EVs, a big shift after years of criticism that the maker of the industry-leading hybrid Prius was slow to embrace fully electric technology.
The Japanese automaker accounted for only about 0.3 percent of the global EV market in 2022, Goldman Sachs said in June, calling a stronger offering the "missing piece" in its lineup.
It is not the only car company grappling with the challenges from shifting to EVs.
Detroit's Big Three automakers have cited competitive pressure from Tesla as they push back against wage demands from the United Auto Workers union that last week led to an unprecedented simultaneous strike.
One innovation being emphasized by Toyota is its self-propelled production lines, where EVs are guided by sensors through the assembly line. The technology removes the need for conveyor equipment, a major expense in the car assembly process, and allows for greater flexibility in production lines.
In a demonstration, EVs inched along without a roof, allowing parts to be slotted in. A Fanuc robot arm lowered car seats into the EV bed. Nearby, an autonomous forklift took more seats off a container.
Toyota also showed off a prototype of the die-casting technology known as "gigacasting" pioneered by Tesla that produces aluminum parts far bigger than anything used before in auto manufacturing.
Like Tesla, Toyota says it will produce EVs in modular sections, reducing parts. But it also points to innovations of its own. Since it has been working with die-casting for years, it has developed molds that can be quickly replaced, which is periodically necessary in gigacasting.
Toyota says that reduces the time to change the mold to 20 minutes, versus 24 hours normally. It estimates a 20 percent boost in productivity.
The automaker has also introduced a self-driving transport robot at the Motomachi plant in Toyota City that ferries new vehicles across a 40,000-square-meter parking lot, a job typically done by drivers before loading cars onto carrier trucks.
Truck drivers walk on average 8 kilometers a day fetching cars, eating into driving time and adding to the physical burden in a job where turnover is high.
The automaker said it aims to have 10 of the robots operating in Motomachi by next year and will consider other plants after. It could also sell the robots to other companies.
REUTERS