China's story warmly welcomed in Bay Area
By CHANG JUN in San Francisco | chinadaily.com.cn | Updated: 2023-09-25 09:43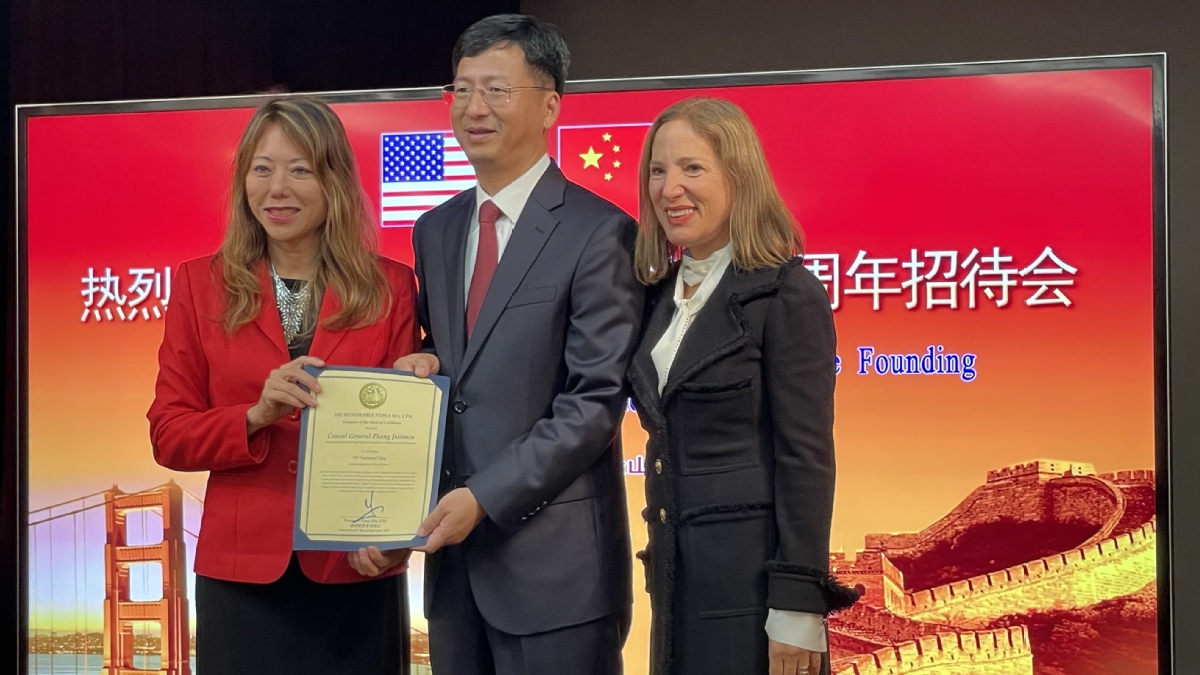 When China's top diplomat in Northern California extended a jubilant invitation to Californians to celebrate China's upcoming 74th birthday, senior elected officials in the Golden State echoed his pledges for unity, respect and mutual understanding to advance the partnership.
Consul General Zhang Jianmin spoke to a full house of guests from all sectors at a reception at China's Consulate General in San Francisco on Thursday night.
Some of the distinguished guests were California Lieutenant Governor Eleni Kounalakis; state Treasurer Fiona Ma, a second-generation Chinese American; Maryam Muduroglu, San Francisco's chief of protocol officer; and Florence Fang, Chinese American community leader and businesswoman.
Urging "friends" to sustain their support for China's development and to the China-US relationship, Zhang shared China's "ambitious blueprint for a new journey". He noted China's GDP growth in the first half of the year, which was up 5.5 percent year-on-year and has outpaced other major economies.
As a result, foreign companies remain optimistic about the prospects for China's high-quality development, Zhang said, citing Tesla's gigafactory in Shanghai and Starbucks' rapid market penetration.
Since its inception in 2019, the Shanghai factory has played a vital role in serving Tesla's global market. As of July 2023, Tesla said the factory has an annual production of 750,000 vehicles, which translates to a brand-new Model 3 or Model Y rolling off the assembly line every 40 seconds, or sometimes faster.
As for the Seattle-based coffee chain Starbucks, CEO Laxman Narasimhan during his visit in May to China reaffirmed the multinational's goal of reaching 9,000 stores in China by 2025. China remains a lucrative market — Starbucks has achieved a milestone by opening 6,243 stores in China in the second quarter this year and sees even more new-store growth.
"China's success will mean more new opportunities of win-win cooperation between China and the rest of the world," said Zhang.
Addressing the setbacks and obstacles in bilateral relations, Zhang said "a sound and stable" relationship is in the interest of both countries. The year of 2024 will mark the 45th anniversary of the establishment of formal diplomatic relations between China and the United States, Zhang said, adding that to get along, the principles to follow are "mutual respect, peaceful coexistence and win-win cooperation".
Despite difficulties, "encouraging" mutual visits and consistent communications have already taken place.
California Governor Gavin Newsom announced that he would lead a delegation to visit China next month, and more direct flights will be restarted in October between major US and Chinese cities.
"The hope and foundation of the China-US relationship lie in the people," Zhang said, be it student exchanges, shared memories of joining forces to fight against the Japanese invasion during World War II, or appreciation of and collaboration with each other for a deepened mutual understanding.
Kounalakis responded that the relationship between China and California is "truly special" due to the "large, active and robust Chinese American community" and "significant trade activities and student exchanges".
Also known as "Kang Yilian" among her Chinese-speaking supporters and voters, Kounalakis called China "one of our most important trade partners" and confirmed that, "In 2022, China was California's number one trading partner."
Moreover, China and California have established "notable collaborations" in clean energy and environmental protection on state-provincial levels.
"Next month (in October), Governor Newsom will go to China to implement our agreement (of clean energy). It's an important visit for us all," she said, adding that California will host the Asia-Pacific Economic Cooperation (APEC) Leaders' Meeting in November. Kounalakis said she anticipated welcoming the high-level Chinese delegations.
In the governor's congratulatory letter that was read by his representative at the reception, Newsom wrote, "California and China enjoy a meaningful partnership built on cultural exchange, economic opportunity and common desire to address the most pressing issues of our time."
California is eager to work alongside the People's Republic of China to advance mutual interests and shared prosperity, he continued.