FM: Chinese Coast Guard's reaction 'restrained, professional'
By MO JINGXI | chinadaily.com.cn | Updated: 2023-09-26 00:06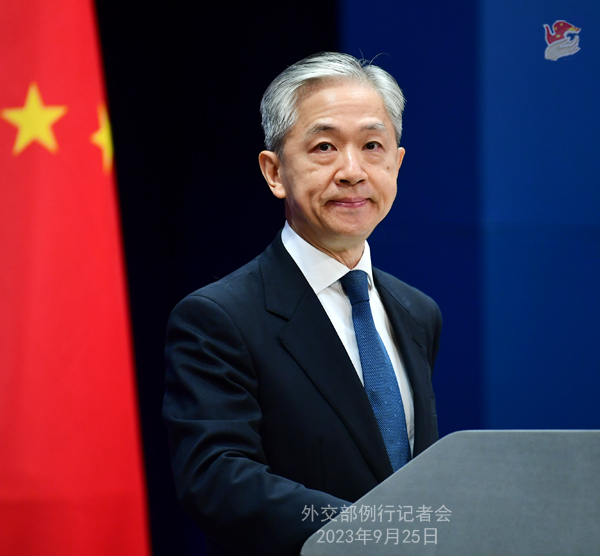 Foreign Ministry spokesman Wang Wenbin said on Monday that the Chinese Coast Guard last week stopped and warned off a Philippine government ship intruding in the waters near China's Huangyan Island in the South China Sea.
"Without China's permission, a vessel belonging to the Philippines' Bureau of Fisheries and Aquatic Resources entered the waters off Huangyan Island and attempted to intrude into the lagoon of the island," Wang told reporters at a regular news briefing in Beijing.
He noted that the Chinese side's maneuvers were "professional and restrained".
Wang made the remarks in response to Manila's accusation on Sunday that China's coast guard installed a "floating barrier" to prevent Filipinos from entering and fishing in the area.
Noting that Huangyan Island is China's inherent territory, Wang said China has sovereignty over Huangyan Island and its adjacent waters and has sovereign rights and jurisdiction over the relevant waters.
The spokesman also said at the news briefing that emergency humanitarian assistance sent to Libya by the Chinese government had arrived in the eastern Libyan city of Benghazi.
The supplies sent by China include tents, blankets, first-aid kits and water purification equipment.
According to Wang, China has been working actively to provide support to the North African country after the devastating floods triggered by storm Daniel caused heavy casualties and property losses in eastern Libya.
"The Chinese people and the Libyan people share a profound traditional friendship. China will work together with the international community and continue to help the Libyan people to overcome the difficulties and rebuild their homes at an early date," Wang said.
Earlier this month, the Red Cross Society of China announced that it would provide emergency cash assistance to the Libyan Red Crescent Society.