China, EU will work to safeguard supply chains
By Wang Keju | chinadaily.com.cn | Updated: 2023-09-26 00:14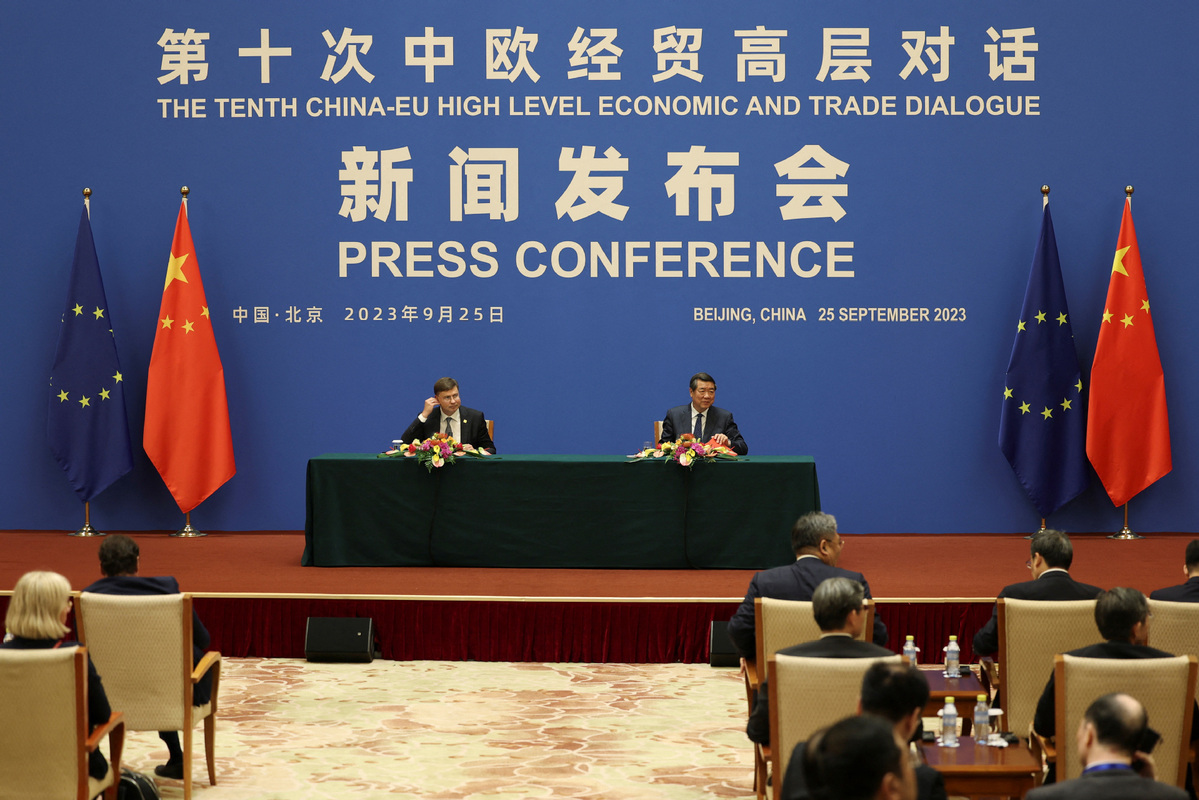 China and the European Union have agreed to work against decoupling and put in place an export control dialogue mechanism, as part of efforts to safeguard resilient and stable industrial and supply chains, Vice-Premier He Lifeng said on Monday.
He made the remark at a joint news conference after co-chairing the 10th China-EU High-level Economic and Trade Dialogue with European Commission Executive Vice-President Valdis Dombrovskis in Beijing.
China is willing to expand imports from the EU and hopes it will remove restrictions on exports of high-tech products to China, the vice-premier said.
Both sides agreed to establish a financial working group at the vice-ministerial level and further promote two-way openness in the financial sector, he said.
The dialogue came on the heels of the launch earlier this month of an anti-subsidy investigation by the European Commission, the executive arm of the EU, into China's electric vehicle makers.
In response to the probe, China reiterated its high concern and strong dissatisfaction, and said it hopes the EU will proceed with caution and continue to maintain a free and open market, Vice-Premier He said.
China and the EU agreed to jointly maintain and strengthen the WTO-centered, rules-based multilateral trading system and guard against unilateralism and protectionism, he added.
Dombrovskis said at the news conference that the EU will work with China to set up a working group on financial regulation and advance two-way opening up, in order to ensure more extensive cooperation on sustainable finance and financial technology.
In addition, the EU and China should join hands to address global challenges such as climate change and food security under multilateral frameworks such as the United Nations and the World Trade Organization, Dombrovskis added.
Meanwhile, in a speech on Saturday at the annual Bund Summit in Shanghai, Dombrovskis said the EU has no intention of decoupling from China. However, the EU will pursue a policy of "de-risking" by minimizing its dependence on China for certain strategic products, he said.
"Our long-term interest is to embrace reforms and stay open to international cooperation. ... We see China as an important partner, one with whom the EU wishes to work toward a more balanced trade and investment relationship," he said.
Dong Yifan, an assistant research fellow at the Institute of European Studies at the Beijing-based China Institutes of Contemporary International Relations, said that stretching the concept of national security and politicizing of business engagements by the EU is much to blame for the current challenges in China-EU economic and trade ties.
It is in the interests of China and the EU to work together to maintain stable economic relations, and this is also the best course of action for global economic growth, at a time when the world is experiencing great economic fluctuations and rising geopolitical tensions, Dong said.
Statistics from the General Administration of Customs show that trade between China and the EU reached $847.3 billion in 2022, a 2.4 percent year-on-year increase.
After years of development, China and the EU have developed mature and stable trade structures and fostered different labor divisions within the same industrial chain, said Cui Hongjian, a professor and director of the China Institute of International Studies' European Studies Department.
The cooperation over the years shows that the comparative strengths of China and the EU in such sectors as automobiles, civil nuclear energy, aviation and aerospace have not only been leveraged, but also have room for improvement, Cui said.