More efforts needed to restore Sino-US ties
By CHEN YINGQUN | China Daily | Updated: 2023-09-26 06:49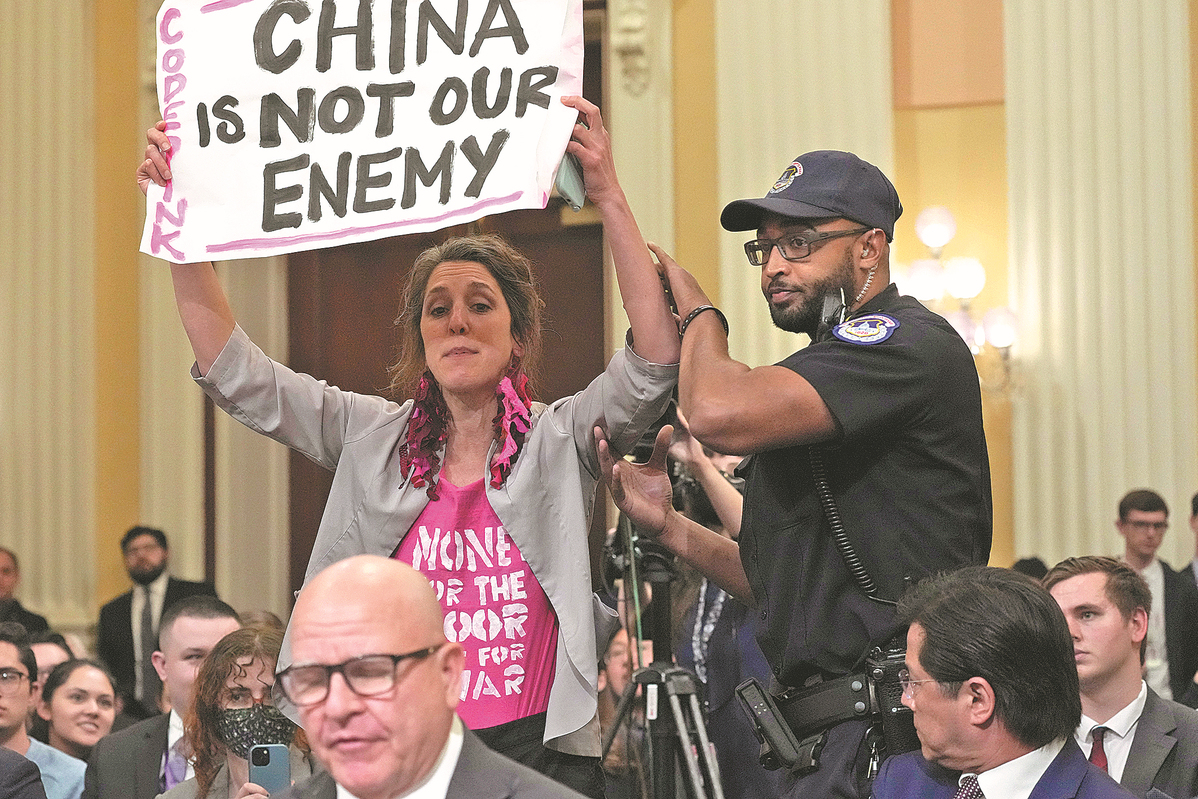 Washington's role of 'selective cooperation' with China condemned
Editor's note: As the US takes multiple measures to contain China's development, the relations between the two countries have reached a low point, prompting observers to call for a reset in their ties, and the need for Washington's active cooperation in science and technology.
Thirty-five years ago, Ben Zhang from eastern China's Jiangsu province went to the United States for education and has since made it his home, founded an import company and become a naturalized US citizen. But he never forgot his roots, fervently hoping the two countries build an enduring friendship and cooperation.
Zhang, founder of Greater Pacific Industries, headquartered in Seattle, Washington state, a supplier to the advertising industry, said the current relationship between China and the US is "not healthy".
"Current Sino-US relations experience a lot of tension and back-and-forth political maneuvering that make day-to-day business tough," Zhang said. "Although I am a US citizen and our company is an American company, our 28-year history is rooted in China where we have many long-term partnerships with great vendors. My hope is for the restoration of normal economic, trade, and diplomatic relations between the two countries."
In the past few years, the Sino-US relationship has reached its lowest point since the establishment of diplomatic ties, as the US has taken measures in multiple fields to contain China's development, such as unilaterally initiating "trade wars" and promoting decoupling from China, said He Yun, an associate professor in the School of Public Administration at Hunan University in Changsha.
These moves not only slowed down the economic and social development on both sides but also disrupted the normal pace of the world economy, she said.
Zhang said that economic competition is generally good for prices and innovation, but it has to be healthy competition, otherwise, it will not only harm the two countries' economies but also the neighboring countries' economies. For instance, the Donald Trump administration imposed tariffs on many Chinese-made goods back in 2018, essentially creating "a trade war".
"Politically this was done to challenge China, but it benefits no one, as US consumers ultimately pay the cost of the tariffs. Additionally, the tariffs act like a tax on the world economy, pushing up inflation and higher consumer products prices worldwide," he said.
Zhang said his company used to import all the advertising promotional products and consumer products from thousands of suppliers throughout China, but after the US imposed tariffs on Chinese goods, he had to purchase about 30 percent from countries outside China, such as Vietnam and Cambodia.
"Last year we had some hope the new administration would roll back some or all of these tariffs, but this still has not happened and seems not happening anytime soon, which is very disappointing," he said.
"These factors all pose challenges for our business model," said Zhang. "We are more familiar with Chinese culture, markets, ports, and infrastructure. In addition, the China market offers huge potential for foreign companies. The buying power of China's middle class is massive. There is so much potential to grow our business with China and expand partnerships there. This is much more attractive than more risky sources outside China."
Since the beginning of this year, a series of visits by high-ranking US officials were expected to bring hope for the recovery of bilateral relations, including those of US Secretary of State Antony Blinken, US Treasury Secretary Janet Yellen, and US Presidential Special Climate Envoy John Kerry.
During the recent visit of US Secretary of Commerce Gina Raimondo to China, both countries took significant steps toward improving their bilateral relations. They announced the establishment of new communication channels, a working group to address trade disputes, and an exchange of export control information to enhance transparency.
China's central bank said on Friday that China and the US will establish two working groups — the Economic Working Group and the Financial Working Group — to strengthen communication on economic and financial matters.