Thailand rolls out carpet to woo travelers
By YANG WANLI in Bangkok | China Daily | Updated: 2023-09-26 07:08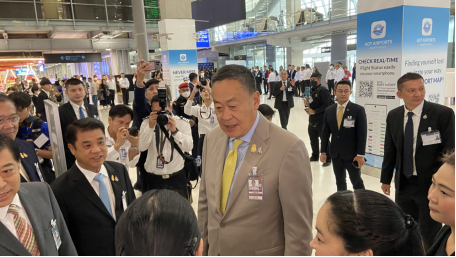 Visa-free program unveiled to attract tourists ahead of China's holiday week
Thai Prime Minister Srettha Thavisin welcomed Chinese visitors at the Suvarnabhumi International Airport in Bangkok on Monday to mark the first day of the government's visa-free program for Chinese tourists.
A billboard welcoming visitors and cultural performances were part of the ceremony. Tourists were also presented with jasmine garlands and elephant-patterned pants — popular souvenirs in Thailand.
"The government has identified tourism as a key driver for revenue generation and job creation to relieve the economy," Srettha said at a news conference after the ceremony. "This visa-free program will help to boost the country's economy."
Jiang Ronggen, a tourist who was welcomed at the airport ceremony, said: "It's a big surprise to see the Thai PM after landing. I've been to Thailand several times and have always been impressed by people's kindness and hospitality."
Jiang said he was in Thailand for both business as well as sightseeing. "The visa-free program is encouraging, which will attract more Chinese to the kingdom."
Suvarnabhumi is one of four key airports welcoming tourists from China and Kazakhstan under the visa exemption program, which is effective from Monday until the end of February.
Srettha emphasized the importance of travelers' safety. From the moment tourists land in the kingdom, we will try our best to make their journey wonderful through our hospitality, he said.
The visa program, which allows travelers to enter the kingdom for 30 days, takes effect just ahead of the Golden Week, one of the longest holidays in China, from Sept 29 to Oct 6.
In the first week of the visa-free program, Thailand is estimated to receive 674 flights from China to the Suvarnabhumi Airport, and a total of about 120,000 Chinese visitors are expected to arrive at Don Mueang and Suvarnabhumi airports.
In the next five months, the country is expected to receive 1.9 million to 2.8 million Chinese tourists, a year-on-year growth of about 41 to 62 percent.
With this policy, Thailand is expected to receive 4 million Chinese tourists this year and achieve the estimated revenue target of $7 billion, said Thapanee Kiatphaibool, governor of the Tourism Authority of Thailand.
"We always prioritize travelers' safety and have been well-prepared for welcoming more tourists," she said. We hope the program will make Chinese families, tour groups, and individual travelers to "choose Thailand as their preferred destination", she added.
China is one of Thailand's important markets in terms of revenue and tourist numbers. As of Sept 17, Thailand had received 2.34 million Chinese tourists — about 37 percent of the 2019 record, making China the second-largest market after Malaysia.
To improve tourists' traveling experience, the Thai Immigration Bureau announced on Sept 13 it would dispatch more officers to the Suvarnabhumi Airport, which is expected to see a surge in tourists from China and Kazakhstan.
Sharp rise
The Immigration Bureau officials estimated a sharp rise in the number of Chinese travelers from 300,000 to 500,000 a month. About 130 immigration officers would man the 119 immigration counters during peak hours.
"It will take less than 20 minutes for each visitor," said Thatchai Pitaneelaboot, the bureau's deputy police commissioner. "Special checkpoints for tour groups will be opened and officers with language skills would be ready to help."
The Tourism Authority of Thailand arranged welcome ceremonies at four major airports in Thailand on Monday for the visa-free passengers.
At a previous news conference, Phuket Tourist Association President Thaneth Tantipiriyakij said they expect the recovery rate to double under the new visa program.