Innovative approach, intl aid needed to resolve Middle East's refugee crisis
By JAN YUMUL in Hong Kong | China Daily | Updated: 2023-09-26 07:08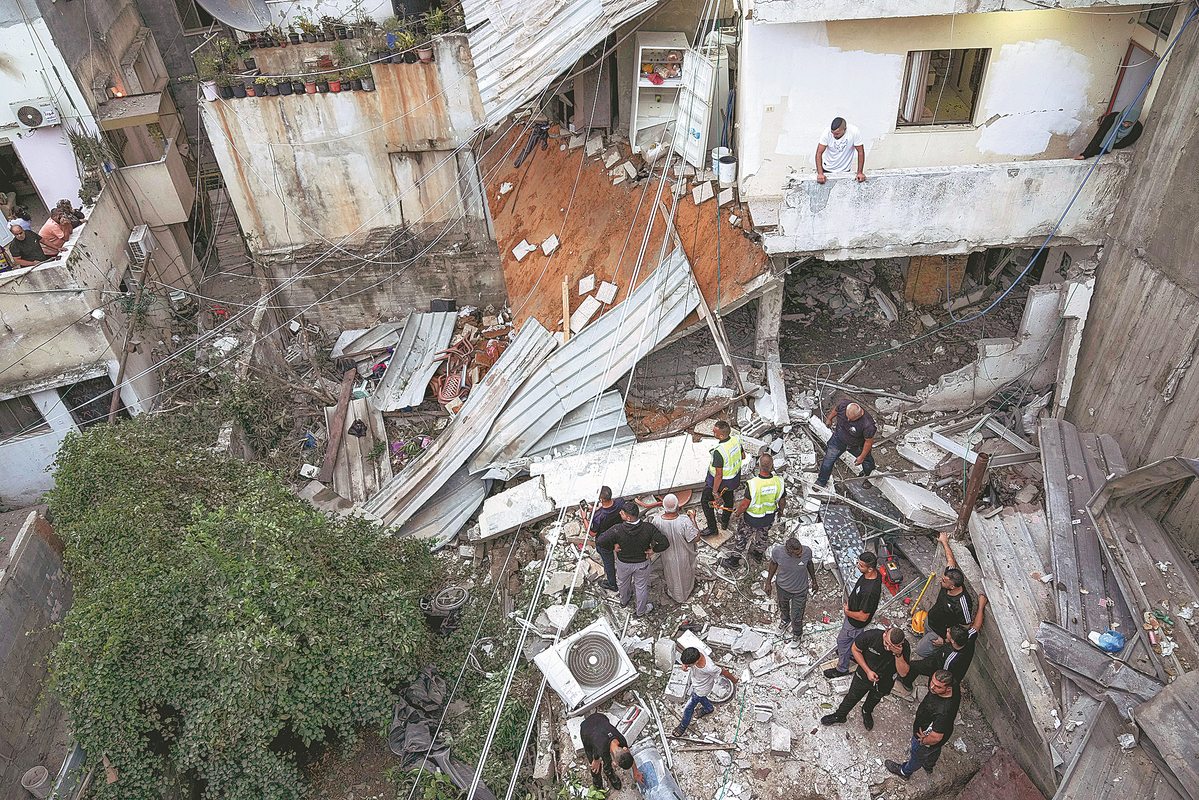 Finding solutions to ease the refugee crisis in the Middle East is back on the international agenda, following regional rapprochements that have taken place in recent months.
However, humanitarian considerations have been disregarded, analysts said. And while an innovative approach could be involved by offering some trade concessions for countries hosting refugees, a logical reason would be to stop support for armed militants so that peaceful conditions could be realized.
At the United Nations General Assembly last week, King of Jordan Abdullah II said Jordan "will not have the ability nor the resources to host and care for more refugees" if the crisis continues, as his country is also facing growing challenges.
Jordan's case "is a microcosm of the entire region", and he said it will continue to suffer until the world "helps lift the shadow of the Palestinian-Israeli conflict".
More than 345 million people face food insecurity, daily hunger or starvation, he said. Among the most vulnerable are 108 million refugees, and 40 percent of them are children. Yet, "these numbers cannot really convey the tragedy", he added.
Arhama Siddiqa, a Middle East analyst and research fellow at the Institute of Strategic Studies Islamabad in Pakistan, said regional reconciliations this year were primarily driven by economic interests, impact of the COVID-19 pandemic, continuing fiscal constraints and the Russia-Ukraine conflict.
"These factors have collectively intensified the imperative to establish sustainable channels underpinned by robust economic foundations. It is noteworthy that these rapprochements have largely disregarded humanitarian considerations," Siddiqa said.
Also at the General Assembly, Mohammad Najib Azmi Mikati, president of the Council of Ministers of Lebanon, said the primary challenge for Lebanon was filling the presidential vacancy, along with reforms needed to achieve economic recovery and ease the financial crisis.
With regard to the Syrian crisis, Mikati said the international community's response "remains inadequate and falls short of a sustainable solution".
Starved of resources
Manjari Singh, assistant professor in the Amity Institute of International Studies at Amity University in India, said the influx of more refugees in Jordan and Lebanon has increased their population pressure, and these two countries are already starved of resources.
"Now that rapprochements are happening — between Saudi-Iran, Syria's reinstatement in the Arab League and thawing of relations with Saudi Arabia, Bahrain and the UAE — an expectation may have germinated in the minds of Jordanians and Lebanese that a solution to the Syrian refugee crisis will also be taken seriously," Singh said.
Dina Yulianti Sulaeman, director of the Indonesia Center for Middle East Studies, said the United States played a significant role in supporting the undemocratic armed movement that is trying to overthrow the Syrian government.
"The militant group, named ISIS or 'moderate rebels', has killed innocent people and destroyed the basic infrastructure, forcing them to leave their homeland," Sulaeman said.
The majority of areas previously occupied by foreign-supported militants remain unreconstructed because of economic sanctions on Syria, she said, and this is the main reason preventing refugees from returning to their homeland.
In addition, armed groups still occupy a number of areas, such as Idlib and Afrin, and continue to carry out attacks on civilians. US troops were even present on the ground.
"For this reason, the solution that must be taken is ... to stop support for these armed militants so that peaceful conditions can immediately be realized in Syria, as well as lifting economic sanctions on Syria," Sulaeman said, adding that improving Syria's relations with Arab countries, as well as new strategic collaboration between Syria and China, could accelerate Syria's reconstruction process.
Siddiqa said a potential innovative approach could involve the European Union offering trade concessions to these countries contingent upon the formal employment of Syrian refugees.