A cultural paper trail
By Wang Ru and Zhu Lixin | CHINA DAILY | Updated: 2023-09-26 07:54
Traditional craft still survives and prospers amid challenges, report Wang Ru and Zhu Lixin in Xuancheng, Anhui province.
Editor's note: There are 43 items inscribed on UNESCO's Intangible Cultural Heritage lists that not only bear witness to the past glories of Chinese civilization, but also continue to shine today. China Daily looks at the protection and inheritance of some of these cultural legacies. In this installment, we find out how the traditional craft of handmade Xuan paper still thrives in the digital era.
Zhou Donghong, 56, holds a finely woven bamboo screen with his partner. They steep it in a large trough full of pulp and lift it. A piece of moist Xuan paper takes form on the screen — known as a "mold and deckle" in the West. Then they carefully separate the freshly formed sheet of paper from the screen, spreading it flat out without any creases.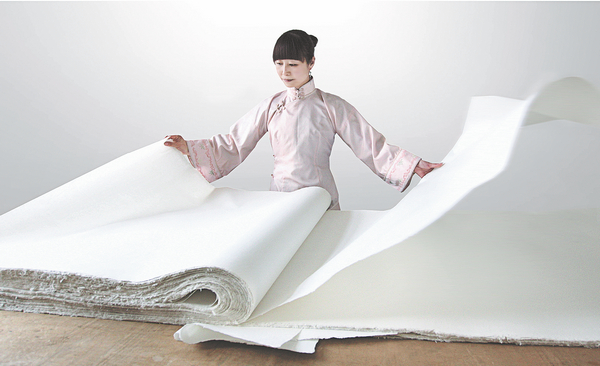 The whole process, called laozhi (getting paper out of water) in Chinese, only lasts a dozen seconds, but the adeptness actually comes from Zhou's experience of doing it repeatedly for nearly four decades.
This is one of the major steps to make Xuan paper, a traditional handmade paper in China. Made in Jingxian county, Xuancheng, Anhui province, the paper is made from a mixture of sandalwood bark, rice straw and stream water from the mountains.
Papermaking is the crystallization of wisdom of ancient Chinese people, regarded as one of the Four Great Inventions of China — along with gunpowder, the compass and printing techniques. Among various types of handmade paper in China, Xuan paper is famous for its close links to traditional calligraphy and ink paintings.
The traditional handicrafts of making Xuan paper were inscribed on the Representative List of the Intangible Cultural Heritage of Humanity by UNESCO in 2009.
Although the process of laozhi seems simple, it is actually the most difficult step in making Xuan paper, with demanding technical details.
"The process of paper forming is the most difficult because I have to transform something intangible into something tangible, which means I need to scoop it out from the pulp and turn it into a sheet of paper. The thickness, uniformity and weight of this sheet are all controlled by my hands. In some way, my hands are just like a scale," says Zhou.