Russian artist paints Beijing in a new light
By Chen Xue | CHINA DAILY | Updated: 2023-09-27 07:57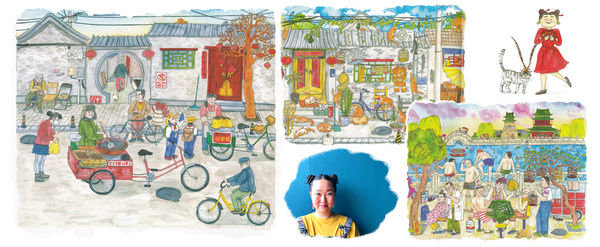 What might your hometown look like in someone else's eyes? Beijing expat Liuba Vladimirova's paintings provide a fresh perspective on the city she calls home, Chen Xue reports.
Opening the pages of Liuba Draws Beijing takes you on a captivating visual journey through the heart of China's bustling capital city. Within its vibrant watercolors, traditional hutong, the majestic Summer Palace, and the contemporary allure of Beijing's Sanlitun and 798 Art District all come alive through the artistic lens of Liuba Vladimirova, more famously known as Liuba Draws.
Despite the natural assumption that the book's creator must be a native Beijinger, Vladimirova, 34, hails from Russia and has called Beijing home for the past 11 years.
Her journey from the icy Siberian city of Irkutsk to the vibrant tapestry of Beijing began during her college years, when she embarked on an academic exchange program connecting her Russian university with Liaoning University in Shenyang, in Northeast China's Liaoning province. It was during this transformative period that she first set foot in Beijing. Since then, her affection for the city has been undeniable.
"I like the vastness of Beijing and the speed of changes and development," Vladimirova said. "I truly love the presence of mixing the old traditional hutong areas with the super modern, trendy areas. It brings interesting vibes to the way I experience being in the city of Beijing."
Vladimirova's path as an artist was far from linear. Since childhood, she has nurtured a love for drawing and painting. However, she pursued a different academic and professional route, studying Chinese and international trade in college and later working in trade relations between Russia and China, none of which was directly connected to the world of art.
Yet, Vladimirova's inner artist remained alive. "My mother has preserved my childhood drawings and often tells me how I had a passion for drawing as a young child," she said. "Over the years, I continued creating small illustrations for fun and relaxation."
In 2015, Vladimirova began crafting a series of illustrations centered around Beijing, aptly named "The Beijing Calendar".This annual series, which includes at least 12 new paintings, formed the foundation for Liuba Draws Beijing.
What captivates Vladimirova most is Beijing's historic hutong. These narrow alleyways, rich in history and culture, serve as a wellspring of inspiration for her artistry. According to her, hutong is alive with the rhythms of daily life.
"Compared with the high-rise buildings and big compounds, you can see life spilling out onto the streets," Vladimirova said, describing how a leisurely walk through the hutong allows her to observe the older residents as they unwind, chatting casually about the weather, savoring tea, playing games, and also to discover nearby cafes with contemporary and stylish interiors run by young people.
Liuba's ability to capture these hidden nuances likely stems from her unique perspective as an "outsider" — someone who didn't grow up in Beijing. This fresh perspective allowed her to arrive in the city with fresh eyes and an eager heart, ready to embrace a new culture.
"Not all local people would stand still and think about the things and situations around them, since they have been experiencing these daily during their whole lives," Vladimirova said.
For instance, in the book, Vladimirova finds it intriguing how elderly parents will gather in parks to find potential marriage partners for their adult children, sharing details about their age, height, weight, and income.
She also notes the absence of the 4th, 14th and 24th floors in some Chinese buildings due to the superstition associated with the number four, the pronunciation of which is nearly identical to that of the word for "death" in Chinese.
Furthermore, she highlights the curious custom of some people, primarily men, holding a small hulu, or bottle gourd, and gently rubbing it as a meditative practice, celebrating the gourd turning red after a year due to the absorption of skin oil and sweat.
The book is also sprinkled with Vladimirova's witty notes. For example, when describing the Beijing snack tanghulu, she writes, "Tanghulu is a very popular, sugarcoated fruit snack loved by all, especially in winter", with a playful note in a different color: "maybe not your dentist".
Similarly, while introducing the age-old Chinese advice to "drink more hot water" as a universal remedy for various health issues, she playfully imagines a doctor recommending hot water even to a patient who has been scalded by hot water.
"I wanted to share my own personal experiences and observations of Beijing and Chinese culture in a fun and accessible way, in the hope that readers would relate, reflect, and consider their own experiences," Vladimirova said.
Through her art and observations, Vladimirova bridges cultural gaps and fosters mutual understanding. Her book has received positive feedback from both Chinese and foreign readers. Locals appreciate how it helps them discover the beauty in the simplicity of Beijing life, while foreigners relate to the excitement of exploring Beijing and navigating new cultural landscapes.
"People told me that upon returning to their home country, they read the book to reminisce about their amazing experiences living in Beijing or gift it to family and friends abroad to convey the unique essence of their time in the city, which may be challenging to express in words," she said.
In Vladimirova's art, people of Beijing play a central and prominent role. She is particularly fascinated by the energy and enthusiasm of the older generation, who engage in a myriad of physical activities to stay healthy and nimble. Whether it's dancing, cracking a whip, tai chi, or playing games like jianzi (Chinese hacky sack) and kongzhu (Chinese yo-yo), the elderly are usually the integral participants in the daily life of the city.
Impressed by the physical resilience of the elderly she's observed in Beijing, Vladimirova ponders the possibility of growing old in the city. However, her extensive travels across China have left her uncertain about where she'll eventually settle.
In the past 11 years, Vladimirova has ventured to dozens of cities and regions across China, including Guilin, Hainan, and Shangri-La, each offering a unique blend of culture, history, and natural attractions. "China has some of the biggest cities in the world, but also small, quaint villages. Every city or region seems to have their own traditional food culture with dishes you are unable to find in the rest of the world," she said.
Her travels have opened up the possibility of expanding her Liuba Draws series to include other cities and regions. She is also considering the idea of exploring quieter, more remote areas in her later years.
"But even if Beijing and I decide to part ways at some point, I believe the city will remain a dear friend, someone I'll visit often and call to keep up to date and ask what's new," she writes at the end of the book.
Contact the writer at chenxue@i21st.cn