The fabric of culture
China Daily | Updated: 2023-09-27 08:15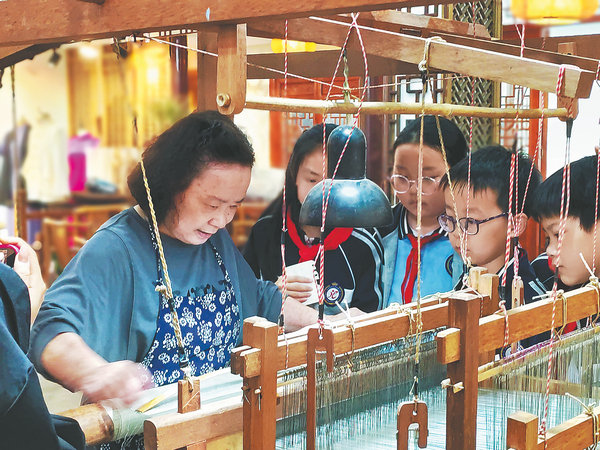 Silk production involves the cultivation of mulberry trees and the breeding and care of silkworms, which produce cocoons from which silk filaments are unwound. It is one of the things that, even today, remains firmly archaic — continuing to exist in a time when patience was not a scarce resource. People have been weaving silk, which is known as si in Chinese, into fabric for more than 5,000 years.
The sericulture and silk craftsmanship of China was listed in the Intangible Cultural Heritage of Humanity by UNESCO in 2009.
Fabrics such as ling, luo, chou and duan represent the evolving techniques of textile production throughout different periods. Originating from silkworms and refined through looms, the varying weaving methods ultimately result in differences in shape and tactility.
The luo weaving technique stands out, particularly for its demanding level of craftsmanship.
Characterized by its openwork patterns, luo fabrics offer enhanced breathability. The technique originated sometime during the Spring and Autumn (770-476 BC) or Warring States (475-221 BC) periods, and gained popularity during the Song Dynasty (960-1279), mostly due to the attire required for official rituals and the impressive plain-woven silk textiles produced in Hangzhou, Zhejiang province, which are called hangluo.