Saudi-Israel moves raise peace hopes
By JAN YUMUL in Hong Kong | China Daily | Updated: 2023-09-29 06:42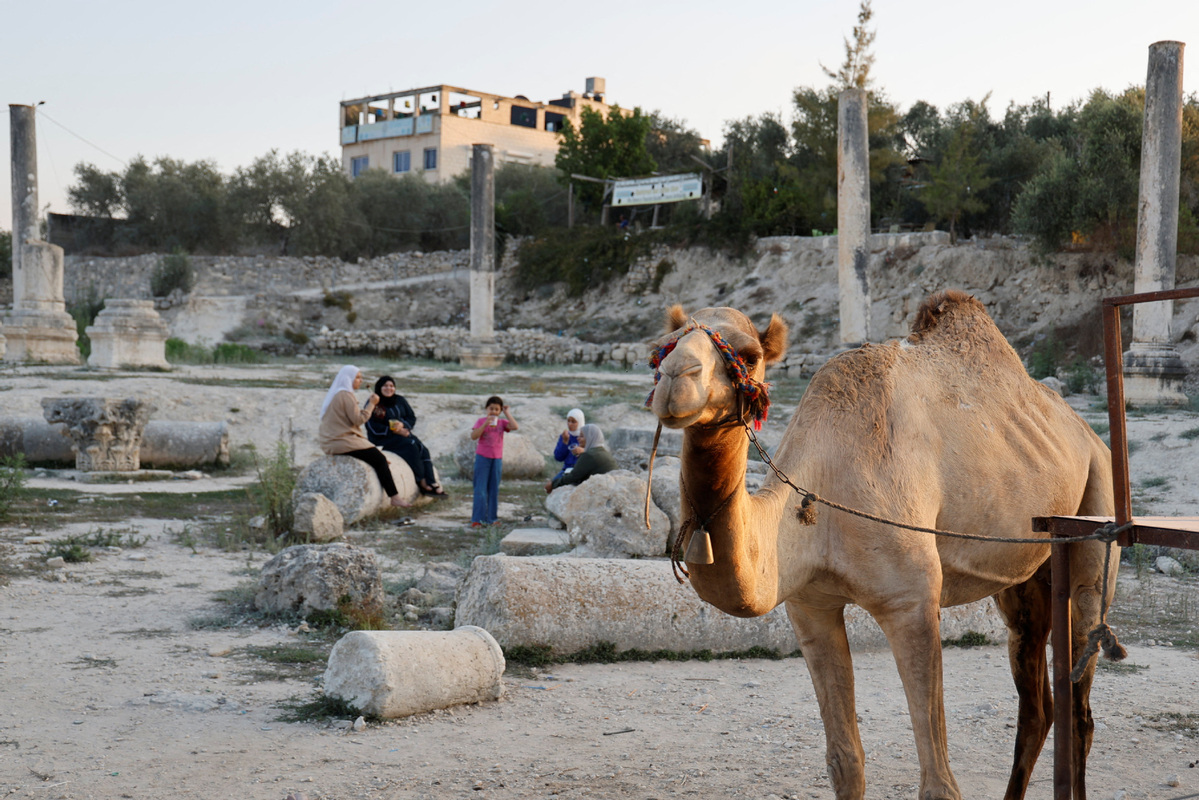 Steps to ease regional tension could help to resolve Palestinian crisis, experts say
Saudi Arabia and Israel have taken significant steps to ease regional tensions with landmark visits by their senior officials this week, raising hopes that the decadeslong Israel-Palestine peace process could finally be edging closer.
Analysts said any move toward de-escalation in the region is welcome but stressed that it should not leave Palestinians exposed to hostilities and aggression without adequate support.
Saudi Arabia's first ambassador to Palestine Naif bin Bandar Al-Sudairi arrived in the West Bank on Tuesday. He was appointed to the role in August. The same day, Israel's Tourism Minister Haim Katz traveled to Riyadh — a first by an Israeli cabinet member — for a United Nations World Tourism Organization event, The Times of Israel reported.
"In the region, any step toward de-escalation is (welcomed), especially if it includes a Palestinian state solution based on the Arab initiative," Rasha Al Joundy, senior researcher at the Dubai Public Policy Research Centre in the United Arab Emirates, told China Daily.
Saudi Arabia proposed the Arab Peace Initiative in 2002, which included conditions that Arab relations with Israel would be possible in exchange for Israel's withdrawal from the West Bank, East Jerusalem, Gaza, and the Golan Heights, as well as a just resolution for the Palestinian cause.
Al-Sudairi, the nonresident ambassador to Palestine and nonresident consul general in Jerusalem, presented his credentials to Palestinian President Mahmoud Abbas at the presidential headquarters in Ramallah.
Abbas told Al-Sudairi that both his visit and the recent appointment would contribute to "strengthening the strong fraternal relations that bind the two countries and the two brotherly peoples".
Al-Sudairi said he hoped his visit would be "a successful beginning for strengthening relations in all fields", stressing his country's firm and supportive positions on the Palestinian people and their just cause. His arrival comes at a time when Israel is attempting to reach a normalization deal with Saudi Arabia.
According to Xinhua News Agency, Al-Sudairi told reporters in a statement that "the Arab Peace Initiative is the basic point in any upcoming agreement" when he was asked about the initiative's future in the event of a normalization deal between Saudi Arabia and Israel.
Al Joundy said the visit "would not have been possible without a coordinated diplomatic effort from Israeli authorities".
"This is part of the negotiation process, I presume," she said.
"While Saudi Arabia wants to present a position toward Palestine, the Israeli government wants to make a positive gesture and sign of cooperation with Saudi Arabia to encourage it to sign a deal soon."
Before the historic visit, Saudi Arabia's Crown Prince Mohammed bin Salman had said in an interview with US broadcaster Fox News that his country was moving "closer each day" toward reaching a normalization deal with Israel.
Al Joundy said the crown prince "asserted what was already circulating in the media" to end speculation and clarify that a deal could be reached with the Israelis.
Mohammad Salami, an associate researcher at the International Institute for Global Strategic Analysis, said if normalization was indeed close, then Saudi Arabia would probably get less than it has been asking for.
Security guarantees
Security guarantees might be at odds with the US, which is currently reducing its security commitments to the Middle East, Salami told China Daily. "The right-wing government of Israel is also the second obstacle to the rapid normalization of relations," Salami said.
In the case of Palestine, the Palestinian Authority knows that Saudi Arabia is eager for normalization and that the two-state solution is not possible at the moment, so it has made smaller requests from Saudi Arabia, Salami said. "Privileges such as greater autonomy in the West Bank, the resumption of Saudi aid to Palestine, and the formation of more independent military forces are lower-level requests that, although not idealistic, are more realistic and achievable," said Salami.
Belal Alakhras, a political analyst and Palestinian researcher at the University of Malaya in Kuala Lumpur, said Saudi Arabia may aspire to assume a significant role in addressing the Palestinian issue.
"However, this vision diverges from the objectives of the US and Israel, particularly in the context of impending normalization discussions. Instead, the US is keen on asserting its regional presence and demonstrating its ability to influence countries," said Alakhras.
"Israel, backed by this support, seeks regional integration and recognition as a normal state, leaving the Palestinians exposed to hostilities and aggression without adequate support," he added.
Further, as discussions around normalization agreements continue to unfold, it is "imperative to prioritize efforts to stop Israel, particularly given its current inclination to alter the status quo at the Al-Aqsa Mosque", as he said it could potentially inflame the entire region. The Al-Aqsa Mosque in Jerusalem is regarded as the third holiest site in Islam.
Otherwise, "normalization efforts could even make things worse," said Alakhras.
The current radical Israeli government is less inclined to make concessions toward the Palestinians, he said.