A Grand old culture
China Daily | Updated: 2023-09-29 10:52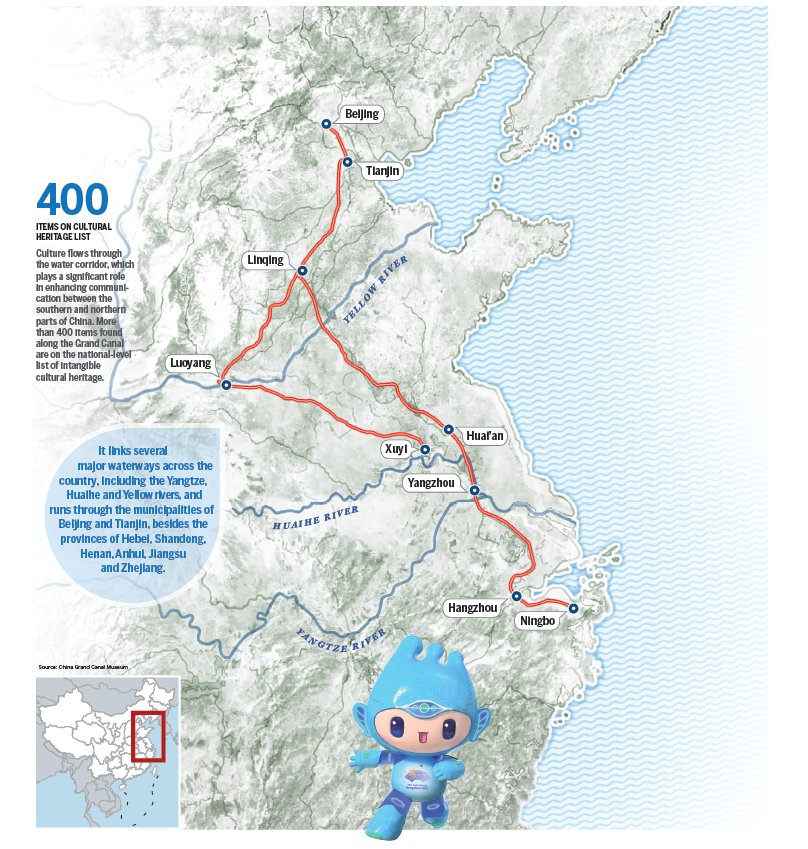 Hangzhou's development and the Grand Canal have been inextricably intertwined for hundreds of years
The ancient Chinese built two great engineering wonders: the Great Wall and the Grand Canal. Though the Great Wall's function in military defense has faded over time, the Grand Canal remains a crucial conduit of cultural communication.
The Grand Canal, which consists of three sections (Suitang Grand Canal, Beijing Hangzhou Grand Canal and Zhedong Grand Canal), is a flowing epic of transformation. The artificial waterway runs more than 2,000 kilometers from north to south across the vast eastern plains of China.
It is about 16 times the size of the Suez Canal in Egypt and 33 times longer than the Panama Canal, the world's second- and third-largest man-made waterways. "It bears witness to the remarkable and early development of hydraulic engineering," the UNESCO website states.
In ancient times, the Grand Canal served as the main artery for grain transport and every kind of economic and cultural exchange. It also facilitated the time-consuming journeys of laborers and materials for the construction of the Forbidden City in Beijing, the imperial city of the Yuan (1271-1368), Ming and Qing (1644-1911) dynasties.
Now, it has inspired the name of Chenchen, one of the three mascots of the ongoing Asian Games. Chenchen, derived from the Gongchen Bridge, which spans the Hangzhou section of the Grand Canal, is colored blue to represent science and technology.
The Hangzhou section of the canal stretches a total length of 39 kilometers, which is home to 11 of the canal's total 58 historical sites. It enters the city from Tangqi ancient town in Yuhang district, travels through Gongshu and Shangcheng districts, and finally flows into the Qiantang River from the Three Gorges Ship Lock.
Visitors are recommended to take a boat trip on the ancient waterway to enjoy some of its unrivaled scenery as well as the fascinating landscape of Jiangnan water town.
Besides the activities on the water, three neighboring places along the Canal — Dadou Road Historic District, Xiaohezhi Street, and Qiaoxi Historic Street — are recommended for a leisurely walk.