China's 8-day National Day holiday sparks travel, consumption frenzy
Xinhua | Updated: 2023-10-01 07:33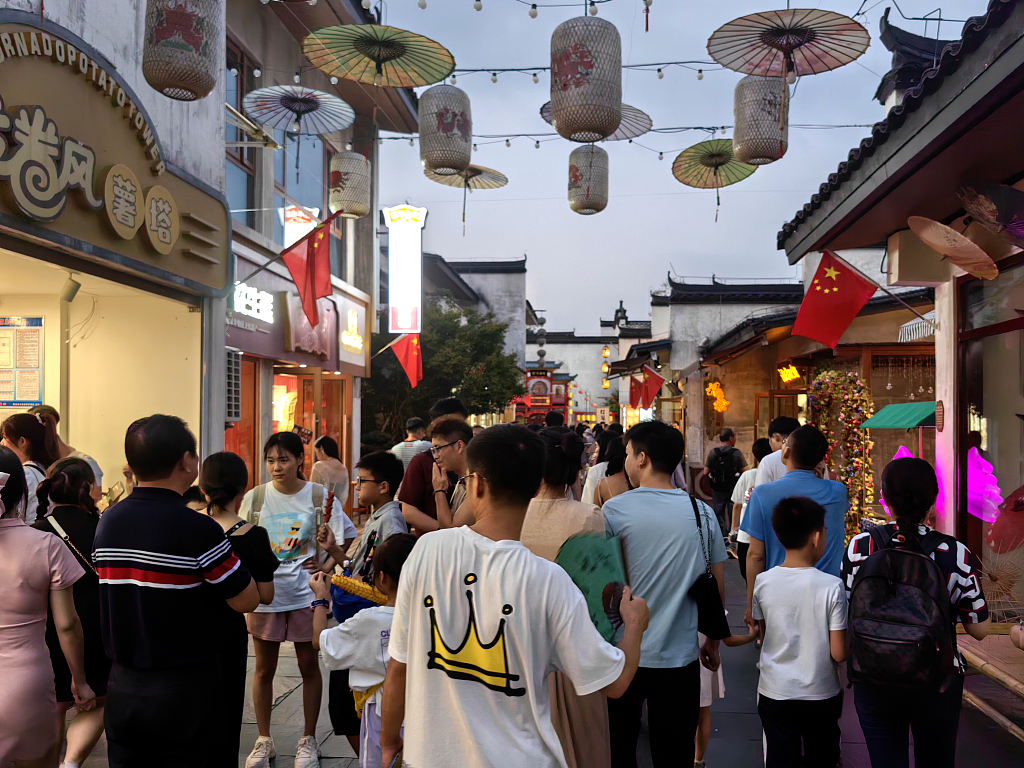 BEIJING - Approximately a week prior to the Mid-Autumn Festival and National Day holidays, more than 6,000 hotel rooms in and around the Wangxian valley scenic spot, popular for its cliffside lodges, situated in the city of Shangrao in East China's Jiangxi province, were completely reserved for the holiday period.
"Responding to the travel frenzy, we adopted an online reserving system to keep the daily passenger flow to 25,000 to provide tourists with better traveling experiences," said Ding Yongxiao, who is in charge of the scenic spot.
The Mid-Autumn Festival and National Day holiday will last from Sept 29 to Oct 6. This extended vacation period allows Chinese people to enjoy an eight-day break for travel and leisure.
"This might be the hottest National Day 'golden week' holiday ever," said Dai Bin, president of China Tourism Academy. The institution predicted that over 100 million passenger trips are expected to be made across the country each day on average during the period.
SOARING TOURISM FERVOR
According to Alibaba's travel platform Fliggy, orders for domestic and overseas trips during the Mid-Autumn Festival and National Day holidays surged nearly 600 percent and more than 20 times year on year, respectively.
Li Yu, an avid rock music enthusiast, purchased a ticket a month in advance for the Strawberry Music Festival scheduled in Fuliang County in Jingdezhen, a globally renowned hub for porcelain production in Jiangxi.
"This is my first visit to Jiangxi," said Li, 25, who took the high-speed train from Shanghai to Jiangxi. In addition to attending the local music festival, she said she plans to visit the ceramic art fairs and the ceramic museum in Jingdezhen.
According to statistics, during the eight-day holiday, nearly 100 concerts and performances will take place in Beijing, Shanghai, Foshan and other major cities in China, fuelling the local tourism boom. Fliggy said the cumulative hotel bookings for these cities during the holiday have soared approximately 500 percent compared with last year.
Two days before the holiday, Zhang Yuji, who works in Shanghai, visited the coastal city of Qingdao in East China's Shandong province with her friend. As soon as they arrived there, Zhang and her friend headed straight for Cangma Town, which was one of the shoot locations of the recent hit Chinese film "Creation of The Gods I: Kingdom of Storms."
It is estimated that the tourist flow in the town will reach 100,000 during the holiday. According to a report released by the Ctrip Research Institute, travel bookings for Qingdao during this period increased by 473 percent year on year, of which cross-province reservations rose 502 percent, with nearly 20 percent of travelers opting for stays lasting three days or more.
"As lifestyles and consumption preferences of tourists become increasingly diverse, a video, a culinary experience, or a music festival can all serve as catalysts for spontaneous trips," said Li Xiaochun, general manager of the Liaoning branch of China Comfort Tourism Group Co, Ltd, adding that in this context, during the "golden week" holiday, events such as concerts, music festivals, marathons have become a significant driver for tourism growth.
According to the China State Railway Group Co, Ltd, as of 6 pm on Sept 20, 146 million train tickets had been sold nationwide since the presale of train tickets for this year's "golden week" holiday began on Sept 13.
China is expected to see 190 million railway trips during the 12-day travel rush, which lasts from Sept 27 to Oct 8, the company said.
The Civil Aviation Administration of China has estimated that more than 21 million passengers will travel by air during the holiday. A total of 137,000 flights are expected to be handled, with an average of over 17,000 flights per day.
CONSUMPTION IN FULL SWING
The travel fervor over the "golden week" exemplifies China's great economic resilience, with all corners of the country harnessing the power of tourism to inject vitality into holiday consumption.
In Yanji, a small border city in Northeast China's Jilin province, a stream of tourists arrives during the holiday to capture moments by posing in front of a widely recognized wall outside Yanbian University. They would hold a coffee cup adorned with a sleeve featuring "Yanji" characters, subsequently sharing these photos on their social media platforms.
"My hands are full these days, and we sell as many as 1,000 cups of coffee with a turnover of around 20,000 yuan (about $2,785.59) in a single day," said Li Xiangying, who runs a cafe near Yanbian University. Her cafe features a type of coffee infused with the delightful essence of a special local pear.
Anticipating the substantial increase in customer flow, the cafe, originally staffed with six baristas, recruited two new employees before the holiday.
According to data from online platforms Meituan and Dianping, as of Sept 20, tourism consumption orders on the platforms for the National Day "golden week" holiday doubled compared with 2019, and the number of restaurant reservations grew by 112 percent.
Pan Weiwen, owner of Songji, a famous hot pot restaurant in Foshan city in South China's Guangdong province, said the restaurant has been inundated with calls for reservations lately.
On the first day of the holiday, the first batch of customers had already arrived at the restaurant by 10 am, she said. "Some tourists directly came here with their luggage, and 80 percent of the diners who come at noon are tourists from outside the city."
At one branch of Xiangqun Restaurant in Guangzhou, the capital city of Guangdong, customers were still experiencing wait times for seating as late as 1 pm Friday.
"If you need a table for three to four people, there are almost 100 groups of customers ahead of you in the queue," said Zhang Jianwei, owner of the restaurant, adding that one of their branches received over 1,200 tables of guests during Friday noon.
"Since the beginning of this year, the consumption pattern of domestic residents has gradually transformed from focusing on commodity consumption to commodity and service consumption, and service retail has become a new engine of the holiday economy," said Li Jiwei, deputy dean of Meituan Research Institute.
"With bookings for scenic spot tickets, hotels, catering and other services increasing significantly, consumption demands across the country will be further unleashed during the eight-day holiday, which reflects the positive development trend of China's economy," Li added.