China's outbound tourism sees robust recovery during 'golden week' holiday
Xinhua | Updated: 2023-10-01 07:55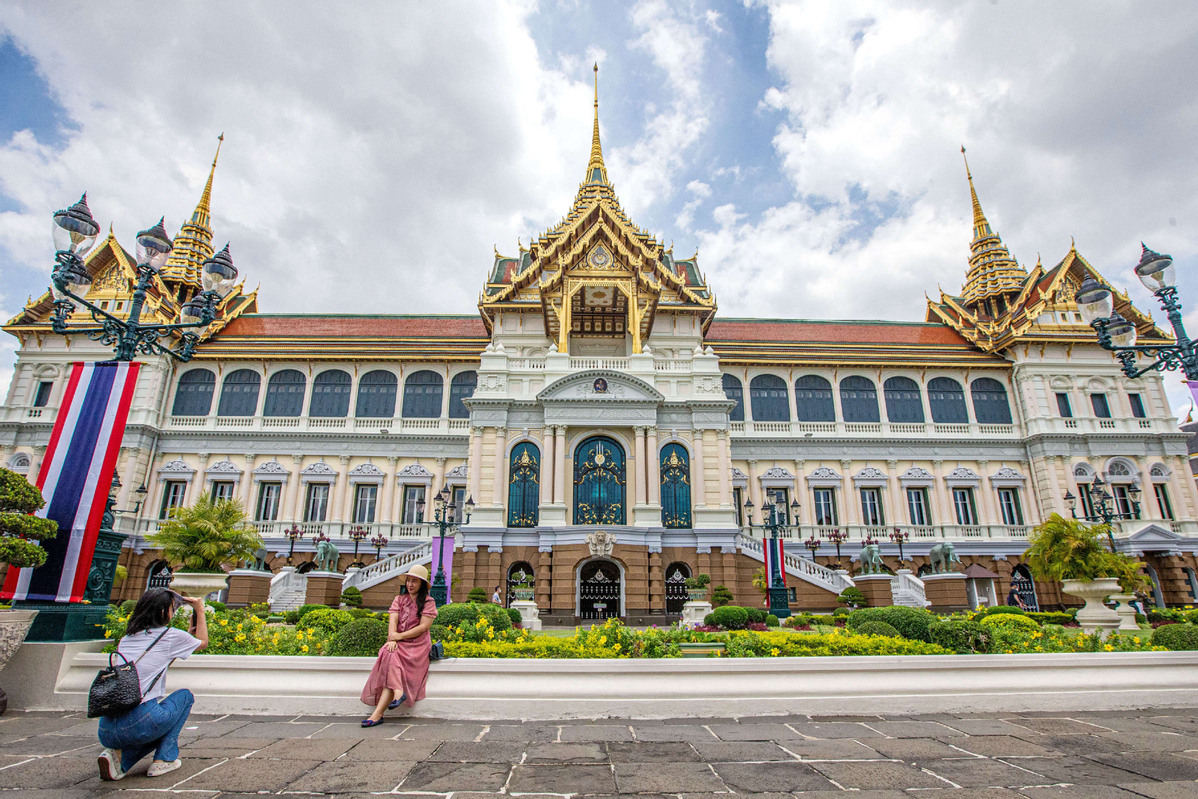 TAIYUAN - Prominent travel platforms reporting full bookings, bustling queues in international departure halls at airports, and Chinese tourists flocking to popular global destinations... China's outbound tourism market is certainly brimming with exhilaration.
Wang Shihua from Taiyuan, capital of North China's Shanxi province, has joined the wave of tourists during the Mid-Autumn Festival and National Day holidays, lasting from Sept 29 to Oct 6.
After spending the Mid-Autumn Festival, a traditional Chinese festival usually marked by reunions which fell on Friday this year, at home, he flew to Thailand together with his family. During their six-day trip, Wang plans to visit popular attractions including the Grand Palace, as well as savor Thai massage and local cuisine.
"I visited Thailand several years ago, and the experience left me with great memories. Now that my city has opened direct flights to Thailand, I have got to visit it again," Wang said.
China's outbound tourism during the National Day "golden week" holiday has shown a "blowout" growth. According to data from China's leading travel platforms, including Trip.com Group and Fliggy, orders for overseas trips during the eight-day holiday surged nearly 20 times compared with the same period last year.
As one of the most popular destinations for Chinese tourists, Thailand announced a five-month visa-free policy for Chinese tourists in September. Since then, the number of travel inquiries and bookings for the Southeast Asian nation has continued to grow, ranking among the top destinations for outbound travel during the ongoing holiday.
Li Gaochao, assistant general manager of a major international travel agency in Shanxi, said that the visa-free policy saves around 500 yuan ($69.64) in travel costs. After Chinese travel agencies and online tourism service providers resumed offering group tours to an expanded range of countries and regions in August, travel routes to Central and East Africa, as well as Europe, have gained popularity. Additionally, tour packages for Middle Eastern destinations like Dubai were fully booked early September.
Representatives from numerous countries have flocked to China to attract customers, capitalizing on the swift resurgence of the country's outbound tourism market. Recently, the national tourist boards of countries such as Denmark, Finland and Sweden, and the European Travel Commission joined hands with China's online travel agency Mafengwo to attract tourists to Northern Europe.
In mid-September, the Korea Tourism Organization signed a memorandum of understanding on cooperation with Trip.com Group. It is expected that during the Mid-Autumn Festival and National Day holidays, the number of outbound tourists to the Republic of Korea will usher in the annual peak.
Industry insiders believe that with the change in consumption preferences, Chinese tourists are more inclined to in-depth experiences and high-quality services, so flexible private group tours have become more popular during this holiday season.
Zhao Wenzhi, president of GZL International Travel Service Ltd., located in south China's Guangdong Province, said that tourists' demand for high-end outbound tourism is increasing, and some quality small-group routes with scarce tourism elements are expected to become dark horses over the "golden week."
Zhao's viewpoint is backed by data from travel platforms, revealing a substantial increase in the number of group tour bookings to countries such as Uzbekistan, Iran, Azerbaijan, Georgia, Sri Lanka and Kenya during this period compared to 2019.
Experts pointed out that as the world's largest source of outbound tourists, China's resumption of outbound group tours will play a positive role in promoting the recovery of the global tourism industry.
According to the 2023 Global Consumer Insights Survey China Report released by global auditing and consultancy firm PwC, to a much greater extent than their global counterparts, 62 percent of Chinese consumers expected they would increase spending on travel. More than 50 percent of them anticipated they were likely or extremely likely to travel on an international flight in the next six months. It will bring significant opportunities for the global tourism, hospitality and retail sectors.
"The gradual return of Chinese tourists around the world will inject recovery momentum into the global economy," said Zhang Yang, who works with the China Tourism Academy.