Top sportswear brands enamored with Chinese market
By WANG ZHUOQIONG | China Daily | Updated: 2023-10-02 07:03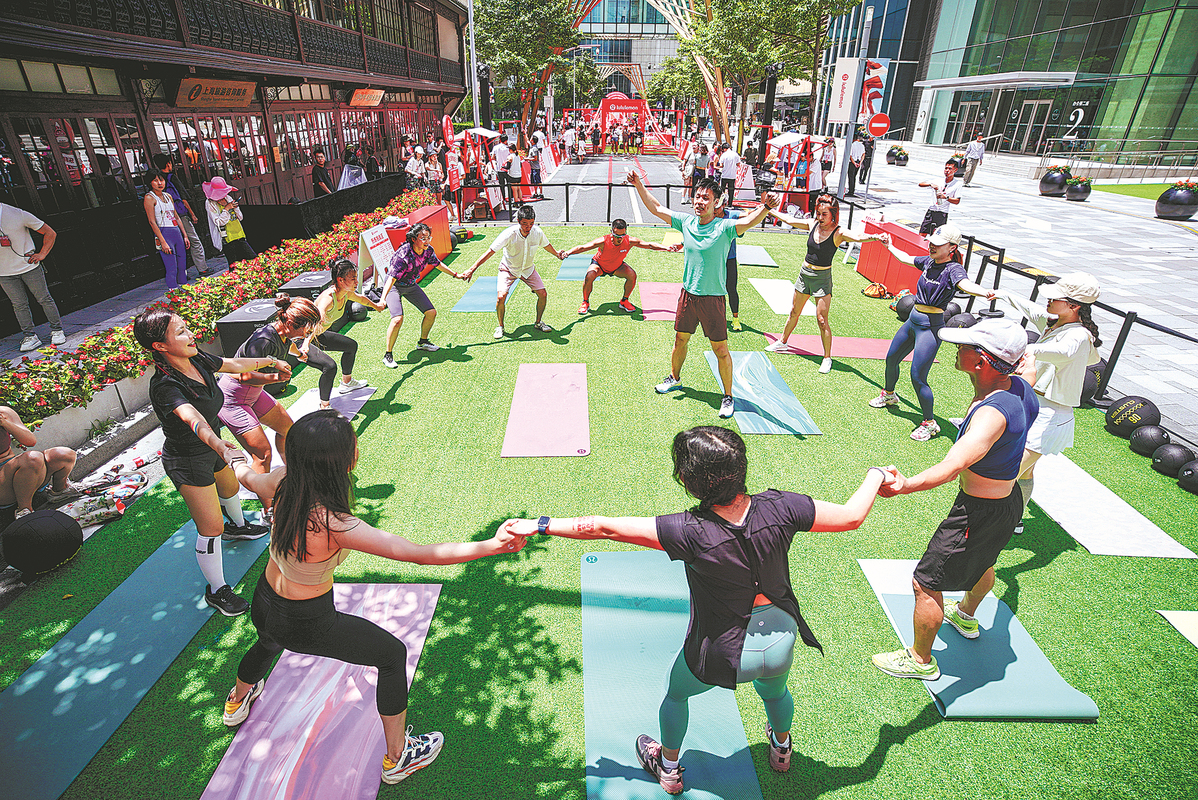 Yoga-inspired athletic apparel has proven to be a hit in China, boosting the fortunes of top sportswear brands.
Leading international athletic apparel brand Lululemon Athletica posted a 61 percent increase in revenue to $277 million in China for the second quarter. In the first six months, revenue stood at $527 million, a jump of 69 percent compared with the same period last year. The Chinese market is now the company's fastest-growing region in the world.
"As of the second quarter (by July), we have 107 stores on the Chinese mainland. Our new store openings in 2023 will include approximately 35 stores in our international markets, with the majority of these planned for China," said Meghan Frank, chief financial officer of Lululemon Athletica Inc.
"We've set approximately 200 stores at the end of our five-year plan, and I think — there's also beyond there as well in terms of still very early innings on our China growth."
The company is expanding to lower-tier cities to reach more consumers, said Calvin McDonald, chief executive officer of Lululemon.
"Our stores on the mainland are predominantly in first-tier and second-tier cities. But we still see an opportunity to grow as well as look to opportunities in third-tier cities," McDonald said.
The store openings have exceeded its plan, the company said, highlighted by the optimization of some stores such as its Jing An Kerry Center location in Shanghai, which is its biggest outlet in the Asia-Pacific region and "is performing incredibly well".
Its product categories have widened this year from yoga-related activewear to running, hiking, tennis and casual occasions. Men's business is also another driving force for its growth in the market.
Yet, Lululemon said its online business in China is different from other markets where its official website pulls in a lower percentage of its overall business revenue. It works with partners such as Tmall and JD to grow its online business.
Lululemon is leveraging some business-to-business opportunities, working and selling directly to consumers through its client platform, the company said.
The robust growth in China over the first six months has contributed to Lululemon's global performance. In the second quarter, its net revenue increased 18 percent year-on-year to $2.2 billion, with the international sector growing by 52 percent.
The company's gross profit increased by 23 percent to $1.3 billion compared to the same period last year. Its total international revenue represented 22 percent of net revenue, compared with 17 percent a year ago.
The company has invested deeply in community-based well-being sporting events to better engage with local sports lovers and further boost enthusiasm for fitness activities.
In August, the company celebrated National Fitness Day with the third installment of the Summer Sweat Games, inviting 3,400 participants from more than 100 stores in 36 cities.
Leading sportswear brands have invested heavily in emerging sports and lifestyle activities to meet diversified demand from Generation Z (those born after 1995 and into the 2000s) consumers.
According to QY Research, the yoga apparel market touched $1.6 billion in China, or 22.92 percent in the world in 2021. It is forecast that the Chinese market for yoga apparel will reach $3 billion by 2028, taking up 26.44 percent of the total global market.
Top sportswear brands such as Nike, Adidas and domestic ones including Anta and Maia Active have developed yoga-inspired athletic products to bank on the opportunities brought on by rising fitness activities including yoga, Pilates, frisbee, pickle ball and camping.