McCarthy ousted as US speaker of the House
By AI HEPING in New York | China Daily | Updated: 2023-10-04 11:29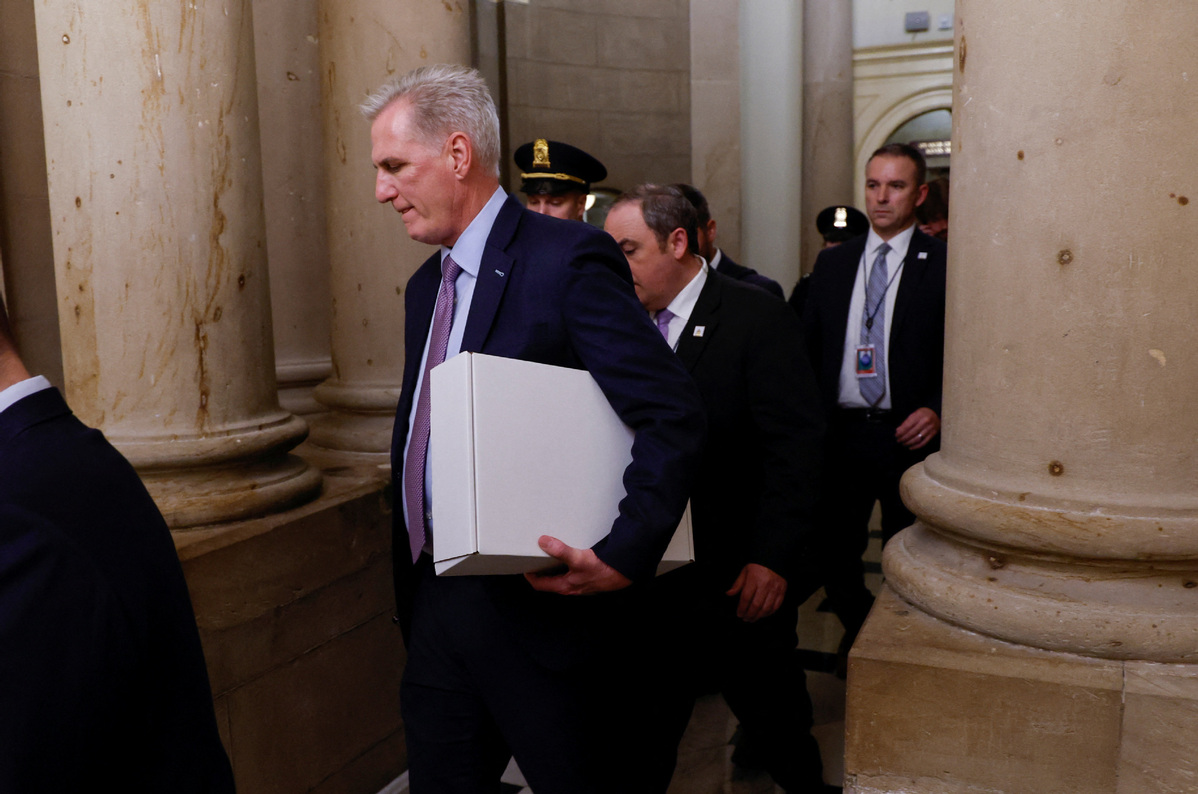 For the first time in US history, the House of Representatives on Tuesday ousted its speaker, Republican Kevin McCarthy, plunging the lower chamber of Congress into turmoil and paralysis until a new leader is elected.
"The office of speaker of the House of the United States House of Representatives is hereby declared vacant," said presiding Arkansas Republican Steve Womack after the 216 to 210 vote to remove McCarthy.
Hours after the vote, McCarthy said at a news conference:
"I will not seek to run again for speaker of the House. I may have lost a vote today, but I fought for what I believe in — and I believe in America. It has been an honor to serve.''
At a news conference after the vote, McCarthy wouldn't confirm whether he will stay in Congress. "I'll look at that," he said.
He said he was removed because of politics and blamed Democrats. "I think today was a political decision by the Democrats. And I think the things they have done in the past hurt the institution," McCarthy said.
Republican Representative Patrick McHenry of North Carolina was named interim speaker under a law passed after the Sept 11 attacks in the event of a vacancy in the office. He recessed the House so both parties can find a path forward. McHenry told GOP lawmakers they will hold a candidate forum next Tuesday and an election for speaker next Wednesday.
But it was unclear who might seek to succeed McCarthy.
The vote came weeks before Congress must act to avoid a government shutdown.
Eight conservative Republicans voted to remove the California representative in what was called a motion to vacate, many of them angry that McCarthy days ago worked with Democrats to avert a government shutdown. But all 208 Democrats voted against him.
Over the weekend, McCarthy refused to offer Democrats any concessions in exchange for their support so he could keep his post.
Before the vote, House Minority Leader Hakeem Jeffries said in a statement that McCarthy had brought the vote to oust by using his short tenure as speaker — 269 days — to cater to extremists in his party.
He pointed to the 15 rounds of voting that the House went through in January to pick McCarthy as speaker, noting that, "McCarthy made concessions to far-right Republicans, including allowing any one member to force a motion to vacate.
"Given their unwillingness to break from MAGA (Make America Great Again) extremism in an authentic and comprehensive manner, House Democratic leadership will vote yes on the pending Republican motion to vacate the chair," Jeffries said.
All that was needed to oust McCarthy was a simple majority under a rule pushed by conservative Republicans that any single member could seek to remove him from office.
On Tuesday afternoon, Representative Matt Gaetz of Florida led the effort to oust McCarthy and introduced the resolution to vacate the office.
Speaking on the House floor, Gaetz described the debt-ceiling agreement that McCarthy forged with President Joe Biden as the speaker's "original sin".
Heading into the vote on the motion to vacate, a series of Republicans took to the floor to blast Gaetz and his allies.
"They're willing to plunge this body into chaos and this country into uncertainty for reasons that only they really understand," said Oklahoma Republican Tom Cole.
Gaetz said it was the other way around. "Chaos is Speaker McCarthy. Chaos is somebody we cannot trust with their words," he said.
After the vote, many GOP supporters of McCarthy expressed anger at the rebellious colleagues who stuck together to oust him. Some said Gaetz should be expelled from the House.
But Gaetz celebrated the ousting of his Republican colleague on the steps of the Capitol moments after the vote.
"It's to the benefit of this country that we have a better speaker of the House than Kevin McCarthy," Gaetz said. "Kevin McCarthy couldn't keep his word."
McCarthy has argued that Gaetz's motion to remove him as speaker is little more than personal payback for McCarthy's failure to interfere with a long-running investigation by the House Ethics Committee into Gaetz's conduct. The committee has been looking into allegations of sexual misconduct and alleged misuse of funds by Gaetz.
Gaetz has asserted that the more than two-year inquiry into his conduct is the work of McCarthy and his allies, who he has argued are bent on smearing him.
McCarthy lost an earlier vote on Tuesday when 11 Republicans and all Democrats opposed stopping the motion to vacate the speakership.
The last time the House had a vote to oust the speaker was in 1910. That vote stemmed from angst among progressive Republicans that the speaker at the time, Joseph Cannon, a conservative known as "Uncle Joe", refused to bring progressive legislation to the floor for a vote. He survived that vote but was weakened as a result.