Prominent Americans call for managing differences with China
By ZHANG YUNBI | chinadaily.com.cn | Updated: 2023-10-13 14:42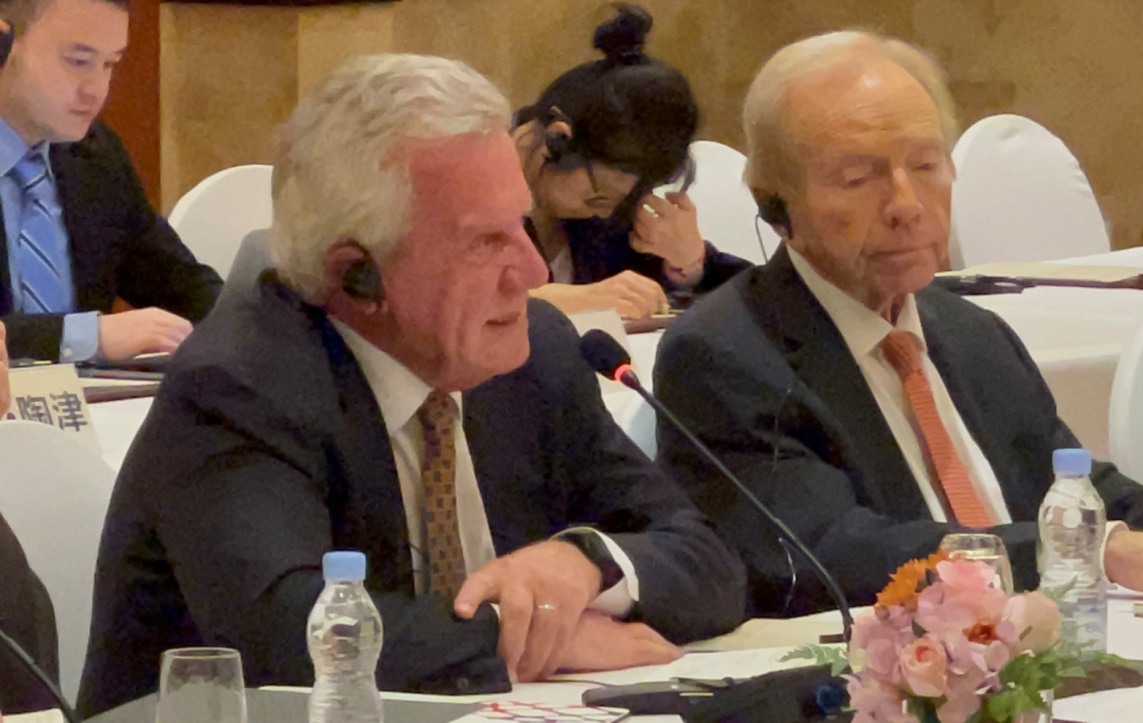 At a high-end forum in Beijing on Friday, prominent veteran US political figures underlined the need for their country and China to overcome differences and stop the two-way ties from edging toward a full-scale confrontation.
They made the request at the Fifth Meeting of the US-China Eminent Persons Forum in Beijing held by the Chinese People's Institute of Foreign Affairs and the US-China Transpacific Foundation.
Within the American people, "there is an increasing distance, and you might say suspicion, toward China, and this is something we have to counteract together," said Joseph Lieberman, co-head of the US delegation and former US senator from Connecticut.
He underlined the need to "take the trust, honesty, sense of collaboration, shared interests that is in this room between us and see if we can find ways to move that out into the bilateral relationship between our two governments and between our two peoples".
Noting the differences and common places between the two nations, he said, "My own understanding and respect for Chinese history, Chinese culture and Chinese life tells me that notwithstanding the differences … there's a lot that we have in common between our two peoples."
"There is a real focus in both Chinese and American culture on the family, a basic unit of society. There's also a focus on education as critically important to the development of each of our societies. And both of our peoples are hardworking and I would say entrepreneurial. Both of Americans and Chinese want to be successful," he said.
He noted that China in recent years eliminated absolute poverty, "which is an extraordinary accomplishment".
"We began these dialogues with an honest recognition that China and the United States have different histories. We have different political systems, we have different national interests," he said.
To manage those differences is both a challenge and a "noble and critically important opportunity because there's no question that it is better for both countries and both peoples that we will be working together, and there's no reason why we cannot," he said.
Sigmund Rogich, co-head of the US delegation, chairman of the Boards of the US-China Transpacific Foundation and former US ambassador to Iceland, said, "We have the ability to do some things that we haven't had in the past, I believe, because of this communication that we're putting together."
"The world watches how we talk to one another," he said, adding that he feels fortunate about the timing of the forum meeting in Beijing.
"Little things can make a difference. It doesn't have to be grandiose. You just have to show substance and show that we believe in one another … and I think we have the ability to do that," he said.
Rogich said, "I'm proud to be part of this, and I hope that in some small way I can offer some assistance to seeing that we can come closer on some issues that are beneficial to our two countries."
Noting the global challenges and conflicts, he said, "We can be decision makers and movers in the world to see … where we can spare people's lives, we can have impact on the rest of the world. We can offer hope, we can offer a raised hand together. We can solve some of these issues if we are determined to do it."