Sun looking to shine brighter
By Fang Aiqing | China Daily | Updated: 2023-10-27 08:10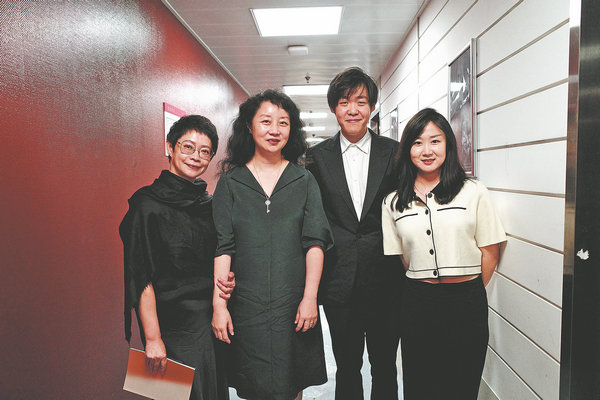 During the previous Van Cliburn competition in 2017, Sun also made it to the semifinal, which proved to be a test of skill, physical and mental power.
"Both the good and bad sides were that I got the same result. I would think more on the good side," he says.
Previously, Sun took second prize at the 2018 Paloma O'Shea Santander International Piano Competition, and in 2012, he became the champion of the 54th International Piano Competition Prize Jaen, both held in Spain.
At a time when thousands upon thousands of piano students around the world strive for a career on a path that is already too crowded, Sun recognizes that major competitions, as well as the potential performing opportunities that followed, were a precious chance to be seen, especially with the assistance of livestreaming and video platforms.
Isolation during the COVID-19 pandemic led to Sun investing more personal ideas into his playing, changing his attitudes toward music and piano competitions, says Guo, who has known Sun since childhood.
This change was largely reflected in his performances at the Chopin competition. Sun used to think his playing of Chopin was too rebellious to match expectations for a "proper" interpretation.
However, feedback from experts, audiences and online comments has strengthened his faith in cultivating his own style.
He made improving his artistic taste and acumen a priority, accumulating extensive classical music literature and a repertoire of different styles, even in preparation for a competition that solely featured Chopin's works.
Therefore, during lockdown, his preparation for the competition usually started with a morning practicing Bach's Well-Tempered Clavier, BWV 846-893, which almost became a ritual. In fact, he learned the whole collection of 48 preludes and fugues. Now, the time has come for him to take a rest and adjust.
Stepping back from the stages of major international competitions, Sun is enjoying his time polishing his skills and diving deeper into the world of classical music, during which he continues to explore what it is that he really wants to express through his playing.
He is currently pursuing an Artist Diploma at the New England Conservatory of Music under the supervision of Dang Thai Son and Georgian pianist Alexander Korsantia, both of whom are insightful and open-minded, he says.
He's been practicing more pieces by French composers, like Claude Debussy, which are demanding in terms of the texture of the sound, and require a more objective interpretation.
Sun is going to tour more cities at the end of the year, including Ningbo, Nanning, Chengdu and Foshan.
He will work with conductor Sun Yifan and the Ningbo Symphony Orchestra on Rachmaninoff's Rhapsody on a theme of Paganini, Op 43, in the city in Zhejiang province in November.
Together with pianists Chen Sa, Guo and Chang Le, he will also perform Bach concertos for two, three, and four pianos with conductor Lai Jiajing and the China NCPA Orchestra, the resident orchestra of the National Centre for the Performing Arts in Beijing, in July.
Zheng admits that online popularity for young musicians may not necessarily turn into offline performance revenues, so he's grateful that many Chinese theaters and concert halls are willing to give them a chance, which really takes heart and vision.
"I keep telling my young musicians, being a pianist is a lifelong matter. Rising to fame or not, early or late, I can tell from their characteristics that they can both resist temptation and withstand loneliness," the agent says.