Band's ambition in tune with talent
By Chen Nan | China Daily | Updated: 2023-11-07 07:30
Lead singer gives voice to a group that have emerged into the spotlight, Chen Nan reports.
When she appeared on the reality show, The Big Band, this summer, Helen Feng Haining, the lead singer of Nova Heart, wowed fans with her stage persona.
Her smoky eyes, vocal abilities and striking dance moves made her performances on the reality show memorable.
Weeks after the show ended, Feng walked into a hotel in Beijing, ready to be interviewed by China Daily.
The first thing you notice about Feng is the protective gear on her right leg, which was injured during the shooting of the reality show.
"It's almost healed. I just need to be careful," says the singer. "Sometimes you put yourself out there on stage and you just let yourself be in the zone."
It's not the first time that Feng has been injured during performances.
She once jumped off a three-meter-high stage and broke her leg when she performed at an outdoor music festival in 2010.
For its third season, The Big Band brought together 27 bands of differing styles. Each week, bands competed in different groups, and via votes cast by the audience and six celebrity judges, five earned the title of the "Hot 5" by the end of the season.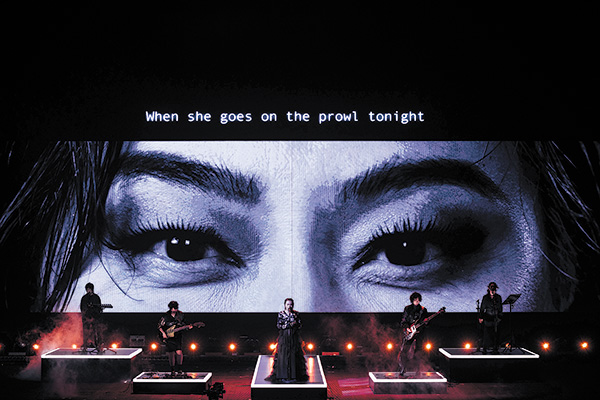 The first two seasons have been credited with successfully propelling underground bands into the limelight.
Nova Heart stood out and won second place.
Asked the reason why the band was on the show, Feng says that Nova Heart is a "slow" band and the show was a great incentive for them to create.
"It's really draining but also very rewarding. They say that the steepest mountain offers the prettiest view. They (the show) definitely gave us a steep mountain and when we climbed up there, winning first place, second place or third place was not important to me at all. I just wanted every single piece I presented onstage to be the best I could do," she says.
"I wanted to test how far we could push it."
The first song Nova Heart performed on the reality show was My Song 9.
As Feng says, the song is like a dark movie and she is like a witch onstage, hoping to let audience immerse in her music.
It's the first song of Nova Heart and they re-arranged it for the show.
The song was written by Feng after she broke her leg during that music festival in 2010.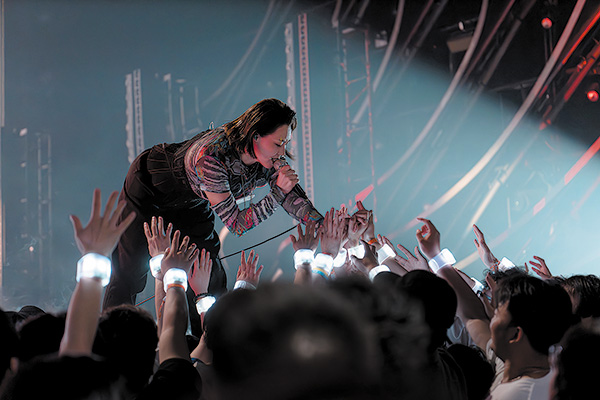 Her former band was on the verge of breaking up and Feng learned to use computer to write songs when she was recovering at home.
"My broken leg was elevated and I sat on my bed using my computer to write the song. I named it My Song 9 because it was the ninth song I wrote with my computer after I learned songwriting software," recalls Feng. "That was the beginning of Nova Heart."
Nova Heart was founded in 2011.Besides Feng and bassist Bo Xuan, the band also had a former member, drummer Shi Lu, who left the band in 2016 because she was pregnant. They were one of the first Chinese rock bands that performed at music festivals abroad, such as SXSW Music Festival in the United States, Wassermusik-Festival in Germany and Iceland Airwaves, in the country's capital, Reykjavik.
In 2019, the band was invited to be on the first season of The Big Band. Though Nova Heart didn't make it, Feng was interested because Shi played drum with rock trio Hedgehog on the show.
"She told me that it was exhausting but very creative. Next year, when the show came to me again, I still couldn't make it because I was pregnant," says Feng.
After about three years living in Berlin, Feng, who now is a mother of a four-year-old boy, returned.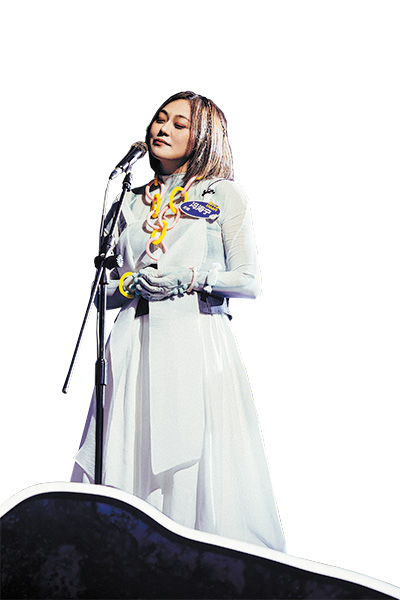 "I think that this year's show is very different because people came here to connect, rather than compete. We found lots of strength from one another," Feng says.
She also mentions that when she was in Germany, she was not even sure about her future due to COVID-19.
"I am grateful that I had a new baby with me during that difficult time. Motherhood definitely changed me. It gave me a reason to truly focus. I got over a lot of things thanks to this wonderful little human being. I was worried that I would mess things up after I gave birth to my son. He is healthy, happy and smiley. So far I am doing OK," she says.
"He likes my songs, especially the part when I fell on the stage," Feng laughs. "It's interesting that he doesn't like the song I wrote for him because it's too slow."
Feng was born in Beijing in 1978 and moved to the United States with her family when she was six. She got a sales job in New York after graduating from the University of Southern California, where she studied business management.
In 2002, she returned to China and got a job at MTV as a VJ and later worked at a radio station, hosting a music show.
For Feng, music has always been there, though. She loved watching the musical, The Phantom Of the Opera, as a child. She learned singing at the age of 4, sang in a choir and then in a cappella group.
"I always wanted to explore the possibility of my actual creative life. I told myself that it's a hobby, not a way for a living. But I decided to accept my fate and the first step was to learn to play guitar," says Feng.
At 24, she went to Gulou, a popular area in downtown Beijing, which is home to lots of stores selling musical instruments.
"I looked at every store and looked for the best-looking guitar teacher and then everything happening afterwards was like a dream. I want to do what I really like," Feng says.
Feng attributes the band's longevity to her longtime friend, bassist Bo, "who has always been there whenever I got injured or had a baby".
"When she was totally in her zone on the stage, like dancing, I just tried to focus on my part and make sure that everything is alright," said Bo on the reality show.
"She has great energy onstage and Nova Heart's performance is like launching a rocket, very powerful," says singer-songwriter Zhang Wei, better known for his stage name Da Zhang Wei, one of the celebrity guests on the reality show.
Now, Nova Heart is getting back to their schedule of playing at music festivals, touring, and songwriting. Feng says that there is more she wants to do with the band.
"I would like to extend my creative arms wider with Nova Heart. I don't want to be restricted by people's ideas about what a band should be like," she says.