Efforts in cutting-edge tech to lift agricultural sector
By ZHUANG QIANGE | CHINA DAILY | Updated: 2023-11-14 09:27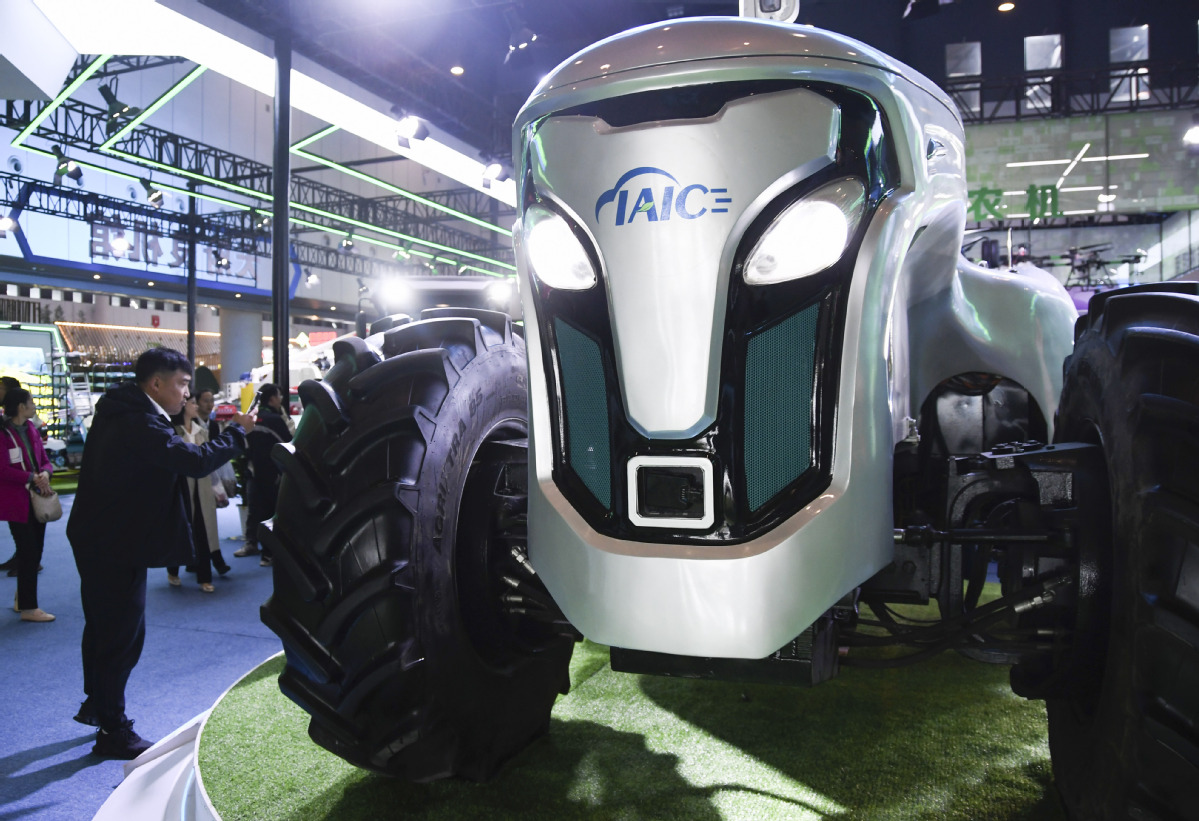 Nationwide efforts to boost digitalization and the wide application trials of cutting-edge technologies in the agricultural industry will be key to boosting domestic businesses and the nation's rural vitalization progress, said experts and market insiders during a recent expo.
The China Chengdu International Urban Modern Agricultural Expo (IUMAE) has long been a "must-attend" event for agricultural companies and purchasing agents nationwide. With its reputation growing increasingly stronger in recent years, attending groups from overseas are also on the rise.
This year's expo, its ninth edition held Oct 27-30 in Chengdu, Sichuan province, achieved many records.
"Over 3,000 exhibitors from China and 20 other countries participated in this year's event, attracting more than 8,000 buyers. The brand numbers and event scale have both surpassed previous editions," said a staffer with the event's organizing committee.
At the agricultural machinery venue, a total of 57 of the latest types of machinery were displayed during the event.
"The nation's agricultural industry is relying more upon its manufacturing skills in machinery. Production nationwide is shifting to mechanization," said Zhang Xiaojun, director of the agricultural machinery promotion center of the Sichuan Provincial Department of Agriculture and Rural Affairs.
"With the wider application of cutting-edge tools and solutions — including 5G, artificial intelligence and the internet of things — the agricultural foundation will be stronger, bringing more benefits to farmers and boosting the rural vitalization progress nationwide," Zhang said.
A total of 100 "milestone" sci-tech sample cases achieved in the agricultural field since 2021 were unveiled during the conference, the organizer said. In addition, 24 achievements were signed for application during the event, with the contract value totaling more than 2 billion yuan ($274.3 million).
Held both offline and online, this year's IUMAE, as a key platform in the agricultural sector, was applauded by participants for its flexibility and efficiency.
According to the organizer, supported by online solutions including big data and livestreaming, the IUMAE provided services of full-time online displays, trading, negotiations and real-time interaction. During the four-day event, more than 60 million viewers visited via livestreaming platforms and websites.
"We were long bothered by an incomplete procurement chain in the past, but at this year's IUMAE, we established ties not only with several high-quality suppliers but also buyers from overseas," said Wu Linshan, a fruit dealer from Zhejiang province.
"It's a wonderful experience for us. We have gained much more than anticipation during the event in just a few days."
Imported goods, such as rice from Pakistan, snacks from Central Asia and Europe, silk scarves from Nepal and red wines from France, were also on display during the expo.
"This year's IUMAE has attracted more famous agricultural enterprises from various countries, and taking the event as an opportunity, we have invited many partners that attended the event for field inspections, and many of them inked agreements with us," said He Xiaoyan, who owns a company trading in agricultural products.
"I moved my company to Chengdu this year, as the provincial capital boasts abundant agricultural resources. Also, as the city is linked by the China-Europe land freight service and supported by two airports, it is convenient for business people like me to travel around the globe," He said.
"Though a bit far from us, we have attended almost every IUMAE, as it is a good opportunity to see high-quality products from various corners of the world, and display our products to the outside world," said Chen Huijie, leader of the team from the Zhejiang Provincial Department of Agriculture and Rural Affairs.
"We organized the largest delegation in years to attend the event," Chen said.